The market continues to be volatile during the trading sessions, moving between positive and negative territory as investors really have no clue which way to push these markets. We keep testing major support levels, with the 100-day moving average being the focus as of late. Bulls have to hope that these levels hold and that traders will provide a boost off of these key areas when we do test them.
Breaking through some of these levels would ensure that we reach true correction levels, a 10% pullback for the broad market, which would be a good thing. With the earnings season coming to an end and all the positive news the market has gotten, we would not be scared off if we fell another 5% to reach that correction area because companies have told us that this quarter was good but that the next quarter will be better. The good news for investors with exposure to commodity stocks is that many have already corrected and there are a number of buys out there right now.
Chart of the Day:
With the fast money flowing out of the oil trade, it appears that at least some of it is remaining in the energy sector as natural gas prices have been strong over the past five trading sessions. We have our doubts about this rally, but will nevertheless pay attention to the $4/MMbtu level and whether buyers can break that psychologically important level.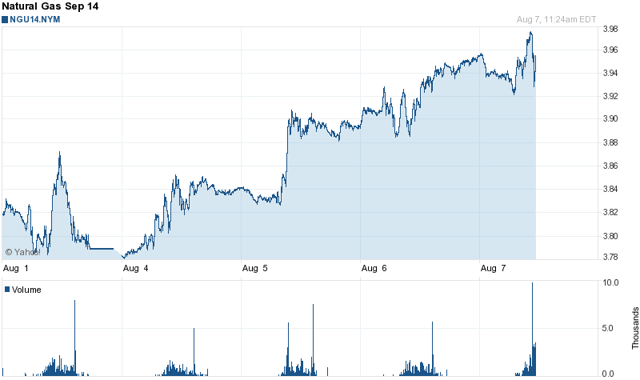 Source: Yahoo Finance
Commodity prices are as follows (at time of submission):
Gold: $1,308.50/ounce, up by $0.30/ounce
Silver: $19.975/ounce, down by $0.049/ounce
Oil: $96.89/barrel, down by $0.03/barrel
RBOB Gas: $2.7546/gallon, up by $0.0149/gallon
Natural Gas: $3.962/MMbtu, up by $0.029/MMbtu
Copper: $3.178/pound, up by $0.012/pound
Platinum: $1,475.10/ounce, up by $9.90/ounce
Brazilian Resource Plays
After the World Cup, we highlighted how the two big Brazilian commodity names, Petrobras (NYSE:PBR) and Vale (NYSE:VALE), were gaining strength as it appeared that the country would vote in a new government when elections come around. The recent pullback in global equity markets has not spared either company, but as we were looking through our watch lists yesterday, we did notice that both companies were trading at levels which could lead to either breakouts or breakdowns for their shares.
Although we try not to assign too much weight to what analysts think, we did notice that Morgan Stanley went negative on Petrobras earlier in the month. They removed the name as one of their top South American stocks because their view of the potential upside in the shares was no longer compelling versus the broad Brazilian market.
If Petrobras can hold the $16/share level, we believe that it would be a huge win for shareholders. Yes, shares may have been overbought, but a change in the political winds in Brazil could be quite positive.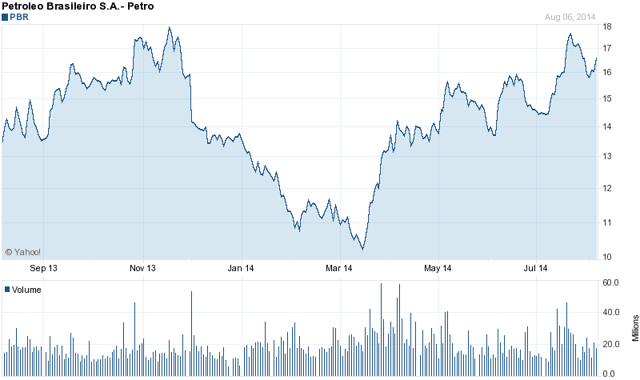 Source: Yahoo Finance
Iron Ore Update
Rio Tinto (NYSE:RIO) reported their first half earnings early this morning and reiterated their commitment to the iron ore business. They continue to focus on the long-term economics of the business, as their data suggests that nearly 125 million metric tons will leave the market as the smaller, higher cost producers leave the market. The plan is to continue to ramp up their low cost production in order to replace the production which is disappearing and benefit even with overall lower prices.
There have been some analysts who have been somewhat critical of this strategy, but the company remains committed to the plan and thus far has not wavered. When your cost to produce a ton of iron ore is around $20, then it is easy to see why the company continues to want to bring production online at current prices. The only problem that could arise is the oversupply of the market with low cost producers raising production. BHP Billiton (NYSE:BHP) and Vale are not looking to cede market share and with China demand growth shrinking, this could turn into a race to the bottom until the market balances out. We have no horse in the race, but just wanted to provide both sides to this interesting story.
Disclosure: The author has no positions in any stocks mentioned, and no plans to initiate any positions within the next 72 hours. The author wrote this article themselves, and it expresses their own opinions. The author is not receiving compensation for it (other than from Seeking Alpha). The author has no business relationship with any company whose stock is mentioned in this article.