Nektar (NASDAQ:NKTR) Therapeutics of San Francisco has been a hybrid commercial and developmental-stage biotechnology company for many years now. Revenues are accrued annually from the sale of products tied to Nektar's proprietary technologies by way of several partnerships. AstraZeneca (NYSE:AZN), through the development of Movantik, is at the cornerstone of Nektar's commercial aspirations. Movantik is the first oral peripherally acting mu-opioid receptor antagonist for the treatment of chronic opioid-induced constipation, or OIC.
Today, I'm going to show you how Movantik approval will change everything for Nektar shareholders by providing a foundation upon which all of the company's remaining pipeline will be built.
Movantik Is Key To Rebuilding AstraZeneca's Pipeline And Transforming Nektar
AstraZeneca has been struggling mightily over the past several years, as many of its staple prescription treatments have fallen off patent protection. This has resulted in quarter after quarter of declining profits, massive reductions in its U.S. salesforce and persistent rumors of a buyout bid by Pfizer (NYSE:PFE). Lately, however, things have been looking up, with two straight quarters of increased profitability tied to market expansion in China and the successful product launch of its diabetes drug, Farxiga.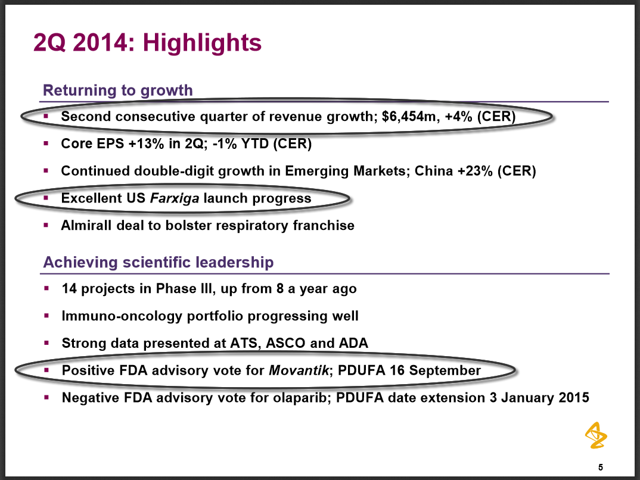 Rebuilding the once proud AstraZeneca pipeline has been a priority of the company. Speaking at the Q2 2014 Earnings Call webcast of British-owned AstraZeneca held on July 31st, executive vice president of Global Medicine Development, Briggs Morrison, had this to say about possible Movantik approval:
Signs are looking positive with our interactions with the FDA that that will be successful approval. We're also on-track, as I noted earlier, for approval of Movantik in Europe.
Briggs also addressed the size of the market Movantik will move into as an exclusive oral mu-opioid antagonist:
About 80% of patients who get opioids will develop opioid-induced constipation. And about half of them, in fact, do not achieve a desired treatment outcome. It's that half of patients that we believe Movantik offers a new therapeutic option. We are very excited about the efficacy and safety of this compound.
To gage the size of the U.S. market for Movantik, we'll look at an AstraZeneca press release dated Thursday, June 12th celebrating the positive OIC Adcom outcome:
An estimated 235 million prescriptions for opioids are written in the US each year, of which 20% are for chronic pain. For patients taking prescription opioids for chronic pain, constipation is one of the most common side effects and one not adequately relieved by laxatives.
Therefore, there are 47 million opioid prescriptions [think hydrocodone, oxycodone, codine, morphine and others] written each year in the U.S. alone for chronic pain sufferers [think knee, back and head pain]. Of these, 37.6M prescriptions are written to patients who become constipated. Half of these prescriptions, or 18.8M, are written to patients that do not experience relief through the use of laxatives. Consequently, it's possible that 18.8M prescriptions could be written each and every year in the U.S. for Movantik.
But let's be conservative and presume a soft market penetration of one-third that amount, or 6.26M prescriptions. Then, we'll make an assumption that only 40% of those patient prescriptions, or 2.5M, are written to those who experience relief from Movantik. Furthermore, we'll say that only half of those are prescribed Movantik in concert with their pain medication on a regular basis. Remember now, that's how Movantik works as an add-on therapy.
As a result, there would be 1.25M prescriptions written annually in the U.S. for Movantik. If the product were priced at $175, which I believe is cheap, the U.S. market would bring AstraZeneca $218.75M per year, and that's extremely conservative. I believe peak sales U.S. will be 3x that amount or more. Based on its unique oral method of delivery, Movantik could be priced 3x higher as well. Peak U.S. sales of $1B would not surprise me or any analyst covering AstraZeneca or Nektar.
This calculation also fails to take into account the massive off-label prescribing likely to take place within the larger acute pain constipation market now dominated by Salix and Cubist. Movantik is safer and gentler than Relistor and Entereg. Once physicians understand these qualities, Movantik use will expand accordingly. Let's take a graphical look at these products, and then ask yourself this question. If you were a doctor, which would you prescribe to an opioid patient experiencing constipation? And if you were that patient, which product would you want to take?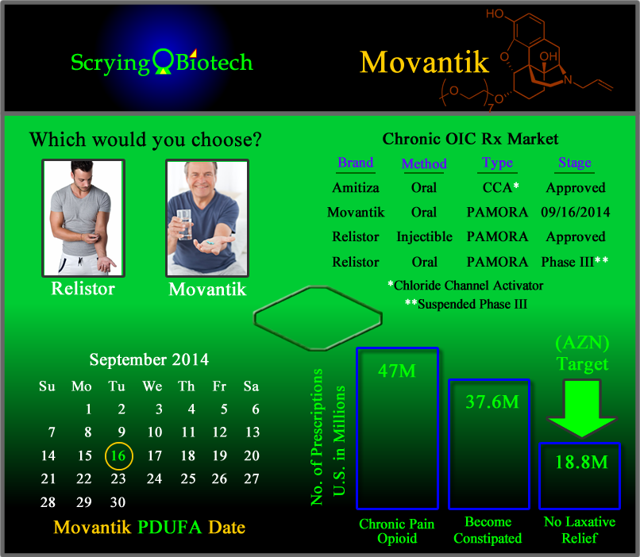 When you look at that graphic, you'll see another oral treatment that was approved in April of last year - Amitiza. This medication works through a different mechanism of action than Movantik or Relistor. Amitiza is a chloride channel activator that essentially stimulates the production of moisture in the intestinal tract, which leads to a bowel movement.
Repeating this uncomfortable procedure over and over again when one could simply take Movantik daily with ones pain medication and avoid constipation entirely would seem to make it a less attractive alternative.
Movantik and Relistor work by blocking the mu-opioid receptors in the bowel, which are stimulated in the same way as mu-opioid receptors are in the brain by opioid agonists. When this happens, the bowel stops working. When Movantik is taken daily, the bowel continues functioning normally.
Competition-Free Zone
Several years ago, there was trouble in this peripherally acting mu-opioid receptor antagonist class of OIC treatments. Salix' (NASDAQ:SLXP) Relistor and Cubist's (CBST) Entereg, though not approved for chronic pain patients, were causing some acute pain sufferers with constipation to experience severe adverse events.
Both companies had intentions of expanding their market opportunities to treat chronic pain patients, but the FDA would have none of it without first requiring a forum to discuss possible cardiovascular outcome tests. At that time, Salix, through its partner Progenics (NASDAQ:PGNX), was in a pivotal Phase III trial exploring an oral formulation of Relistor to treat chronic pain sufferers. As a consequence of the FDA's serious demeanor, they postponed that trial indefinitely. Relistor, therefore, remains an injectable drug. And Cubist has no intention of taking Entereg into the chronic pain market.
Meanwhile, Nektar and AstraZeneca kept focused on the prize, moving towards completion of their pivotal trials of Movantik, then named naloxegol. Consequently, when Movantik enters the market in April or June of next year, it will do so as the only orally available peripherally acting mu-opioid receptor antagonist, and will remain so for at least 2-3 years. And that, my friends, is how you establish market dominance.
Nektar's Share
Nektar is entitled to keep the $70M milestone payment it received last year from AstraZeneca if no CVOT tests are required with product approval on the 16th of September. It will also, at that time, receive an additional $35M milestone payment, ending the year with about $225M cash.
The launch of the product in the U.S. will trigger a $100M milestone payment. That will occur somewhere between April and June of next year, depending upon how quickly Movantik is de-scheduled from class 2. Because opioid antagonists are similar in structure to opioid agonists, they are initially classified the same way. This bureaucratic snafu, however, is commonplace. Another $40M payment comes with the European launch.
Sales royalties to Nektar are in escalating double digits, with an additional $375M of milestone payments in the sales pipeline. Obviously, from the scribbling I did earlier, you can see that annual U.S. sales royalties to Nektar would conservatively start at $20M-$30M and go up from there. The ceiling would likely be somewhere around $90M-$120M U.S.
Looking Good
Nektar shareholders are suffering from an embarrassment of riches where stock price catalysts are concerned over the next six months. It should be kept in mind, however, that two of the biggest - Movantik approval and BAX-855 Pivotal Phase III (PROLONG-ATE) trial - results are binary events and coming up soon.
A failed BAX-855 result in efficacy or safety would profoundly and negatively impact the stock. Movantik rejection on the 16th would be devastating to Nektar and your holdings. While I personally believe that both events will have positive outcomes and catalyze the stock accordingly, no one should fail to comprehend the risk involved.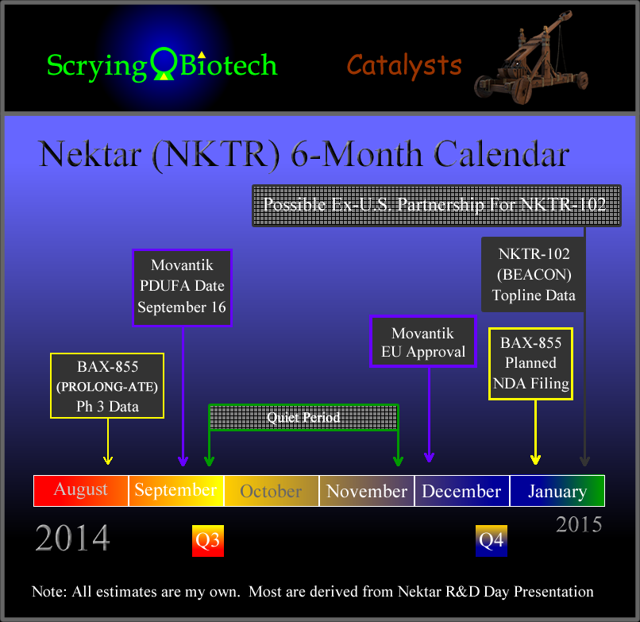 With great risk, however, comes great reward. Each of these two events could result in a stock price surge of between 5% and 30%. Conversely, failure of either event could result in a stock price decline of between 10% and 40%. This is because investors react in fear to a greater degree than they do in celebration. Accounting for a steady rise in the stock price through September 16th should factor into those equations.
In my next article, we'll look to the future and assess how well the company is doing at advancing NKTR-181 from the pain portfolio through to commercialization.
Always be well...
Disclosure: The author is long NKTR. The author wrote this article themselves, and it expresses their own opinions. The author is not receiving compensation for it (other than from Seeking Alpha). The author has no business relationship with any company whose stock is mentioned in this article.
Additional disclosure: Any information or opinion expressed herein may not be true, accurate or correct and it does not constitute any suggestion to buy, sell, hold or adopt any investment strategy for this stock or any stock that may be mentioned. Reliance upon information in this article is at the sole discretion of the reader. The sole purpose of my article is to entertain by providing information, the accuracy of which is as good as the public sources it was derived from. Do not act on anything I have written. Rather, do your own due diligence and consult an investment professional before making any investment decision. Acting on what any one writer, including me has imparted to you is foolish at best. I have no better access to resources or gift of opinion formulation than you do. I sometimes make mistakes. There are a myriad of things, which can happen in lieu of any forward-looking statement I have made. Any stock featured or mentioned in an article I compose is subject to all manner of influences, which can change its value in dramatic fashion upwards or downwards. These events can be of a wide variety not limited to news-related occurrences, managerial decisions, trial failures, stock manipulations and so on. I make every effort to declare positions I have in stocks I cover or mention in an article but reserve the right to move in and out of said investments at my own discretion based upon the wisdom of doing so. I implore you to do your own due diligence, invest at your own considerable risk attaining the just reward your efforts have wrought.