This is my first article in a series on social media. The focus here is two-fold: 1) to discuss market metrics and the growth potential of social media; 2) to establish a clear differentiation between companies from the dotcom bubble era and today's Web 3.0 companies.
Market Metrics
Source: Global X Funds
To-date, the 590 technology companies in the 2014 Tech IPO Pipeline (a report by CB Insights) that were considered ready for IPOs have raised $55.35B, across more than 2,800 financing deals. The average amount of funding raised in 2014 by companies in the Pipeline was $101M, or ~19% increase Y/Y. There are currently 26 U.S. private companies on the Pipeline that have raised a financing round at a real or rumored valuation of $1B or more.
Exhibit 1 - Billion Dollar Valuation Club

Source: 2014 Tech IPO Pipeline
Such lofty numbers have caused many to be reminded of the dotcom bubble of the late '90s, when startups with seemingly absurd valuations and no revenue were burning through cash like they were using it to heat their buildings.
If, at some point, the market decides that all of those billions are based on speculators' dreams that will never come to fruition, as happened during the March 2000 NASDAQ crash, the consequences could once again be dire. Fed. Chair Janet Yellen recently remarked "Valuation metrics in some sectors do appear substantially stretched-particularly those for smaller firms in the social media and biotechnology industries." And in some cases that is glaringly obvious, take CYNK for example (WSJ article, SA article and another SA article).
Conversely, as evidenced by the large financings and valuations, there are staunch supporters of social media. Take Mark Cuban for instance. A couple weeks ago Cuban was on CNBC. When asked to comment on the potential bubble in social media stocks, he said he didn't see it. "It's not 1999 all over again by a long shot." While I don't always agree with what Mark Cuban says, I will echo that particular outlook. Exuberance isn't always irrational. It appears that today's Web 3.0 companies now being backed by investors are vastly different than what we witnessed at the turn of the millennium. They're being run with a completely fresh perspective, and the market responds to them in a different manner.
A New Era
First, there's the company product itself, which in most instances is truly original, transformative, and disruptive and has spurred unprecedented user aggregation for most of these websites or platforms. Advertisers and companies have recognized this, have looked at the market metrics, and are only just now beginning to harness the true capabilities of Web 3.0 technology. Unlike during the dotcom bubble, all of today's good companies have multiple and straightforward revenue channels (even if they don't necessarily have any revenue).
A 2013 Nielsen report shows that 89% of advertisers use free social media advertising and 75% use paid social media advertising. 64% of advertisers also reported that they expected to increase their paid social media advertising budgets throughout the remainder of the year.
Exhibit 2 - How Advertisers and Agencies Use Social Media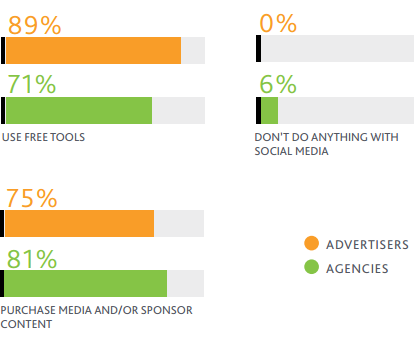 Source: Nielsen Report
BIA/Kelsey recently released its U.S. Social Local Media report, which projects total U.S. social media advertising revenue will grow from $5.1 billion in 2013 to $15 billion in 2018, for a compound annual growth rate (CAGR) of 24%.
Exhibit 3 - U.S. Social Media Ad. Revenues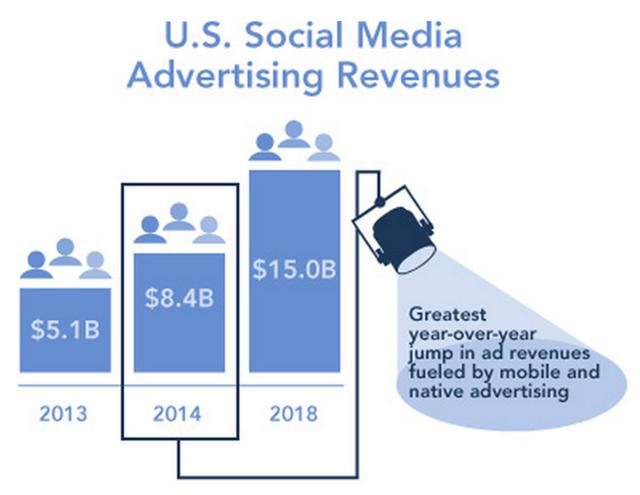 Source: BIA/Kelsey's U.S. Local Media Forecast - Social Edition (2013-2018)
Today's social media companies are not your run of the mill e-commerce websites that populated the downturn of the initial dotcom boom.
Second, spending is different. In this new, online and mobile advertising era, social media companies have demonstrated an unprecedented leanness relative to their 1990s predecessors. This time around companies are pacing themselves, expanding infrastructure as necessary with the majority of big expenditures going towards talent; underscoring the prevalent attitude in Silicon Valley that whoever has the smartest people in the room wins.
This new paradigm on managing these companies has also carried over into how investors approach them; the market has been holding these companies accountable to a much higher standard. When Facebook (NASDAQ:FB) held its IPO, it was one of the biggest in technology, and the biggest in Internet history. However, at the time many, especially retail investors, considered it to be a big flop. When the closing bell rang, shares were valued at $38.23, only $0.23 above the IPO price, and down $3.82 from open. Rather than soaring the first day, which became the norm during the dotcom bubble, Facebook shares closed just marginally higher.
Compare Facebook's performance with eToys ($20 to $77, two years later they filled Chapter 11 bankruptcy), theglobe.com (shares were priced at $9, trading started at $87 and closed at $63.50), and VA Linux (shares were priced at $30, and closed the day at $239.25 or the biggest one-day gain for an IPO in the U.S. at the time). All of those are excellent examples of signs of a truly broken marketplace.
[In the subsequent weeks that followed, Facebook continued to see its market capitalization dwindle, with shares eventually trading as low as $17.55. Today, Facebook shares are trading around $72.50 and the company has a market capitalization of ~$188 billion.]
One common feature that both social media companies and their 1990s predecessors do share is an absence of profit. Shareholders are banking on future growth, not present performance. That's not to say that there's no revenue, many Web 3.0 companies do have that, however for the most part, these companies are still working on building and monetizing their user base. As they continue to scale and improve their product offerings, the prevailing belief amongst social media bulls is that bottom lines will start to improve all around as online advertising solidifies itself as the legitimate and necessary advertising medium.
Third, most of today's companies have business models that can be explained in plain English. Dropbox charges subscription fees for online storage. Uber gets a percentage of every car ride it fulfills. Square takes a cut of every credit card transaction.
If you're still pessimistic at this point, it's easy to forget that there were a handful of companies that came out of the initial dotcom boom that have become consumer staples today - Google (NASDAQ:GOOG) (NASDAQ:GOOGL), Amazon (NASDAQ:AMZN), eBay (NASDAQ:EBAY) and PayPal to name a few. If you were an early investor in those companies the appreciation over the years has most likely eclipsed all of your initial speculative losses and then some.
The same BIA/Kelsey report revealed that the greatest year-over-year jump in social media ad revenues, growing from $5.1 billion in 2013 to $8.4 billion, is largely attributed to a surge in both mobile and native advertising. It estimates that U.S. social mobile ad revenues alone will reach $7.6 billion by 2018 (38.3% CAGR).
Facebook is proving to be the model of the profitability for social media advertising. In late April, Facebook announced that its mobile ads accounted for 59% of its second quarter ad revenue, up from approximately 30% of ad revenue in the first quarter of 2013. Mobile ad revenue alone accounted for $2.265 billion for the quarter, spurred largely by Facebook's 'News Feed ads'.
Fourth, social-media stocks as a group aren't very expensive, and the crème-de-la-crème, like Facebook and Google (GOOG), are actually pretty cheap. As mentioned above, the new paradigm shift in how investors approach today's tech and social media offerings is much more representative and justified. Less premium offerings like Groupon (NASDAQ:GRPN) and Zynga (NASDAQ:ZNGA) are realistically appraised with the risk built in.
The top 10 holdings in Global X Social Media Index Fund (NASDAQ:SOCL), from Tencent Holdings (OTCPK:TCEHY) down to Twitter (NYSE:TWTR) trade at a hefty average price-to-earnings ratio (P/E) of 53x. But that weighs giants like Facebook, at 79.8x, or Google at 29.5x, with the likes of Pandora (NYSE:P), at 150x, or Yelp (NYSE:YELP), at 179.6x P/E. Since Google's $382.2 billion market value is 74.4x Pandora's, weighing their valuations equally is a little off-base.
Many social media valuations are actually reasonable when considering just how fast these companies are growing. Tencent Holdings, Facebook, Google, and Yandex (NASDAQ:YNDX) all trade at a growth-adjusted P/E of less than 1.5x. These names are actually cheaper than many other companies with similar or even higher valuations. And, if the market does experience the big downside correction that many are calling for, investors will look to equities that consistently meet or exceed expectations in revenue and earnings, quarter-over-quarter, year-over-year. This should push names such as the aforementioned stocks much higher. Given the market outlook and forecasts of these individual companies in particular, I expect them to move up anyways, however, should a correction occur, I believe that growth will be accelerated.
That said, companies with questionable products and valuations get treated as such. This is not 1999 all over again.
When a social-media company is identified as a 'dog', shorters move in quickly and efficiently. Facebook had a terrible IPO and lost half its value before recently hitting a new all-time high. Investors were very skeptical of the social media behemoth and those who sold near the bottom are surely regretting the near quadruple. Groupon's accounting problems were detected within a half-hour of its initial IPO filing in 2011. Much the same happened to King Digital Entertainment (BATS:KING), game developer for web, mobile (both iOS and Android), and the largest game developer on Facebook, best known for its Candy Crush Saga. It's highly profitable, but trades only at 9.5x P/E because investors question whether or not the company can come up with more hits.
Sometimes, rational analysis using traditional modeling and forecasting gets thrown out the window when it comes to social media valuations.
I find Yelp's forward P/E of 179.6x unrealistic, and its current market capitalization unsustainable. Some people may be able to justify it, but I cannot. I like what it offers, but it's tough to compete with internet search engines such as Google, Yahoo, and Microsoft Corp's Bing. Despite Yelp recently reporting its first quarterly profit as a public company as small business customers spent more on advertising, the share price has fallen since with investors unhappy over the miss in active local business account growth. If Yelp starts showing more success in expanding its business internationally, turns around its local business account growth rate, and meets or beats its forecast revenue of $98 million to $99 million, I'll reconsider being a buyer.
Then there are legitimate companies with disruptive technology but currently unjustifiably high valuations. Think Twitter, and arguably LinkedIn (LNKD). Both offer unique service offerings. Twitter, with its 140 characters or less has changed the world literally, #IMPACT. Twitter's second-quarter results came in above expectations across three key metrics: revenue, users, and revenue per user. Despite a significantly smaller user base than many of its counterparts (Facebook, Yahoo, and Google), and slowing growth in monthly active users (MAUs), Twitter's ad revenue continues to grow and advertisers continue to recognize its value. The company recently partnered with the NFL to distribute proprietary content, and if Twitter can gain traction and continue to grow its user base to a Facebook-like level, there is massive upside potential. However, choosing between Facebook trading at 79.8x P/E or Twitter at 474.9x forward P/E is quite simple. Twitter's market capitalization is currently $25.9 billion, which is generally in the right ballpark. However, I find deeper value owning Facebook at its current level.
Whether or not these companies live up to the expectations or whether or not they're all hype, time will tell, but I think they're here to stay. Janet Yellen warned about a potential bubble. I think Janet Yellen should get out of the stock picking business, and I'm not alone. Aside from the fact that it isn't appropriate for the Fed to comment on individual market movements, they're not very good at it. Consider former Fed Chair Alan Greenspan's warning about irrational exuberance in the stock market took place in December 1996. The worst excesses of the dot-com bubble came years later. If you bought into the S&P 500 the morning after his speech you'd have earned a 268% return since then (including reinvested dividends). Today's companies just aren't like their 1990s predecessors, there is no theglobe.com, eToys, or VA Linux here. These companies are all worth something. Besides, you can't really have a bubble made of only a handful of companies worth around $50 billion. The worst someone can say about Twitter or LinkedIn is that they've gotten a little ahead of themselves in valuation, but even skeptics don't doubt their disruptive technology, they just think growth will be experienced at a much lesser pace than forecast.
Conclusion
I really 'like' social media stocks and think that you should too.
The question going forward is, how to trade the sector?
Some ideas that I currently have for future articles in this series on Social Media include:
1. An analysis of the Global X Social Media Index Fund (formulating a long-short strategy versus the individual holdings)
2. Social Media Buyouts/Rejections/Targets … Failures and success stories. Private or public?
3. An article on 2014 tech IPOs … What's happened? What has yet to come?
4. An article on under-covered, deep-value Canadian tech/social media companies
That's just a start. I'll be sharing all of my due diligence in one way or another. Those are just the ideas that I'm specifically working on right now.
*If you like what you've read here please click the "+Follow" button and subscribe to my real-time alerts. I just started using the StockTalk function which I find is an excellent resource to communicate real-time trades that I'm making, due diligence that I'm conducting and article alerts. If you are interested in reading further articles in my series on social media, definitely subscribe.
Disclosure: The author is long FB, TWTR. The author wrote this article themselves, and it expresses their own opinions. The author is not receiving compensation for it (other than from Seeking Alpha). The author has no business relationship with any company whose stock is mentioned in this article.