Columbia Sportswear Company (NASDAQ:COLM) sells outdoor and lifestyle products under the Colombia, Sorel, Mountain Hardwear, Prana and Montrail brands. Shares in the company are up 16.39% over the past 12 months, but have dropped by 4.83% year to date. Over the past month, COLM has seen its share price decline by $10.25, or 12.03%. Today, shares in COLM are trading at $74.99, giving the company a market cap of $2.61 billion.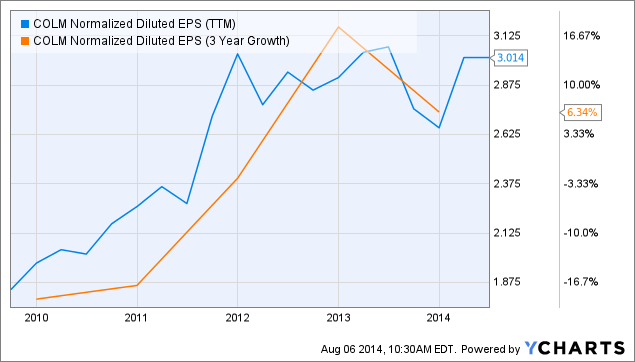 COLM Normalized Diluted EPS (TTM) data by YCharts
The company had $2.72 in earnings per share in the most recent fiscal year, which means the price to earnings ratio stands at 27.6 at the current price of $74.99 per share. This is slightly lower than the industry average of 27.9. COLM however, is no average company. The company stated in its most recent financial outlook for the current fiscal year that they expected earnings per share to be between $3.22 and $3.38, which would put the forward price to earnings ratio at somewhere in the range of 22.2 to 23.3. This would be an increase of 18.4% to 24.3%. Analysts expect even higher EPS growth, with the average estimate standing at $3.53, an increase of 29.8%. Earnings for the next fiscal year are expected to reach $4.06, which means the current price represents only 18.5 times next year's expected earnings. The company recently acquired the Prana brand, which is expected to contribute to earnings as soon as next year, as can be read in the most recent quarterly report:
"With the successful completion of our previously announced acquisition of prAna during the second quarter, we enter the second half of 2014 with a new exciting brand in our portfolio, which we expect to be accretive in 2015." - Tim Boyle, COLM's President and CEO.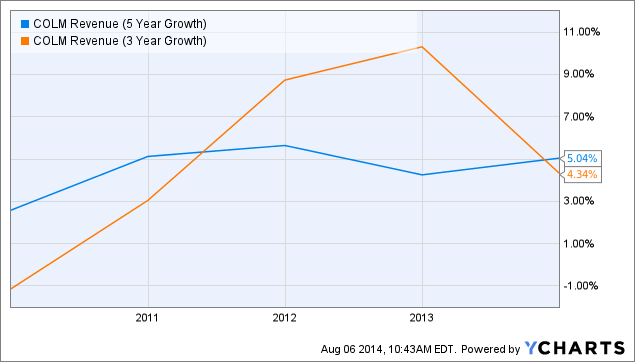 COLM Revenue (5-Year Growth) data by YCharts
Revenue growth hasn't been very impressive in recent years with a 3 and 5-year growth rate of 4.34% and 5.04% respectively, but for the current fiscal year, the average analyst estimate stands at $2.03 billion, which would be an increase of 20.5% to last year's $1.685 billion. The company has a price to sales ratio of 1.55, which is slightly above its 5-year average p/s ratio of 1.2, but I believe this can be justified by the high expected revenue growth.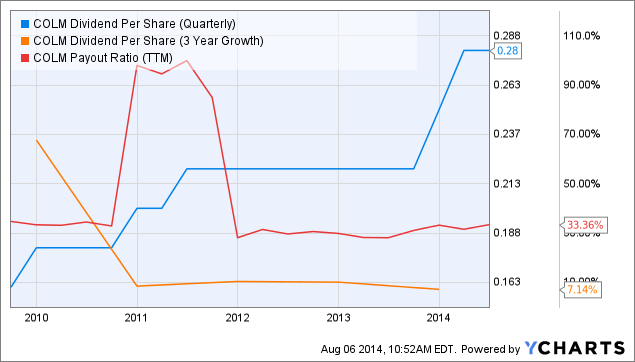 COLM Dividend Per Share (Quarterly) data by YCharts
COLM first paid a dividend in 2006 and has since increased it annually. The current dividend of $0.28 provides investors getting in now with a 1.50% dividend yield. Over the past 3 years, the dividend has grown by 7.14% on average, but with high earnings growth expectations for the current and next fiscal year, combined with a payout ratio of only 33.36% over the past 12 months, I wouldn't be surprised to see the dividend growth rate go up.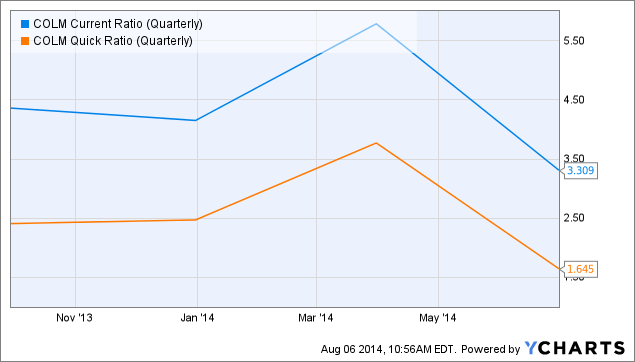 COLM Current Ratio (Quarterly) data by YCharts
COLM ended its most recent quarter with $394.4 million in cash and short-term investments, which is 15.1% of its current market cap. However, 54% of this is held in foreign jurisdictions and repatriation of these funds would lead to significant tax costs. Current liabilities are extremely low, at only $206 million in the first quarter of the current fiscal year. The company's long-term debt is close to zero.
Conclusion:
Looking at the p/e and p/s ratios, COLM appears to be a lot cheaper than the industry average. The 12.03% drop over the past month has pushed the dividend yield up to 1.50%. High expected revenue and earnings growth, combined with a low payout ratio and quite a bit of cash means the company has plenty of room to increase its dividend growth rate. I believe a long-term investment in COLM may prove to be very profitable.
Disclaimer: I am not a registered investment advisor and do not provide specific investment advice. The information contained herein is for informational purposes only. Nothing in this article should be taken as a solicitation to purchase or sell securities. Before buying or selling any stock you should do your own research and reach your own conclusion. It is up to investors to make the correct decision after necessary research. Investing includes risks, including loss of principal.
Disclosure: The author has no positions in any stocks mentioned, and no plans to initiate any positions within the next 72 hours. The author wrote this article themselves, and it expresses their own opinions. The author is not receiving compensation for it (other than from Seeking Alpha). The author has no business relationship with any company whose stock is mentioned in this article.