Career Education (NASDAQ:CECO) reported very good Q2 results this morning. CECO has been dogged by skepticism of its turnaround strategy; hence, the most important metric for the company over the next few quarters is the progress of "new enrollments"--after all, this is the leading indicator to a return to growth. We saw strong evidence of this in Q2 and the key positives from the quarter and the call are:
New student enrollments were 10,830 (ex transitional schools) up from 10,590 last year. This alone is the most important milestone as this signifies CECO is again on a path to growth.
Figure: Enrollments positive y/y for the first time in 4 years...

Source: Career Education Q2 release
Adjusted EBITDA (ex transitional) came in at -$3.1mm for Q2'14 compared to -$11.9mm in Q2'13 and -$62.1mm in Q2'12 and you can see the vast implement year over year.
Figure: EBITDA showed strong improved both Q/Q and Y/Y...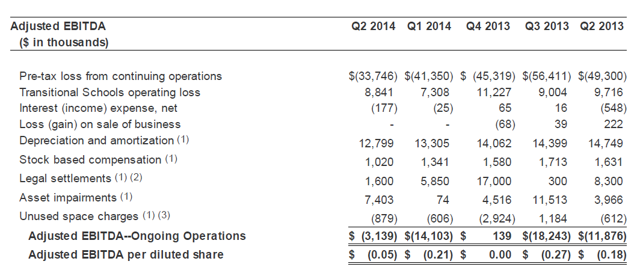 Source: Career Education Q2 release
The company affirmed its 2014 targets which are positive total student enrollments and revenue growth by Q4'14E and positive EBITDA in Q4'14E as well. That means the return to growth will be visibly and irrefutably evident by Q4. Additionally, we have seen better results reported by Strayer (NASDAQ:STRA) and Capella Education (NASDAQ:CPLA).
But why is the stock down?
Overall, an excellent quarter and a much more convincing quarter than they posted in Q1'14. But why is the stock down? We believe it is due to a couple of factors:
CECO had a cash burn of $46mm in the quarter. But $22mm was legal expense and disclosed by the company last quarter. And $16mm was due to transitional schools. So operational cash burn was $8mm, which is modest. And again, free cash positive is expected by the company by Q4.
Revenues were down $10mm sequentially raising some questions on the call about revenue per student. But this is seasonal. Last year, revenues were down $16mm sequentially (Q2'13 vs. Q1'13) and down $34mm sequentially in 2012 (Q2'12 vs. Q1'12).
Generally messiness of a company with schools in transition. The company is "teaching out"/closing campuses for 20 schools. These schools generate losses until they complete the teach-out, which is by end of 2015. Investors seem to have difficulty looking past this.
Figure: Transition schools wind down by 2015...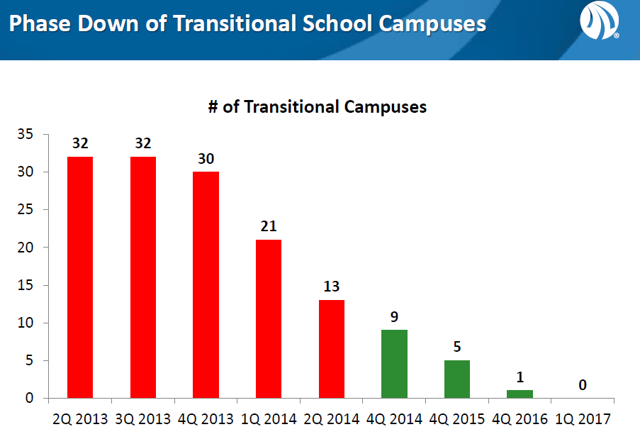 Source: Career Education Q2 presentation.
What do we do? We think the stock will reverse this weakness.
The company plans to get on the road and talk to investors over the next few weeks and months. The first roadshow in 4 years. There are valuation offers asymmetric risk/reward -- if it traded at a peer multiple of EV/revs the stock would be $18. Lastly, the industry generally reported better demand and seen in CECO numbers. And with CECO expected to show a return to growth, this means the stock can return be a double in the next few months.
The CEO himself on the call said "clear path towards creating multiples of shareholder value". FYI, we expect the CEO and CFO to buy stock in the next few weeks. This has been the pattern of the last few quarters.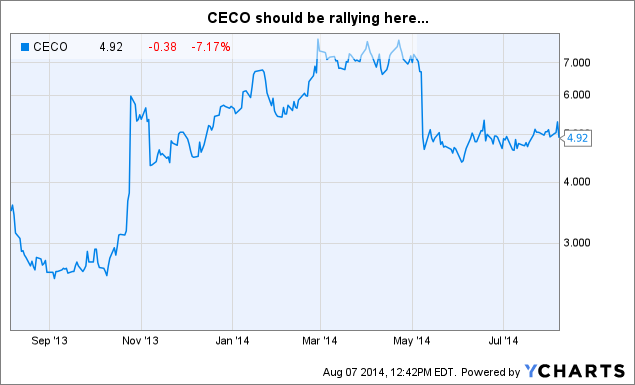 CECO data by YCharts
Disclosure: The author is long CECO. The author wrote this article themselves, and it expresses their own opinions. The author is not receiving compensation for it. The author has no business relationship with any company whose stock is mentioned in this article.