Company background
The Jungfraubahn Holding (OTC:JFBHF) is a leading Swiss tourism company that operates the highest railway in Europe. It offers its customers an adventure in the mountains and on the train. The main offer is the journey to the Jungfraujoch glacier - Top of Europe at 3,454 meters. Due to the long-term development of a distribution and agent network, it has achieved a leading position in the Asian. The Jungfrau Railway Group also operates other mountain railway routes in the region, has its own hydroelectric plant, leases premises for restaurants to operate and sells complete holiday packages on its website in cooperation with partner companies. Jungfraujoch route remains the most profitable segment within the company. During 2013 823,000 guests visited Jungfraujoch.
Here is a picture of the Jungfraujoch train on away to the glacier.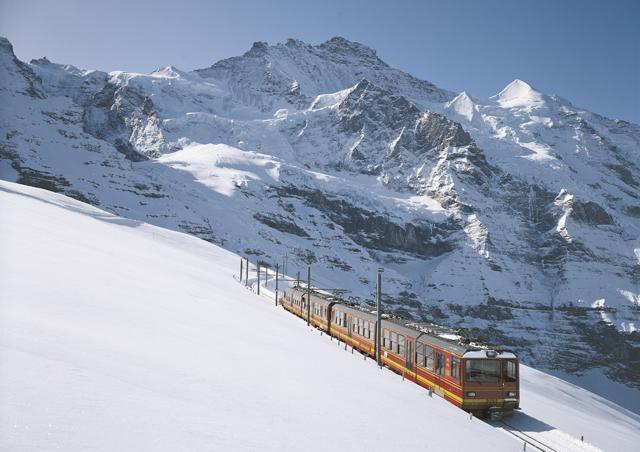 The company is aiming to be less dependable on the seasonality (it is largely summertime attraction) and has launched "10-month high season" initiative with its partners.
Jungfraubahn Holding is a Swiss Exchange listed company with CHF431market capitalization and daily trading volume of c. CHF80k.
The moat and price insensitive demand
The moat of the business is a result of its unique assets (railway routes), which have created top notch touristic attraction. There is no direct competition with other train routes and the only real alternative to the train ride would be to hike up to the glacier, but that is not likely to appeal to most tourists. The company not only runs monopoly like operations, but overtime has also build up a strong brand and Jungfraujoch became a must see attraction for most tourist in Switzerland (especially for those coming with organized groups). It is extremely unlike this moat will disappear in future - competitors will not start building railway tracks on nearby mountain as two similar tourist attraction would not be able to operate profitably, and even if it did, it will take time before the new route achieves brand recognition of Jungfraujoch.
You can check reviews of the route in here and here.
Also the demand for company's services is rather price insensitive. If an Asian tourist pays c. $5000 for his/her trip to Europe he will not care much whether train to Jungfraujoch costs $200CHF or $220CHF. He/she will buy the ticket anyway, otherwise he would have to spend a few hours doing nothing while the rest of the group enjoy beautiful scenery and are able to take another 1000+ pictures with their cameras.
Historical financial performance
This unique position of the company has allowed to deliver great financial performance over the last ten years (figures in millions CHF):
| | | | |
| --- | --- | --- | --- |
|   | 2013* | 2004 | CAGR |
| Revenue | 164 | 114 | 4.2% |
| EBIT | 38 | 20 | 6.9% |
| Net Income | 30.2 | 14.6 | 7.4% |
| BV of Equity | 440 | 321 | 3.5% |
| Dividend / share | 1.8 | 1 | 6.7% |
| Visitors to Jungfraujoch | 823,000 | 522,500 | 5.1% |
Thus the company has grown on average 4%-7% annually and that growth has been very smooth, even during the recent crisis both revenues and net income have remained almost unchanged. Net margins have also remained relatively stable at 15%-17% throughout the period.
The book value of equity has grown on average 3.5%, this growth is in addition to c. 2.5%-3% of dividends that have been paid out annually. Thus the actual intrinsic value growth to shareholders has been c. 6%, in line with the overall performance of the company.
Due to strong moat I would expect similar returns in the future. Further growth will be supported by planned increases in capacity (more frequent trains and faster turnaround times), higher utilization of low season as well as price increases to compensate for inflation. Both dividend yield and growth in book value seem to be fully supported by stable free cash the company is generating.
Dividends likely to increase following debt repayment
Jungfraubahn has increased its dividend on average by 7% annually during the last 10 years and currently dividend yield is 2.5%. However, I believe dividend growth is likely to be even faster going forward, as the company has already significantly reduced its debt load and net cash position currently stands at CHF1m (CHF25m in cash less CHF24m in debt) compared to net debt position of CHF80m back in 2004. Thus the company has spent on average CHF8-10m annually for debt repayments and now these funds could be used to increase dividend yield. This could potentially double the dividend yield as the latest dividend payment amounted to CHF10.5m. And although I do not expect Jungfraubahn to double its dividend for 2014 (some additional capex will be required for capacity increases), a faster pace in dividend growth going forward is very likely.
Strong balance sheet and robust cashflow generation
Currently Jungfraubahn has net cash position of CHF1m and is generating c. CHF50m annually in operating cashflows (average over the last 5 years). Its capex needs vary YoY but seem to be in the range of CHF20m-CHF40m, thus company is able to finance its capital expenditures entirely from internally generated funds.
Looking at 10 year history (with 2013 expected amounts included), Jungfraubahn has generated c. CHF450m in operating cashflow and spent CHF270m on capex, leaving CHF180m of FCF. Only in a single year (back in 2004) company's capex spent has exceeded its operating cashflow.
With net debt at 0, the entire FCF is likely to be devoted to shareholder distributions. With normalized operating cashflow of CHF50m annually and capex needs of CHF30m (CHF25m maintenance and CHF5m for growth), amounts available for shareholder distributions will be in the range of CHF20m annually, which is equivalent to a yield of 5% on current market cap.
Valuation
Thus we have a monopoly operation that has successfully grown over the last ten years and is expected to continue doing so. Currently Jungfraubahn trades at PE of 14. This valuation is on the low side as such stable business growing at 5% with net margins of 15%-17% should deserve a multiple of 18-20, indicating a potential upside of c. 20%. At the same time the company trades at FCF yield of 12, again indicating undervaluation for a stably growing company.
Looking at historical valuations we can see from the table below that company does not look very cheap and has actually traded at lower multiples during previous years. Thus even though there might be an upside looking purely from PE multiple perspective it is unlikely market will revalue the company on this basis.
| | | | | |
| --- | --- | --- | --- | --- |
|   | 2010 | 2011 | 2012 | 2013 |
| Price/Earnings | 13.9 | 12.8 | 14.2 | 14.3 |
| Price/Sales | 2.3 | 2.2 | 2.4 | 2.6 |
Thus Jungfraubahn is a great opportunity for investors looking for secure and growing dividend stream. Even if the upside in share valuation will not be realized, the company is generating stable cashflows that are not only sufficient to finance growth and maintenance capex but also provide shareholders with an FCF yield of 5% that will be distributed either as dividends or share-buybacks. Currently the catalyst that is likely to drive the share price higher is increase in dividend. As I have noted above, due to reduced debt load, company has almost doubled the cashflows potentially available for shareholder distributions. Annual general meeting in May is very likely to include discussion on dividend increase.
Risk
As the company is very dependent on Asian tourists, slowdown in China might impact the financial performance. However, as we have seen from the European crisis, tourist businesses are one of the fastest to recover - it took Spain and Greece less than two years to get back to peak tourist levels. Thus the impact from China slowdown is also not expected to be long lasting, if significant at all.
Disclosure: The author is long JFBHF. The author wrote this article themselves, and it expresses their own opinions. The author is not receiving compensation for it (other than from Seeking Alpha). The author has no business relationship with any company whose stock is mentioned in this article.
Editor's Note: This article discusses one or more securities that do not trade on a major U.S. exchange. Please be aware of the risks associated with these stocks.