Winston-Salem, North Carolina-based Krispy Kreme Doughnuts Inc.'s (KKD) third quarter fiscal 2011 earnings were 3 cents per share. The Zacks Consensus Estimate was break-even. The company also reported a profit of $2.4 million compared to a loss of $2.4 million in the prior-year quarter. The better-than-expected results were driven by growth in the top line.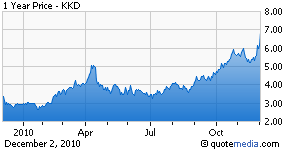 Total revenue climbed 7.9% year over year to $90.2 million and also out-performed the Zacks Consensus Estimate of $89.0 million. All the four segments reported increases in revenues. By segments, Company stores revenues jumped 2.6% year over year to $61.6 million, Domestic franchise revenues spiked up 4.9% to $2.0 million, International franchise revenues soared 22.5% to $4.4 million and KK Supply Chain revenues (excluding sales to Company stores) were up 23.2% to $22.2 million.
For the eighth consecutive quarter, same store sales at Company stores rose 5.0%. Domestic franchise same store sales grew 5.7%, while International franchise same store sales plunged 8.6%.
Direct operating expense, as a percentage of total revenue, dipped 150 basis points to 87.7% and general and administrative expenses dropped 200 basis points to 5.3%. As a result, operating income soared to $4.1 million from $0.6 million in the year-ago quarter.
Interest expense reduced $0.7 million from the prior-year quarter to $1.6 million due to lower debt.
Store Update
During the quarter, Krispy Kreme opened 19 franchise stores and 1 company-owned store and closed 4 franchises and 1 company-owned store. Thus, as of October 31, 2010, the company had 85 company stores and 564 franchise stores.
Financial Position
Krispy Kreme ended third quarter 2011 with cash and cash equivalents of $21.8 million and shareholders' equity of $76.1 million. As of October 31, 2010, long-term debt was $34.8 million versus $42.7 million as of January 31, 2010.
Outlook

Based on third results, the doughnut chain also boosted its adjusted operating income guidance for fiscal 2011. The company now expects adjusted operating income in a range of $17 million to $20 million, up from its previous forecast in the range of $13 million to $17 million.
The company expects same-store sales to grow in domestic stores in 2012, but will continue to remain challenging at international franchising stores. Additionally, Krispy Kreme views significant cost inflation in 2012.
In fiscal 2012, Krispy Kreme plans to open 30 international franchise stores, 5 to 10 company stores, and 5 to 15 domestic franchise stores.
Our Take
The company reported better-than-expected results and also raised its outlook. Thus, we expect estimates to move up in the coming days.
One of Krispy Kreme's primary competitors, Chipotle Mexican Grill Inc. (NYSE:CMG) posted third quarter 2010 earnings of $1.52 per share, which outpaced the Zacks Consensus Estimate of $1.30 on the heels of strong top-line growth, buoyed by higher traffic count and new restaurant openings.