In yesterday's article, "
Portfolio Positioning: What a Difference a Day Makes
," I mentioned that I had added Schlumberger (NYSE:
SLB
) into the portfolio. Readers of my recent articles will recognize that move as reflective of my interest in adding to the Energy sector for reasons expressed in "
Energized for Energy Sector
." No sooner did I hit "submit" on yesterday's article than did I see that Morningstar.com had added a "moat" assessment for one of SLB's competitors, Halliburton (NYSE:
HAL
). For those unfamiliar with
Morningstar's
"moat" grade, it is defined by on their
website
as:
The measure of the competitive barrier, if any, that gives a company an advantage over its rivals and allows it to generate above-average returns on invested capital.


Four major types of economic moats are: high customer switching costs; economies of scale; intangible assets such as brands or patents; and the network effect.

Morningstar divides stocks into three categories according to moat size: wide moat (companies with the strongest competitive advantage); narrow moat (those with some competitive advantage); and no moat (those with no sustainable competitiveadvantage).
Prior to yesterday, HAL did not have a moat grade. Yesterday it was assigned a narrow moat. SLB too has a narrow moat. While each investor is obligated to opine and decide for themselves as to the appropriateness of any comments made in this article to their unique financial profile, portfolio goals and risk tolerances, in my case, both companies have qualities that are in line with my overall global growth view and I'm looking to add exposure. In the case of SLB, Morningstar.com's analyst, Stephen Ellis wrote (October 27, 2010):
Schlumberger is one of the top firms in the oil services industry. In our view, the company is well-positioned to benefit from the industry's current weakness and future rebound, given its financial strength, geographical and product diversification, well-regarded research labs, and unique technology acquisition strategy. We believe the company's focus on building out a product set by making small software-oriented acquisitions to provide deeper insights into solving oil field issues will give it an edge over smaller peers when conditions improve. This strategy is geared toward winning large integrated project-management contracts with national oil companies (where Schlumberger excels), which offer ample opportunities to sell additional services from its wide-ranging portfolio … Still, as Schlumberger competes in many global markets, we believe it faces some risks. Political risk is always a concern when governments can destroy firms for political gain (as we've seen in Russia) or nationalize assets (as we've seen in Venezuela). Also, an inability to commercialize key technology could cost the firm project wins and reduce the impact of its heavy investment in its globalized workforce. Finally, we believe that recent cash-for-oil deals with Brazil and Russia could mean a larger Chinese oil services presence in the countries in the future. In our view, one of China's goals behind the deals is to secure larger roles for its oil services arms overseas, which will ultimately mean more competition for Schlumberger.
With regard to HAL, the same analyst wrote (November 22, 2010):
Halliburton's extensive oil field experience makes it a fierce competitor in the oil services industry. The company's managerial talent and international expertise is considerable, as it routinely wins high-profile contracts in key regions such as the Middle East. For more than a decade, Halliburton has been working on integrating its drilling services to fully optimize drilling performance while lowering costs. Halliburton began by placing its drilling engineering applications under one roof, which includes fluids, bits, and directional drilling. Over time, the firm has integrated its services into a single solution, which means that a customer can potentially obtain substantially greater well performance and reduced levels of non-productive time by standardizing on Halliburton's services rather than mixing services from multiple services providers ... but there are also threats involved with investing heavily in politically risky countries, such as Venezuela, Russia, and Libya. For example, Venezuela has nationalized several oil rigs and has made clear its intentions to source new service work from politically friendly nations like China instead of the U.S. Also, many countries delegate a large part of the country's services work from their state-owned oil and gas firms to local firms rather than U.S. firms. U.S. services firms typically hire local talent to better compete for contracts. The risk is that Halliburton's services expertise could be transferred to the local workers or other international services firms (and more critically, Chinese oil services companies) in the country over time, which could then create effective regional competitors.
Lots of similar issues affecting both companies … opportunities for growth especially with rising energy demands and the quest for new sources of supply … and challenges from competition, foreign government relationships and energy price volatility. Both have taken off of late and are at or near 52-week highs in stock price.
(Click to enlarge)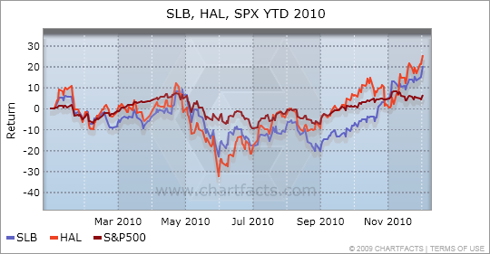 Both pay a dividend of roughly 1%. Both have trailing PE's of close to 25. With regard to Forward P/E, one might give the nod to HAL with a ratio close to 15, while SLB is over 20. And there are other differences between them including overall size, number of employees, revenues and margins. But in sum, both are perceived to be leaders in a quickly consolidating, highly complex, geopolitically sensitive industry.
While I believe that portfolio diversification is always important, it's even more so when it comes to the energy sector which is fraught with somewhat unique types of event risk. In the case of oil service companies there are periodic eruptions of allegations of breaching the Foreign Corrupt Practices Act or other comparable laws. There are government nationalizations as mentioned in the research notes above. And as is all too well known to everyone, there are periodic oil platform disasters that, beyond their obvious awful implications for loss of life and for environmental damage, are quick to result in the punishment of the stocks of the whole group whether the individual company is involved directly or not. So careful scrutiny into the appropriateness of this sector in one's portfolio is essential. But for those who conclude that it is, in fact, a desired area of investment, these two names deserve a close look, or if I may, a "deep dig" and "drilldown."
Disclosure: Long SLB, HAL, SPX and many stocks in QQQQ. Positions can change at any time without notice.
Disclaimer: Please read and consider important information related to all communication made by Soos Global on Seeking Alpha by clicking here.