It's a bit like watching a car accident: You're horrified, but can't look away. What 's that, you ask? Well, in this case it's the wrenching declines suffered by PIMCO High Income Fund (NYSE:PHK) over the past week.
Only a week ago, on 30 July, PHK closed at a head-shaking 59% premium to its NAV. At the time, the distribution on its market price was about 11%, discounted by that premium from a distribution rate on NAV of over 17%. Apparently, the attractions of this double-digit yield drove a willingness by investors to pay close to 1.6 times the fund's value for access to that return.
You would have thought it obvious that a premium of this scale could not possibly be sustainable, particularly when one considers that the 60% premium was being paid for a fund that carries 42% leverage. I've made this point here on several occasions in the context of discussing other PIMCO funds (here, for example) or instruments that are invested in PHK (as seen here). It appears the market has woken up to that view: In the last 5 trading days PHK's market price has dropped from $13.5 to $11.93 at the close for 6 August, an 11.5% fall. Interestingly, the NAV has remained essentially flat; that drop is a consequence of the premium falling to about two-thirds of last week's value. It currently stands at about 40%.
Even that 40% premium sounds excessively high to me, but I note that the fund has consistently traded at what I'd consider an excessively high premium for so long that my judgment is probably not particularly reliable here. Here's the 1 year premium/discount chart through 5 Aug's close (source: cefconnect.com). It may be lost at a quick glance but be sure to pay attention to the abrupt fall-off at the right edge of the mountain (or, should I say, plateau):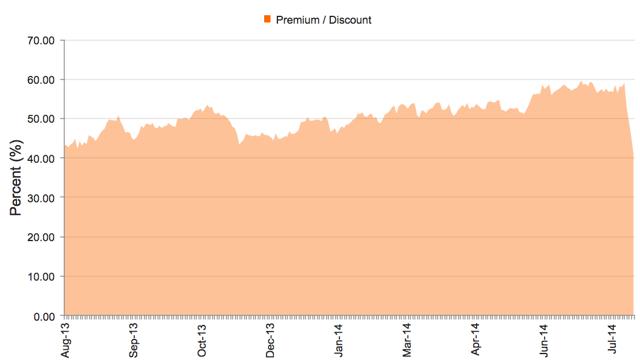 Going back to 2011 may provide a more instructive look with hints of what may lie ahead (source: cefconnect.com).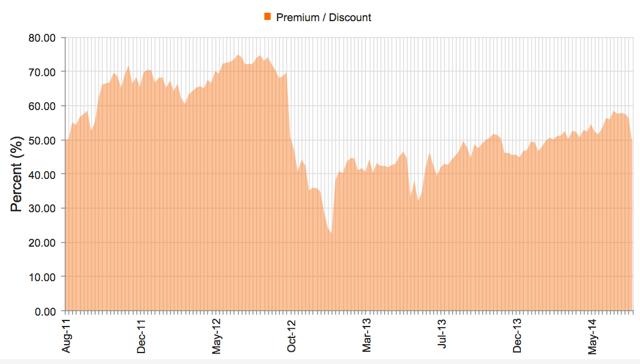 The premium was over 50% through the middle of 2012, rising to a high of more than 70% before the bottom fell out. From the fall of 2012 through early 2013 the premium dropped by 70%. This was followed by a steady climb back up (with that brief interlude in spring 2013) to last week's high. PHK's shareholders will, of course, be wondering if the current slide will be a repeat of 2012's carnage and continue to drop, or it will look more like the events of May 2013 and recover. I have no answer, but I continue to consider the fund dangerously overvalued at its current premium of 40% and certainly would not be attracted to buying this dip, despite the current yield of more than 12%.
Here's a chart (from cefanalyzer.com) showing recent price action. The green line is NAV, note how flat it is. The top blue line is the premium and the lower blue line is the Z-score (see here for discussion of Z-score if you're new to the concept).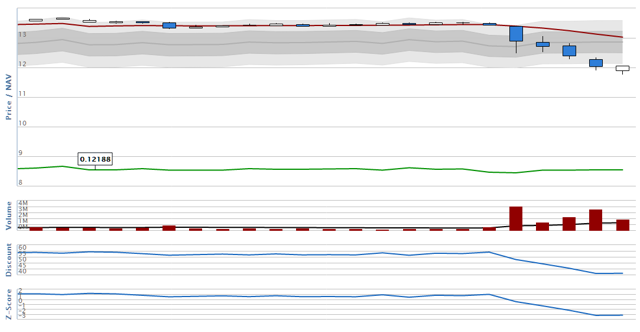 The other PIMCO closed-end fund that carries a stratospheric premium is PIMCO Global Stocks Plus (NYSE:PGP). The premium here was approaching 80% last week! I rarely use exclamation points in my writing, but 80%? No other punctuation seems appropriate. The interesting thing to me is that for that 80% premium an investor was only receiving an 8.24% annual yield. Now, income greater than 8% is certainly attractive in today's low-yield environment, but one can get comparable yields in any number of solid, closed-end funds without having to resort to paying 1.75 times the value of a fund's assets to get them. And, while there has been some gains on price to be had YTD, almost all of this comes from increases in the premium; NAV has been essentially flat since early 2013.
In the last few days, PGP's premium has dropped a bit, but nothing like the situation in PHK. It currently stands at 72.5%, a level that I submit is even more unsustainable than PHK's 60% was, especially as it's not accompanied by a double digit yield.
PGP has held a high premium steadily over the past year. It has averaged 65% for the past 6 months (source: cefconnect.com):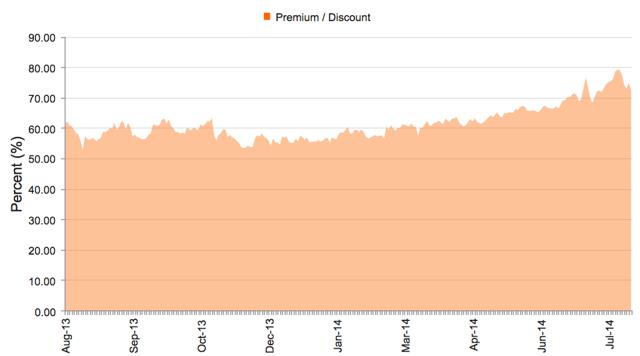 Its 3-year premium/discount chart looks just like PHK's albeit some 10 percentage points higher (source: cefconnect.com).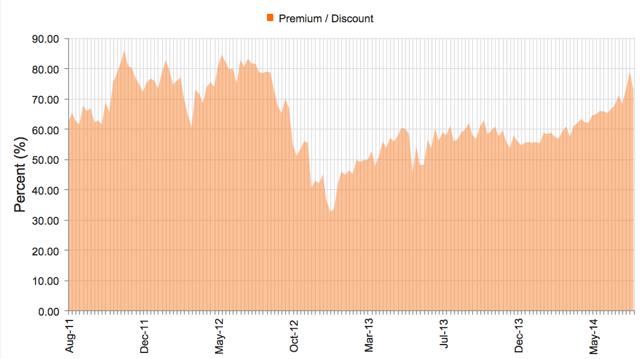 I do not hold PGP, but if I did I would certainly be ready to sell. Not only is its premium incredibly high, those lofty heights are not supported by a comparably lofty distribution. I find it hard to believe that investors will continue to sustain these valuations for an 8.25% yield. Anyone holding the fund has made some paper profits over that 8.25% from the increasing premium. With signs of premium erosion looming on the horizon, it would seem timely to find a graceful exit before that erosion gains more momentum.
There are good, excellent even, alternatives to PGP. The fund is managed by Dan Ivascyn, who has shown himself to be quite skilled in delivering impressive returns in the fixed-income realm. One can access Ivascyn's investing expertise in two other PIMCO closed-end funds, PIMCO Dynamic Credit Income (NYSE:PCI) and PIMCO Dynamic Income Fund (NYSE:PDI). Both have seen their discounts move into more negative territory this past week, well below their average discounts. The funds are beginning to look like bargains to me.
PCI is currently priced at a -9.5% discount and is paying 8.32%, a squeak better than PGP. PDI can be purchased at a -5.5% discount and pays 7.25%. PDI also carries about $0.19 a share in undistributed net investment income, so it is probable that investors will see a repeat, albeit at a lower level, of 2013's year-end special dividend from PDI.
Not too long ago (linked above) I was arguing that it may be time to consider selling PCI and PDI. I kept my stake in PCI, but did reduce my position in PDI. I am now considering that good entry points may be approaching for these funds, and I may be returning to PDI's fold. I continue to like PCI as well and will certainly continue to hold that position. Should its discount continue to drop, I may consider increasing it by a small amount.
More to the point of this article, it's my view that any investor in PHK or, especially, PGP might want to consider moving out of those funds into something with more sustainable valuations like PDI or PCI.
Disclosure: The author has no positions in any stocks mentioned, but may initiate a long position in PCI, PDI over the next 72 hours. The author wrote this article themselves, and it expresses their own opinions. The author is not receiving compensation for it (other than from Seeking Alpha). The author has no business relationship with any company whose stock is mentioned in this article.