Coal companies in the U.S. are struggling to deliver a satisfactory financial performance due to tough business conditions faced by the Coal Industry. The industry has been going through difficult conditions due to stringent environmental regulations, lower natural gas prices and excess coal supply in the market. Walter Energy (NYSE:WLT) is among the leading met coal companies in the U.S. and is a pure play met coal producer. Consistent with the industry, the company is facing challenges due to weak met coal prices. WLT has been taking corrective measures by lowering its costs, cutting capital spending and amending its credit agreements to survive the tough industry conditions. Also, the company has the option to sell its non-core assets to improve its liquidity position. However, I believe met coal prices need to improve in the coming quarters to ensure WLT's survival in the long term.
Financial Performance
The company reported a mixed financial performance for Q2'14. WLT reported an adjusted EBITDA of $11.6 million for Q2'14, better than consensus estimates of negative $4 million. The beat was driven by higher margins in the U.S. and Canada. However, revenues for the quarter came out to be $378 million, down 14% year-on-year, missing consensus estimates of $396 million. The drop in revenues was mainly due to lower met coal prices, partially offset by a higher sales volume. The company sold 2.7 million tons of coal, up 12.5% as compared to the corresponding period last year.
As the coal market conditions remain tough, the company has been making aggressive efforts to cut its costs. WLT was successful in lowering its cash costs for U.S. operations to $90 per ton, as compared to $95 per ton in Q1'14. Also, the company is targeting to lower its selling, general and administration (SG&A) to $70 million per annum, down from $80 million. The cost savings measures will help the company reduce cash burn. Also, in Q2'14, the company closed its high cost mines in Canada, including Wolverine and Brazion coal mines. The company incurred a one-time charge of $18 million, in relation to the idling of coal mines in Canada. The cost control initiatives will help the company support its bottom line results and preserve cash in the ongoing difficult business conditions, in the short term.
Weak Met Coal Prices
Weak met coal prices have put pressure on the company's top and bottom line numbers. The met coal benchmark price settled to $120 per ton for Q3'14, flat quarter-on-quarter. Excess coal supply has been a hurdle in the recovery of met coal prices. According to Moody's, the met coal market is oversupplied by 30 million tons, despite production cuts of 40 million tons in the last two years. Since the beginning of 2014, approximately 20 million tons of met coal production cuts have been announced. As the met coal market remains oversupplied, I believe additional consistent and sustainable production cuts need to be announced. Recently, Peabody Energy (NYSE:BTU), Arch Coal (ACI) and Cliffs Natural Resources (NYSE:CLF) announced production cuts. WLT also lowered its met coal production guidance by 1 million tons to 9.5-10.5 million tons for 2014. The following two charts show the decreasing quarterly U.S. coal production and quarterly met coal benchmark prices.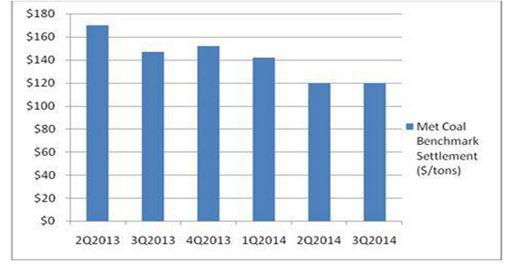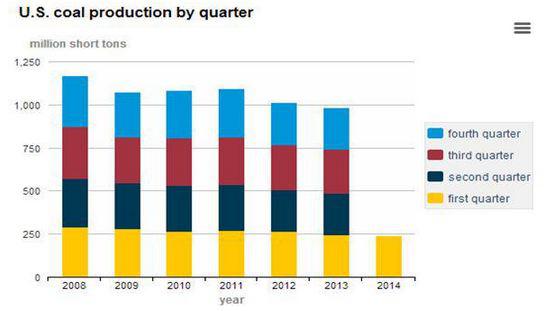 Liquidity
The company has been taking measures to reduce its cash burn and preserve cash to survive the ongoing industry downturn. The company ended Q2'14 with a total liquidity of $563 million, down from $676 million in Q1'14. The total liquidity consists of $294 million in cash and equivalents and $270 in revolver available. In July, the company amended its credit facility and issued debt, which increased WLT's pro forma liquidity to $646 million. Other than lowering operational costs and credit facility amendment, the company has been consistently lowering its CAPEX. Consistent with WLT's focus on cost reduction across business, the company lowered its CAPEX guidance by $10 million to $120 million, resulting in total CAPEX reduction of $30 million year-to-date. The company's liquidity will also improve due to inventory destocking in Canada, which will positively affect its liquidity by approximately $100 million.
Also, the company has an option to improve its liquidity by selling its non-core assets. WLT has plans to sell non-core assets of approximately $250 million, but the timing of the sales depends on met coal market conditions. In the given low met coal price environment, WLT is unlikely to undertake the asset sale.
Conclusion
Met coal prices are likely to remain weak in the near term due to excess coal supply. I believe more consistent and sustainable production cuts need to be observed by met coal producers to ensure a met coal price recovery. Also, I believe the company is taking the right measures by reducing operational and capital expenditures to preserve cash in the current conditions. Moreover, the company has an option to sell non-core assets to boost liquidity, which will help it in the short term. However, to ensure long term performance, a recovery in met coal prices remains critical for WLT.
Disclosure: The author has no positions in any stocks mentioned, and no plans to initiate any positions within the next 72 hours. The author wrote this article themselves, and it expresses their own opinions. The author is not receiving compensation for it (other than from Seeking Alpha). The author has no business relationship with any company whose stock is mentioned in this article.