By Sridharan Raman
The company has seen production increase every year, and the investments in new projects seem to be paying off handsomely. Athlon (NYSE:ATHL) has a positive StarMine Predicted Surprise of 6%, which leads us to believe that the company will beat estimates when it reports earnings on Aug. 11.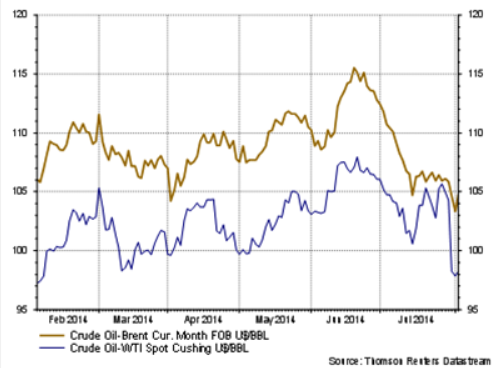 Strong flow
Crude oil prices spiked in June, heading past $115 per barrel before retreating in July, but remaining above the psychological $100 level. That is likely to help second-quarter numbers, and it's good news for Athlon, which has been increasing production every quarter over the last six quarters.
Output was 10,354 barrels per day in the last quarter, up from 6,023 a year ago, and that number is likely to continue to increase. In an environment of high oil prices, increasing production of oil is a good thing. Athlon plans to spend a large part of its free cash flow on horizontal rigs in the coming quarters, and that may be strong growth opportunity.

(Source: Thomson Reuters Eikon/StarMine)
Estimates heading skyward
Analysts have been raising their quarterly earnings estimates for Athlon over the past 90 days. The I/B/E/S consensus estimate has risen in the direction of the StarMine SmartEstimate, and is now 28 cents per share. The SmartEstimate is still higher, at 29 cents per share. There is even a Bold Estimate of 31 cents per share -- an estimate by an analyst with a strong track history.
People with knowledge of the company either because they work there or have access to restricted information, referred to as insiders, have been buying shares (this is legal as long as it's declared and done in a systematic fashion). There have been very few sellers, despite the recent run up in the share price. Athlon scores a best possible 100 on the StarMine Insider model, which is a strong indication that insiders continue to have faith in the company's future.
Analysts have also raised their estimates for the whole year and next year too, for the top line (revenue) and the bottom line (earnings). As Athlon starts drilling in new locations, it becomes more efficient, implementing lessons from previous wells for newer ones. There are more buy recommendations than there were 90 days ago, fewer hold recommendations and no sell recommendations. Athlon scores 97 on the Analyst Revisions Model, an indication that the optimism on earnings is likely to persist. We expect Athlon to report an earnings beat when it announces second-quarter results in the coming days.
Disclosure: The author has no positions in any stocks mentioned, and no plans to initiate any positions within the next 72 hours.
Business relationship disclosure: Alpha Now at Thomson Reuters is a team of expert analysts that are constantly looking at the financial landscape in order to keep you up to date on the latest movements. This article was written by Sridharan Raman, independent commentator and analyst. We did not receive compensation for this article, and we have no business relationship with any company whose stock is mentioned in this article.