The following is a list of financial stocks that are undervalued, when comparing the current price to the average analyst target price (used as a proxy for fair value).

To compile this list, we started with a universe of over 100 financial stocks. We then narrowed down the list by only focusing on stocks that are trading at a deep discount to the analysts target price.

Yes, there are many limitations to this approach of finding undervalued companies, but the goal here is to give you a starting point for your own analysis. Full details below.

Analyst target prices and short float data sourced from Finviz.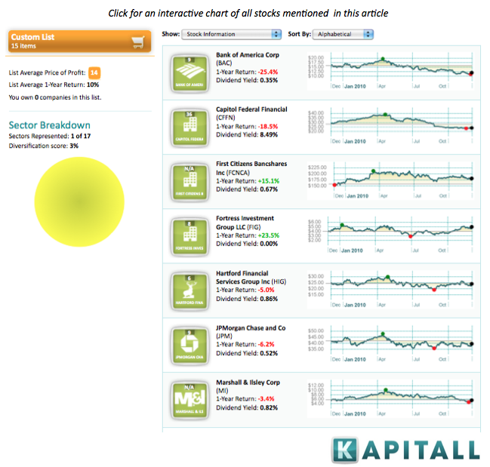 The list has been sorted by the discount to average analyst target price.

1. Bank of America Corporation (NYSE:BAC): Banking Industry. Market cap of $113.86B. Price at time of writing $11.65 vs. target price of $17.99 (discount of 35.24%). Short float at 1.1%, which implies a short ratio of 0.55 days. The stock has lost -28.72% over the last year.

2. Popular Inc. (NASDAQ:BPOP): Foreign Bank. Market cap of $2.97B. Price at time of writing $3.01 vs. target price of $4.57 (discount of 34.14%). Short float at 1.7%, which implies a short ratio of 1.57 days. The stock has gained 13.28% over the last year.

3. Capitol Federal Financial (NASDAQ:CFFN): Savings & Loans Industry. Market cap of $1.74B. Price at time of writing $23.42 vs. target price of $33.0 (discount of 29.03%). Short float at 13.6%, which implies a short ratio of 13.75 days. The stock has lost -10.45% over the last year.

4. Marshall & Ilsley Corporation (NYSE:MI): Regional Banks. Market cap of $2.58B. Price at time of writing $5.48 vs. target price of $7.5 (discount of 26.93%). Short float at 3.15%, which implies a short ratio of 1.62 days. The stock has lost -14.08% over the last year.

5. MGIC Investment Corp. (NYSE:MTG): Surety & Title Insurance Industry. Market cap of $1.74B. Price at time of writing $9.28 vs. target price of $12.51 (discount of 25.82%). Short float at 16.49%, which implies a short ratio of 7.31 days. The stock has gained 100% over the last year.

6. JPMorgan Chase & Co. (NYSE:JPM): Money Center Banks Industry. Market cap of $149.14B. Price at time of writing $39.31 vs. target price of $52.45 (discount of 25.05%). Short float at 1%, which implies a short ratio of 1.02 days. The stock has lost -9.19% over the last year.

7. SLM Corporation (NYSE:SLM): Credit Services Industry. Market cap of $5.82B. Price at time of writing $12.18 vs. target price of $16.0 (discount of 23.88%). Short float at 6.25%, which implies a short ratio of 8.16 days. The stock has gained 6.58% over the last year.

8. Fortress Investment Group LLC (NYSE:FIG): Asset Management Industry. Market cap of $2.17B. Price at time of writing $4.93 vs. target price of $6.42 (discount of 23.21%). Short float at 2.49%, which implies a short ratio of 1.94 days. The stock has gained 14.89% over the last year.

9. Regions Financial Corp. (NYSE:RF): Regional Bank. Market cap of $7.12B. Price at time of writing $6.07 vs. target price of $7.89 (discount of 23.07%). Short float at 3.51%, which implies a short ratio of 1.92 days. The stock has lost -1.39% over the last year.

10. Hartford Financial Services Group Inc. (NYSE:HIG): Property & Casualty Insurance Industry. Market cap of $10.34B. Price at time of writing $24.03 vs. target price of $31.0 (discount of 22.48%). Short float at 4.43%, which implies a short ratio of 2.78 days. The stock has lost -4.16% over the last year.

11. Prudential Financial, Inc. (NYSE:PRU): Life Insurance Industry. Market cap of $24.26B. Price at time of writing $53.97 vs. target price of $69.46 (discount of 22.3%). Short float at 0.78%, which implies a short ratio of 0.73 days. The stock has gained 6.72% over the last year.

12. Old Republic International Corp. (NYSE:ORI): Surety & Title Insurance Industry. Market cap of $3.11B. Price at time of writing $12.99 vs. target price of $16.67 (discount of 22.08%). Short float at 4.7%, which implies a short ratio of 6.9 days. The stock has gained 25.19% over the last year.

13. First Citizens Bancshares Inc. (NASDAQ:FCNCA): Regional Bank. Market cap of $1.86B. Price at time of writing $180.0 vs. target price of $230.0 (discount of 21.74%). Short float at 0.12%, which implies a short ratio of 0.88 days. The stock has gained 13.84% over the last year.

14. MetLife, Inc. (NYSE:MET): Life Insurance Industry. Market cap of $38.72B. Price at time of writing $40.49 vs. target price of $51.55 (discount of 21.45%). Short float at 1.5%, which implies a short ratio of 1.76 days. The stock has gained 16.96% over the last year.

15. Washington Federal Inc. (WFSL): Savings & Loans Industry. Market cap of $1.68B. Price at time of writing $15.32 vs. target price of $19.3 (discount of 20.62%). Short float at 2.24%, which implies a short ratio of 4.93 days. The stock has lost -20.2% over the last year.

Disclosure: No positions