Back in January, I compared two teen retailers, Buckle (NYSE:BKE) and Aeropostale (NYSE:ARO). I advised betting on Buckle over Aeropostale. While BKE and ARO had similar sales and store growth, I reasoned that BKE was far more shareholder friendly than ARO. After all, 43% of BKE is held by insiders. Only 0.5% of ARO is owned by insiders. True to form, BKE took care of its shareholder. Since January, BKE has delivered $3.30 in dividends, including a $2.50 special dividend, equivalent to 10.7% of the share price at the time I recommended it. Giving out $152 million dollars in cash to shareholders is my definition of friendly when you consider that BKE is a $1.7 billion market cap company.
ARO, in contrast, gave no dividend. It just reported a quarter that disappointed investors. Over the year, ARO grew its equity position by $48 million. It's nice to see ARO grow its shareholder equity, although I'm not sure investors will ever see their share of that money.
Oh and may I add, even with the bountiful dividend, BKE beat ARO in share performance, proving once again it pays to buy companies that are investor friendly.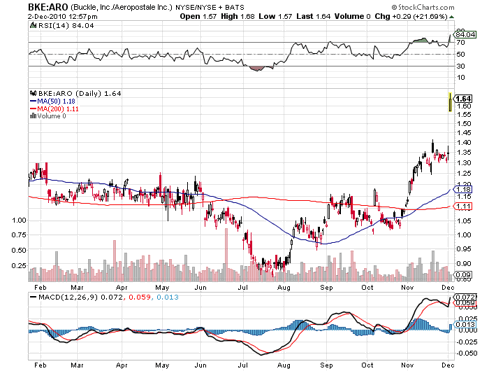 Is BKE done? No way. Thursday, the company wowed with a 7.9% same store sales increase. The stock has plenty of room to rise. Remember this stock is heavily shorted.
P.S. Janney Montgomery Scott upgraded the stock from a sell yesterday (boy, were they wrong on their sell; I wonder whether they will get it right with a buy recommendation.)
Disclosure: Long BKE, no position ARO