One week removed from the mega-hit that was Guardians of the Galaxy, Disney (NYSE:DIS) is set to enter another movie into the summer box office wars... but of a totally different variety and one with an equally different back-story.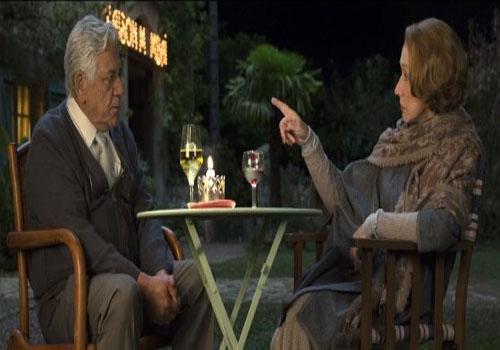 (Credit: DreamWorks)
While Guardians came from Disney's partner Marvel, The Hundred-Foot Journey comes from Steven Spielberg's DreamWorks. As you may remember after DreamWorks split into two separate companies, Disney took over the marketing and distribution of the studio's live-action roster. Given that partnership Disney certainly has an interest in how Journey does this weekend, but not as much as Reliance Entertainment, a subsidiary of Reliance Anil Dhirubhai Ambani Group, a private Indian based media group.
Reliance has long been an international force in the media sector starting in radio and expanding to theater chains and then film production. Currently it owns a 50% stake in DreamWorks, alongside principal partners Steven Spielberg and Stacey Snider (who also serves as Co-Chairman and CEO). While Disney is distributing the film, it was Reliance's money that really helped the picture get made in the first place.
Overall the company has poured in over $300 million to DreamWorks and its returns haven't always been successful which prompted a re-structuring of the deal in 2012 that included a mandate to make less movies (Journey is the second and final film on the studio's 2014 roster). Still the two sides seem dedicated to their investment, with a lot of that credit going to Spielberg's iconic name and pedigree. It will be interesting to see how that plays out should Snider exit the company when her contact expires at the end of the year as she's rumored to do.
Keep in mind it hasn't always been the easiest road for Reliance which earlier this year also saw its Reliance Broadcast Network de-listed from trading and its three-year pact with CBS (to create the international Big CBS line of networks) come to a close. While the company still remains a force in India, it has not been able to find its footing here in the States.
Granted, Reliance has benefited from the critical success of DreamWorks movies such as The Help, War Horse and Lincoln, but they haven't seen a big boon on the mainstream side. After watching May's Need For Speed sputter out (domestically), executives have to be hoping for better luck here with Journey, which plays to the same type of older demographic that made the previously mentioned trio a hit.
Estimated to have cost $25 million (which by comparison to other summer films is very modest), the movie has the potential to be a sleeper hit if early mixed reviews don't scare away audiences. Journey follows an Indian family that takes up residence in Saint-Antonin-Noble-Val (which is part of the South of France).
Upon arrival the family decides to open an Indian restaurant, much to the dismay of the stuck up Madame Mallory (Helen Mirren), who owns Le Saule Pleureur, a upscale French restaurant (coincidentally) one hundred feet away. Needless to say the two don't get along. Yet based on the trailer, it's a charming premise and Helen Mirren makes anything she's in ten times better than it already is to start. The film also has the backing of Oprah Winfrey who is a producer on the project. All of these factors combined should give the movie a solid chance of success at the box office.
Journey's going to be playing the long game though as this was not made to be a blockbuster; it was made as an awards contender and as an overall low risk, high reward venture. All things equal a $5 million to $7 million opening weekend should be considered a win as this week a total of four new wide releases will hit cinemas across the country. It will be a crowded marketplace for sure but for a small sub-section of audiences that hate the loud popcorn movies of summer, this will hit the mark, just not to the extent DreamWorks, Disney and Reliance would probably like.
Disclosure: The author has no positions in any stocks mentioned, and no plans to initiate any positions within the next 72 hours.
Business relationship disclosure: All opinions expressed are the authors and no compensation outside of Seeking Alpha is being received. The author has a business relationship with a subsidiary of Disney but is not a full-time employee.