On 3/30/2014, I said that Bridgepoint Education (NYSE:BPI) was a strong buy after a pullback post-earnings, due to the leveling off in enrolments post a period of decline. Since that time, the stock has trailed the S&P driven by financial restatements that raised doubts on the validity of its prior reported results. Even post the earnings pop, the stock is still trailing the S&P by 12 points. However, I believe that the operating indicators are turning favorable for Bridgepoint resulting in an attractive investment opportunity.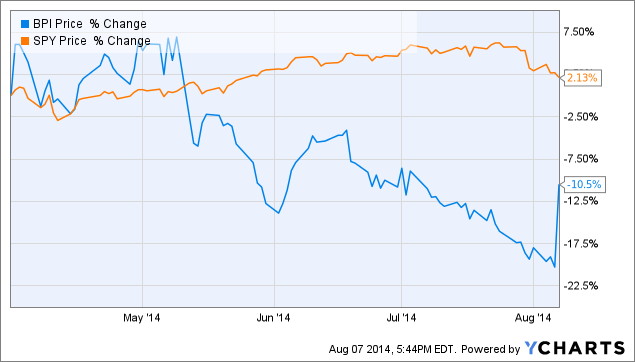 Key operating indicators
Enrolments: BPI had 61,117 students enrolled at the end of Q2, which was a 5% decline from the end of Q1. This reflects the increase in the quality bar that BPI is now enforcing, which might be a drag on earnings in the short term but will enhance its reputation and student quality going forward.
Operating Expenses: The company managed to significantly rein in operating expenses leading to margin expansion and earnings growth even in the face of revenue declines. Revenue declined 11% YoY but net income rose 6%. More impressively, operating income rose 17% due to expense controls leading to a 3ppt growth in operating margin.
Valuation changes:
I updated my prior valuation model to flatten out the enrolment growth, but incorporate the impact of the operating expense efficiencies. This results in an updated valuation of ~$17-$18/share, which is in line with my prior results (I was more bullish on enrolment growth, but did not factor in operating margin expansion). Based on the update, I still see significant upside in BPI and continue to recommend a buy.
Disclosure: The author is long BPI. The author wrote this article themselves, and it expresses their own opinions. The author is not receiving compensation for it (other than from Seeking Alpha). The author has no business relationship with any company whose stock is mentioned in this article.
Additional disclosure: I am also short $10 BPI puts.