By Tabinda Hussain
After Lansdowne Partners' longstanding short in Tesco PLC (OTCPK:TSCDF) (OTCPK:TSCDY), it appears Steve Mandel's Lone Pine Capital also thinks that Tesco is headed for trouble. According to a filing recently made with the FCA, Lone Pine Capital has a .5% short position in the consumer discretionary company. It is very likely that Lone Pine was shorting Tesco for some time but that the position only recently eclipsed the threshold level of .5%, which demands public disclosure.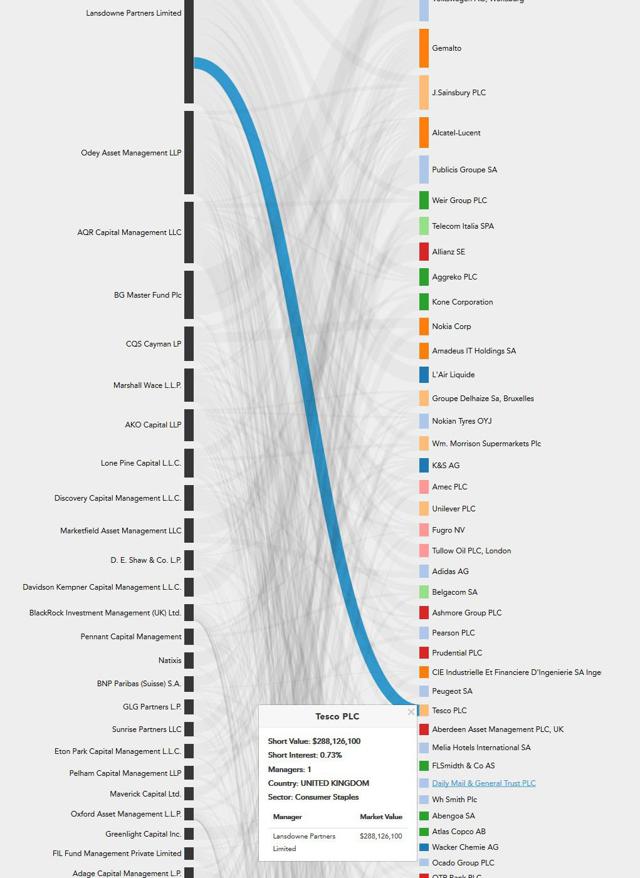 Chart via Novus Research
Tesco fell 9% in four weeks
London's leading hedge fund, Lansdowne Partners, is shorting .74% of Tesco's outstanding shares. The fund has been shorting Tesco for nearly two years now. Tesco has been a fruitful bet for short-sellers, as shares of the supermarket chain have fallen by 26% this year.
U.K.'s supermarkets have come under a storm of short bets. The sector has been threatened by discount retailers like Aldi and Lidl, both of which are Germany-based retailers. Faring the worst in this situation are Tesco PLC and Wm Morrison Supermarkets plc (OTCPK:MRWSF) (OTCPK:MRWSY).
Tesco and Wm Morrison lose market share
In a recent note, Bernstein Research rated Tesco as Underperform and said that the course of the company will become clearer over the next 12 months. In a separate note, Bernstein said that Tesco had the largest fall in the U.K.'s food retail sector, going even lower than Wm Morrison. Bernstein said that previously the market share that Tesco and Wm Morrison were losing was proportional to what Aldi and Lidl were gaining, but this dynamic is not in play anymore, as Tesco and Wm Morrison are now underperforming all grocers across the board.
Figures from Kantar showed that Tesco suffered a 1.4% loss in market share, whereas sales declined by 3.8% in the 12 weeks ending on July 20. During the same period, Morrison lost .5% market share, whereas Aldi and Lidl gained 32% and 19.5%, respectively.
Wm Morrison Supermarkets plc was at one time the most-shorted stock in the U.K., but not anymore. According to filings made with the FCA, Lone Pine Capital, Lansdowne Partners, and Pelham Long Short Master Fund are shorting Wm Morrison. The shares of this retailer have lost 35% in this year.
Referring to the downfall of Morrison, Bernstein said,
"It lost its value credentials and initially ignored the profitable growing segments, online and convenience, which it is now addressing in the most expensive way possible. Management's recent return to its roots, ("value led fresh grocer") is very welcome. The plan is bold. However the plan is still understandably vague and inconsistent."
J Sainsbury barely gained market share
With another profit warning, Tesco PLC's U.K. trading margins will slump even further. Bernstein said that the company has not improved itself in store standards and that pricing and losses are still accelerating. A turnaround could happen, depending on the new management team. The note said that a turnaround should segment Tesco's large store estate into a value-focused, low-cost / low-price chain, an upmarket chain, and that one segment should keep the current format.
Faring only slightly better than its losing competitors, U.K-based J Sainsbury plc (OTCQX:JSAIY) (OTCQX:JSNSF) gained market share of just .1%. Sainsbury is one of the most-shorted stocks in London, as short interest is up to 7.9%. Other than Lone Pine, Lansdowne, and Pelham, Sainsbury is a short position of Marshall Wace, Odey Asset Management, Eton Park, and Adelphi Capital. Shares of Sainsbury are down 17% YTD.
Sign up for our free daily newsletter.
Disclosure: None.
Editor's Note: This article discusses one or more securities that do not trade on a major U.S. exchange. Please be aware of the risks associated with these stocks.