Stocks fall out of favor with the market for innumerable reasons. Zynga (NASDAQ:ZNGA) lost the love of Mr. Market because its revenue base has been deteriorating, as it has been unable to release games with the level of success it has in the past, such as with Farmville. However, there is a certain margin of safety inherent in stocks with a substantial cash position and zero debt on the balance sheet. Following the after-hours sell-off, ZNGA now trades at less than 2x its actual cash position. Moreover, there are a number of potentially positive catalysts that could propel this company back into the love of Mr. Market.
Quarterly Report
During the quarter, Zynga generated bookings of $175 million and adjusted EBITDA of $14 million. Moreover, Zynga has been able to pivot with the burgeoning mobile trend and saw mobile bookings grow to 50% during the quarter, up from 36% last quarter. The bookings resulted in $153 million in actual revenue, which resulted in a loss of $0.07 per share.
Full Year Guidance
Management has revised its full year guidance. Bookings are projected to be in the range of $695 million to $725 million. This is down from previous expectations of between $770 million to $810 million. Moreover, adjusted EBITDA is projected to be in the range of $40 million to $60 million, compared to previous expectations of $70 million to $100 million. Finally, EPS guidance was lowered from $0.01-$0.03 to $(0.01)-$0.00.
Although management has cited lowered guidance, one of the reasons for the reduction has been a shift to higher quality games. ZNGA recognizes that the cost of marketing these games has risen dramatically and has strategically decided to perfect them before releasing. In the same vein, management has increased R&D spending more than expected, in order to create novel and compelling games. The increase in R&D costs is one of the primary reasons for the lowered EPS guidance.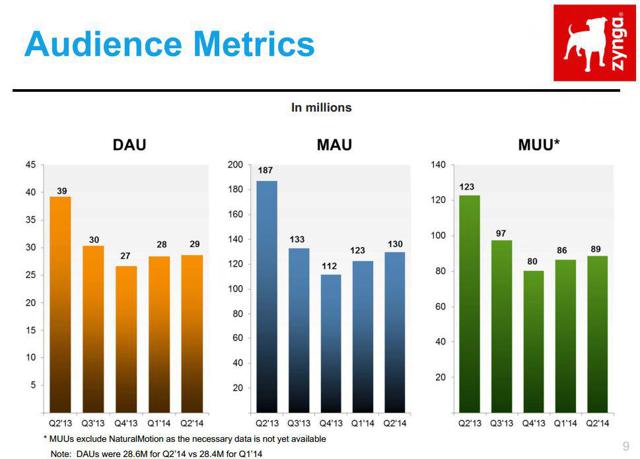 Source: Earnings Presentation
A bright spot in the earnings release was that engagement and user growth expanded during the quarter. Both of these metrics bottomed out in Q4 of 2013, but have risen steadily over the past two quarters. Moreover, the users numbers for NaturalMotion games are not even included in the MUU section.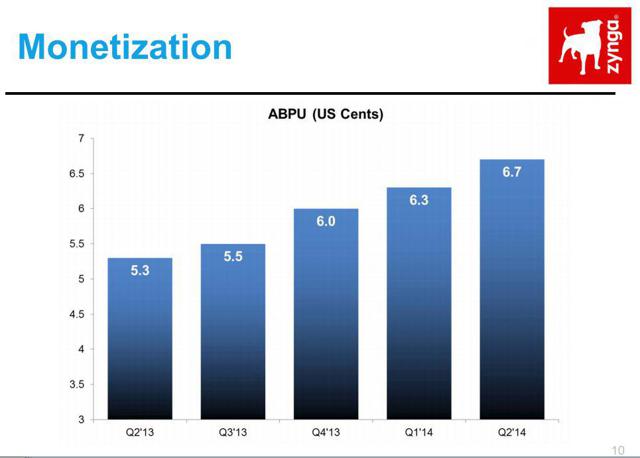 Source: Earnings Presentation
Along with the user base and engagement increasing, the average booking per user grew at a steady pace as well. The average booking increased $0.40, to an all-time high of $6.70. Zynga has learned how to monetize these users, if one of their new games gains popularity, it will reap exceptional revenue from it.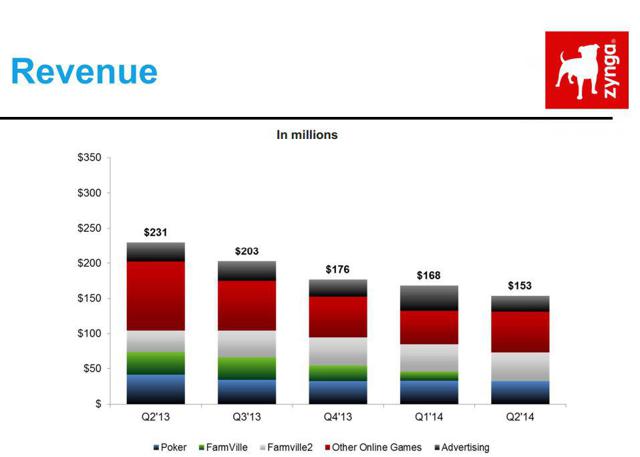 Source: Earnings Presentation
Although revenue has been decreasing each quarter, the revenue has been diversifying across more games. Therefore, the risk of a steep decline has been mitigated. The revenue generated from the other online games segment has grown of late, as the reliance on any specific games continues to dwindle. Zynga will further reduce its risk as it diversifies and launches more games.
Poker Opportunity
Zynga is the number one play money poker site and only offers real money poker in UK currently. If ZNGA can expand its real money offering to other countries, it has an incredible opportunity. PokerStars which has half the number of users generated $1.1 billion in revenue and $420 million in non-GAAP earnings in 2013. Zynga would only have to convert a small percentage of these players to real money players in order for it to have a dramatic effect. As you can see from the previous chart, the money generated from poker has been steady, so users are sticking with the game.
Sports Category
During the conference call, Zynga announced that it would be entering the Sports category. With sports being one of the largest entertainment categories, Zynga is certainly entering a lucrative industry. The two games which Zynga is developing are football and golf. Zynga announced multi-year licensing agreements with the NFL and NFL Players Association in order to create this game with a likeness to the actual sport. The game went live on Thursday in select markets.
Furthermore, Zynga announced it has signed an exclusive, multi-year, multi-platform partnership with Tiger Woods. The game is still early in development, but will launch globally across mobile platforms in 2015.
This direction is certainly a positive one for ZNGA. The enthusiasm for these two sports is ubiquitous, and if successfully developed they have the opportunity to be incredibly high grossing games that have a long life.
Valuation
At the current trading level, ZNGA presents a compelling risk/reward opportunity. At the end of the quarter, Zynga has approximately $1.15 billion in cash. After the sell-off, following the earnings release, Zynga's market capitalization stands at just $2 billion. By trading at less than 2x its actual cash, the upside is quite high, while the downside is limited. Moreover, it trades at just 2.49x its sales and 1.21x its book value. With the market capitalization being so close to actual cash, the possibility of ZNGA being taken over is certainly possible. Following the sell-off, I would not be surprised for ZNGA to catch a bid, if the company languishes at this level for a few weeks.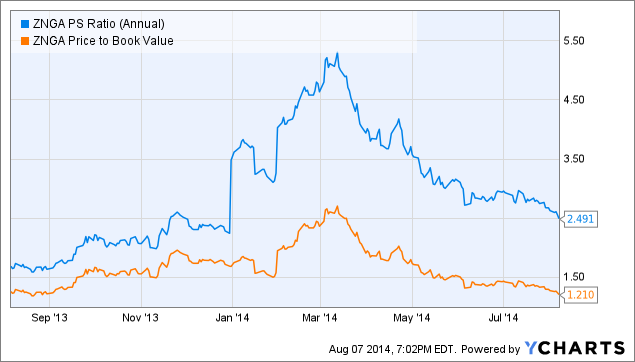 ZNGA PS Ratio (Annual) data by YCharts
Conclusion
Zynga represents a compelling risk/reward opportunity. At the current trading level, it has high upside and low downside. The stock is trading at less than 2x its actual cash and has zero debt. The absolute bottom for Zynga is $1.50, as that is what the cash is worth with 741 million shares outstanding. However, the company will not reach that low of a level, as it still generates considerable revenue. With the opportunity for the poker, football and golf games to generate substantial revenue and if one of the other 30+ games in development generates popularity, investors will be kicking themselves for not taking a risk on ZNGA at this level.
Disclosure: The author has no positions in any stocks mentioned, but may initiate a long position in ZNGA over the next 72 hours. The author wrote this article themselves, and it expresses their own opinions. The author is not receiving compensation for it (other than from Seeking Alpha). The author has no business relationship with any company whose stock is mentioned in this article.
Additional disclosure: I intend to purchase shares when the market opens Friday morning.