According to Nielsen's market research, overall beer sales fell 1.9% last year while craft beer spiked 17.2% higher.
It's impossible to go a restaurant these days without seeing a beer menu featuring at least 2 or 3 regional or craft brews. Using local and fresh ingredients is one of the hottest trends in food, and the local food movement has crossed over to brewing.
There are a zillion microbreweries around the country these days. Independent brewers all over are living the dream of owning and operating their own small brew pubs. Some of them make damn good beers. These little guys may be blissful, but none of them are the big winner of the craft beer explosion. The company which has benefitted the most is the maker of Sam Adams, The Boston Beer Company (NYSE:SAM).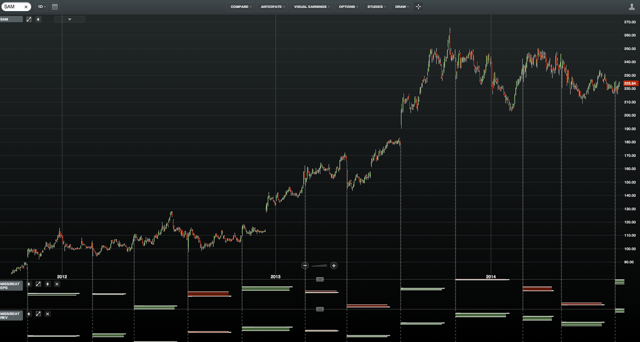 2014 has been turbulent for Boston Beer stock, but company shares have more than doubled since the start of 2012. Boston Beer stock took off when the craft beer scene was beginning to take shape, but has been relatively flat this year.
Right now the next big movement in alcoholic beverages is flying under the radar, and it has the potential to transform Boston Beer from a relatively minor player in the beer industry into a booze empire. Boston Beer is positioned to do well because of a brand that most consumers don't even realize they own, Angry Orchard Hard Cider.
A few years ago, the hard cider market in the United States was virtually non-existent. Then Boston Beer rolled out Angry Orchard in 2012 (a bunch of big beer players like MillerCoors (NYSE:TAP) jumped in too), and the results were staggering. Angry Orchard captured 40% of the small but rapidly expanding American cider market in its first year.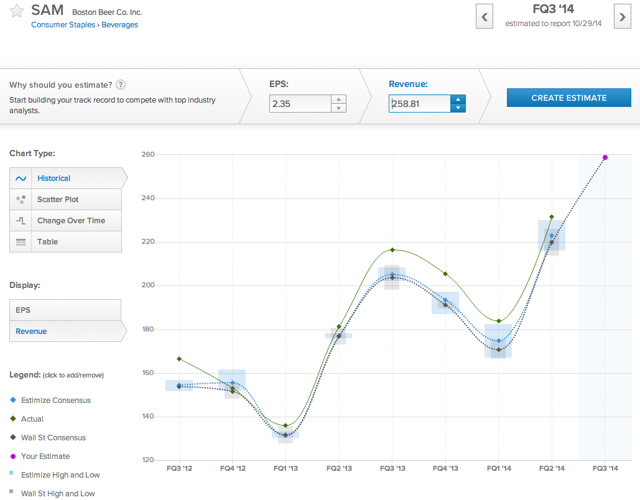 Source: Estimize.com
Driven by growth in both craft beer and hard cider, the financial fundamentals at Boston Beer began to pick up during the company's first fiscal quarter of 2013. During that period Boston Beer posted lower-than-expected earnings, but sales took flight. Including that quarter Boston Beer has now beaten the crowdsourced revenue consensus from Estimize.com in 6 consecutive periods.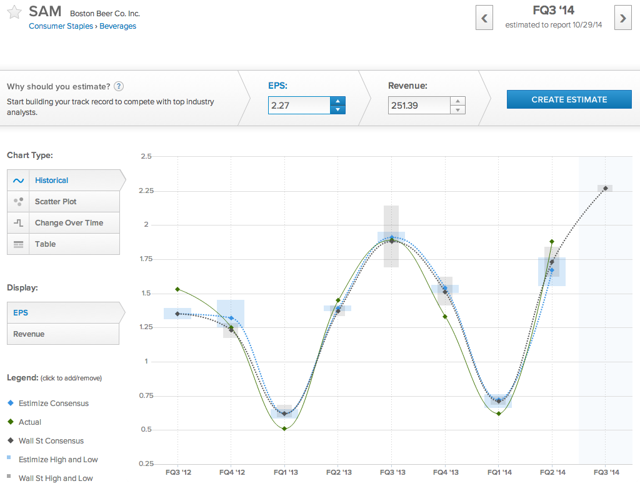 Source: Estimize.com
One of the key advantages that Boston Beer has as one of the largest craft brewers in the country is a well established distribution network. Sam Adams beers are sold in grocery stores all over the country. One day, seemingly overnight, Angry Orchard appeared right there on the shelf too. The big players in beer and cider had the same opportunity as well, but failed to release a product as compelling to consumers as Angry Orchard. Last year cider sales in the United States grew by 89% and Angry Orchard went from controlling 40% of US market share to just over half.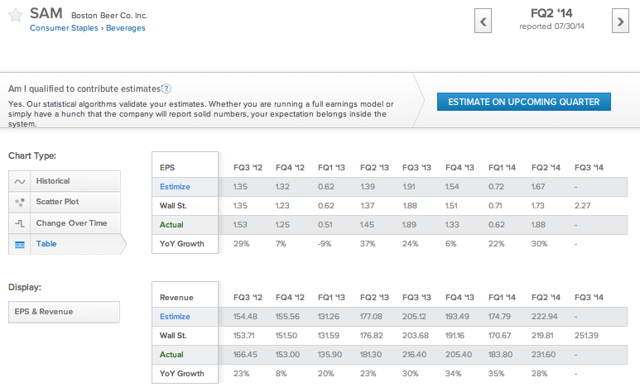 Source: Estimize.com
Cider is a colossal opportunity for Boston Beer, and results from recent quarters are promising. Moreover, by selling hard cider Boston Beer is likely to attract new non-beer drinking customers, mitigating the risk of cannibalizing their own beer business.
Angry Orchard presents an opportunity for diversification into a soaring cider market. With cider sales flourishing, Boston Beer looks to be in for a ripe future. And if Angry Orchard continues its rampage in the cider wars, The Boston Beer Company may soon be due for a name change too.
Disclosure: None.