Carlyle Group (NASDAQ:CG) is making a new acquisition that could produce enormous, multifaceted benefits.
One of the premier U.S. buyout firms, CG has routinely demonstrated foresight and good business sense. Maintaining this reputation, CG is now in the process of purchasing a majority position in Acosta Sales And Marketing, a firm best known for servicing the grocery industry. Reportedly, CG will pay between $4 and $5 billion for this new acquisition. Earlier this year, CG faced a setback after losing its bid to acquire Advantage Sales & Marketing, one of Acosta's major competitors. After failing to seal that deal, CG seems determined to add Acosta to its roster of profitable investments.
Background on Acosta
Purchased in 2011 by buyout firm Thomas H. Lee, Acosta is based in Jacksonville, Fla. Offering sales and marketing services for manufacturers and retailers alike, Acosta is a veteran organization that has done business since 1927. Trusting Acosta's current strategy and believing in the marketer's growth potential, Carlyle reports no intentions to tamper with Acosta's management structure. As Acosta has thrived, it has grown to employ over 37,000 people in 110 offices.
Carlyle Well-Positioned to Benefit From and Support Acosta
Carlyle should be a good caretaker of the well-established Acosta brand. After a recent string of profitable acquisitions, Carlyle seems poised to maintain forward momentum into the foreseeable future.
This view is supported by information released by CG on June 27. That day, CG revealed it had refined its business to achieve a respectable Q2 profit. Carlyle's second-quarter profit clocked in at $20 million, a hefty improvement over the group's $3.3 million loss for Q2 last year. This performance shows that Carlyle's acquisitions strategy is well-crafted to deliver concrete, long-term results.
A 'Feverish' Acquisitions Strategy
CG's excellent performance is directly influenced by the company's successful acquisitions strategy. Over the past year, CG's savvy deal-making surged to an almost feverish pitch. In Q2, Carlyle spent $3.4 billion on new deals, a massive increase over the $1.3 billion spent on deals during the same quarter last year. Carlyle has also almost doubled its distributable earnings -- the part of its profits that can be distributed to its shareholders.
Carlyle's brisk deal-making represents how private equity outfits are responding to developing improvements in the U.S economy. More specifically, buyout firms are unmistakably bullish about companies like Acosta; companies expected to reap the benefits of the ongoing rise in consumer spending. Accounting for over half of all economic activity in the United States, improved consumer spending is critical component in any economic recovery. When practical, hardheaded firms like Carlyle start betting heavily on improved consumer spending, this sends a powerful message to investors of all stripes.
Additional Indicators Bode Very Well For Carlyle's Future: Investors Should Take Note
All in all, Carlyle's Q2 performance bodes well for the future of this organization.
Several other year-over-year indicators speak to Carlyle's savvy management and strategic vision. For example, Carlyle raised $7.4 billion in new money compared to the $6.9 billion raised during Q2 2013. Assets under management grew over ten percent to top $202 billion.
All of these positive measures factor into Carlyle's excellent stock performance. In the past year, CG's share price has risen by approximately 35 percent.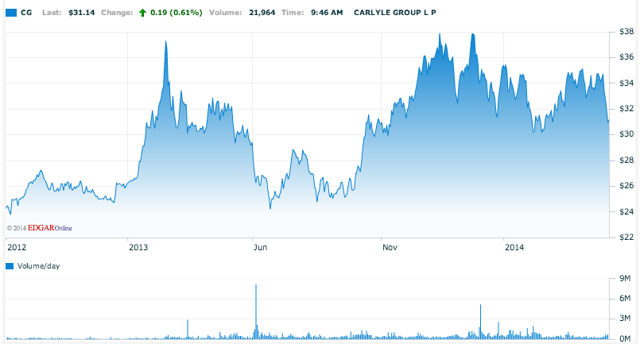 (Nasdaq.com)
In all likelihood, CG shareholders will continue to reap the benefits of a sure-handed management team with proven experience and versatility.
We invite readers wishing to join the discussion on Carlyle Group and other major private equity firms to click the +FOLLOW button above the title of this article-- and those looking for the latest developments to click +Get real-time alerts.
Disclosure: The author has no positions in any stocks mentioned, and no plans to initiate any positions within the next 72 hours. The author wrote this article themselves, and it expresses their own opinions. The author is not receiving compensation for it (other than from Seeking Alpha). The author has no business relationship with any company whose stock is mentioned in this article.