Warner Brothers has not had a very good summer at the box office.
Following the success of Godzilla, it's seen a string of under-performing misfires, including Blended, Edge of Tomorrow, Jersey Boys and Tammy. Now comes the next in the studio's seemingly endless line of summer films with tornado pic Into The Storm, and the question becomes, can a new month lead to a new result?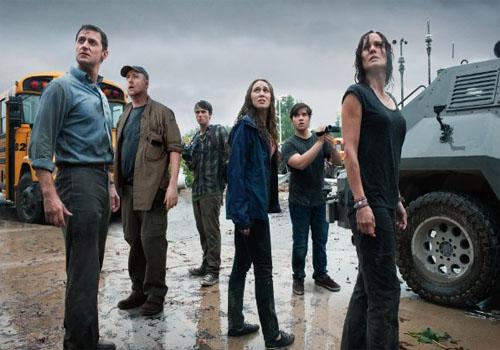 (Credit: Warner Brothers)
Now, to be fair to Warner Brothers (a subsidiary of Time Warner (NYSE:TWX)), just because Edge of Tomorrow and Jersey Boys weren't big hits domestically, it doesn't mean they weren't good movies. Each had issues to work through, but Tomorrow won over critics and has been a big draw internationally, and Jersey Boys met expectations of the fans of the long-running musical and was a fun film to watch. Yet, when we look at the overall results at the end of the summer, the studio may not be thrilled.
That's what makes Into The Storm and the upcoming If I Stay (out 8/22) so important to the studio, as these are the last chances for Warner Brothers to right the ship before moving into the fall/holiday season. Storm is also interesting for a variety of reasons, as it has very few big name stars, a less-than-ideal release date and carries with it a plot that could (and has) actually happened.
The movie follows the residents of a town dealing with a tornado as it bears down on them and their surroundings. Now, given the many very real tornadoes that have tormented the Midwest this year, you can see why this is such a polarizing movie. Yet remember when Twister came out in 1996, it actually did better in some of the areas hardest hit by tornadoes.
It's going to be a mixed bag, and you're going to find people who come down on both sides of the debate, but given that tornadoes are always going to happen, there is no real "good" time to release a movie of this nature. Universal Studios Florida learned that the hard way when it tried to first open its Twister theme park attraction. Eventually Twister: Ride It Out opened, but not before a few delays out of respect to a nearby area getting hit hard by a real twister.
This weekend's launch of Storm, though, is troubling for another reason that has nothing to do with the weather. This is the first time all summer that four new releases are coming to theaters at the same time. Aside from Storm, Step Up: All In, The Hundred-Foot Journey and the newest Teenage Mutant Ninja Turtles re-boot are all making a beeline for the Cineplex. And all four have to contend with Disney's (NYSE:DIS) new mega-hit, Guardians of the Galaxy…
The budget for Storm hasn't been released yet, but some are estimating it to be in the $30 million to $50 million range (I'd wager on the higher end); but that's important because like Blended earlier in the year, it may not have to earn that much money to make back its costs. Storm could take in around $13 million to $15 million this weekend, and that's with the bump that comes from IMAX up-charges.
Luckily, investors of Time Warner aren't just relying on Warner Brothers to boost the stock, as TV properties such as HBO and its Emmy-nominated trio of True Detective, Game of Thrones and Silicon Valley have played a major role in improving the overall company's financial bottom line.
Getting back to the film side, though, there is still some room for optimism, as Warner Brothers has a strong fall slate balanced by Oscar-friendly movies (The Judge, The Good Lie) and mainstream fare (Horrible Bosses 2, The Hobbit: The Battle of the Five Armies), meaning it will continue to have more chances to pump in profit to end the year stronger... it just may take a little longer to get there than first hoped.
Disclosure: The author has no positions in any stocks mentioned, and no plans to initiate any positions within the next 72 hours. The author wrote this article themselves, and it expresses their own opinions. The author is not receiving compensation for it (other than from Seeking Alpha). The author has no business relationship with any company whose stock is mentioned in this article.