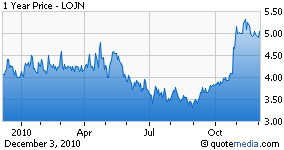 LoJack (NASDAQ:LOJN)
Per share values on 11-19-2010:
Market value $5.03
Cash $1.66
Equity value $3.37
LoJack Corporation is the premier worldwide provider of tracking and recovery systems. More than two decades ago, LoJack created the stolen vehicle recovery category. Since then, it has earned a reputation as a proven global leader in the anti theft market.
We selected LoJack because it is one of the select few that fits our model. Our goal is to select, purchase and continually monitor companies in an effort to obtain outstanding performing investments, while minimizing risk by finding low values for our clients. We will cover part of our review and selection process as well as explain why LoJack has currently become one of our selections.
Introduction
LoJack has been seen as an innovator in the car theft arena. They are creating a diversified product line, with this last quarter proving solid quarterly execution especially in cost controls and international sales.
LoJack has a strong balance sheet, delivered a strong quarter and has the potential to be extremely well positioned in several desirable, basically recurring revenue markets. With the cash flow from operations generated over the last four quarters and the renewed earning from this last third quarter, we forecast higher bands of valuation. Currently, LoJack has a very low valuation for its enterprise value. Due to ongoing strong quarterly international sales, a stable core market and much lower costs, they completed the most profitable quarter since the Third Quarter of 2007, three years ago.
Step 1 – We first search for companies with pristine balance sheets.
LoJack has $37.5 million in cash and $8.1 million is debt, meaning each share has a cash value minus debt of $1.66. They have over $132.9 million in sales with only a $62.8 million ($ 3.37 per share) enterprise value. This is a strong balance sheet and $3.37 per share is a very low value for an entire enterprise that could earn in the $0.54 cent range annually.
It looks like cash is growing again.
Step 2 – We like extremely low values.
After reviewing hundreds of companies for value, if not thousands, LoJack is one of the lower valued companies that we can identify. The enterprise value per share is only $3.37. Sales last quarter were $38.5 million up from $36.1 million in the same quarter of the prior year. The last 4 quarters' (annual) sales were $132.9 million, giving LoJack a price to sales value of the enterprise of only $0.44 per share. Last quarter sales ($38.5 million) were more than half the entire enterprise value of $59.3 million. These are low valuations for a high margin often annualized company.
Hidden value
Upon our review, LoJack held a 12.5% equity investment with a value of $1.5 million, from a Mexican licensee, 5.5% equity investment with a value of $0.75 million, from a French licensee and 17.5% equity investment with a carrying value of $0.50 million, with an Benelux licensee. In addition, they hold less than a 10% equity interest in licensees in Argentina and Hong Kong, that we could not find any way to value.
Most international agreements provide that LoJack will supply components and products at prices to be determined from time to time and/or receive royalties based upon the licensees' LoJack based revenue. Approximately 96% of international revenue was from the sale of LoJack Units during the year last year.
Step 3 – Is the operation or enterprise driving value to their shareholders?
LoJack has been generating a high level of free cash flow for the last 4 quarters (including the March 31 2010 loss) of $13.9 million. This is a free cash return of enterprise of 23.2%, well below our jewel of a find in our review of Adams Resources (NYSEMKT:AE), but in the top tiers of companies we review. Using current quarter cash flow, based on its enterprise value gives a high 34 % return. We find that it's very hard to find in the current climate, companies that can generate a close to 34% return in cash flow off it enterprise.
The last quarter they generated a $0.16 profit with the average analyst estimates calling for a loss of $0.07. The very large and shockingly strong profit was attained mostly due to cost reductions, which LoJack believes also reduced the bureaucracies in their business, making them more efficient and responsive to their clients. The company's quote:
Our aggressive steps to control expenses had a dramatic impact on our underlying cost structure and we are confident that our operating expenses are now at an appropriate level to allow us to invest in our business and drive profitable revenue growth in the future.
Three Months Ended September 30,

All figures in millions

2010*

2009

Revenue

$38.5

$36.1

Cost of goods sold

19.1

15.5

Gross profit

19.4

20.6

Costs and expenses:

Product development

1.2

1.9

Sales and marketing

6.9

8.7

General and administrative

6.6

10.6
* denoted quarterly data unaudited
The cost saving derived from product development, sales and marketing and general administration are $6.5 million quarterly. Annualized, that's one significant reason why the turnround occurred.
With the quarter completed, the average analyst estimate for calendar year 2011 profits was raised from $0.32 cents to $0.54. Using the average analyst's estimated earnings, the enterprise value is trading at just 6.24 times expected profits. Pretty low for a company that just produced its most profitable quarter in three years, and significantly below its industry peers.
From the above chart. ock Market Value (Blue background) was above sales (Red Bar) prior to 2009. Currently, revenues and profits (Green Bar) growing sales are less than the red bar.
Step 4 – Is this a good business?
This is a very good business. There are numerous competitors in the GPS world. LoJack has GPS based solutions but they have directly integrated with law enforcement systems and/or are monitored exclusively by law enforcement agencies. This is the only company in the industry that we could identify which works directly with the police departments.
In the United States, their business advantage is:
The Federal Communications Commission granted for LoJack's 2000 petition, allowing the company to use the nationwide frequency, which previously was dedicated to stolen vehicle tracking, the diverse tracking and recovery of applications including missing people at risk, individuals of interest to law enforcement, loss for stolen cargo and hazardous materials. Now

LoJack is now working to extend integration with law enforcement into the many diverse applications.

Global sales were the significant driver of LoJack top line growth----an amazing 53% increase in year over year sales growth. This growth is partially attributed to the increase in African Licensees sales growth of $7.4 million. The international market should be driver since they currently have franchises in only 31 countries.
In regions with high levels of crime, insurance companies offer clients discounts/incentives if anti theft devices are evident on the insured vehicle. Insurance companies in these higher risk markets have realized the value of the LoJack product line. In some markets, the insurance companies will only insure if the vehicle is equipped with LoJack. This mandate in regions like Africa and Latin America have been, and could continue to be a tremendous advantage for LoJack. With a 90% average recovery rate, Lojack could greatly reduce insurance companies risks.
Step 5 – Is the Train Wreck and then the fog from the Wreck clearing?
With a negative, or in this case low enterprise, often a "Train Wreck" is needed to drive value close to cash. We've identified four major issues that has kept the value so low:
Management

Italy

Law suits

Employees are using the stock option program as a cash machine
Management
LoJack was very late to respond to the needed downsizing. The former CEO and Chairman of LoJack, Richard T Riley, who served from 2006 to 2008, was reappointed in May 2010.
Time will tell if bringing Mr. Riley back was correct but LoJack just completed the downsized with the goal of a very effected and systematic cuts in an effort to increase their company's underling efficiencies. Those cuts appear to make the company profitable with enough internal cash flow to properly fund enough growth for their core enterprise. Even though their down sizing was late, it appears extremely effective.
Italy
LoJack has invested approximately $20 million in Italy to build the LoJack network. This segment is still running at an operating loss. This represents about a third of their total enterprise value. We believe the Italian business is approaching a million dollar in revenues annually and growing nicely today but still will provide a dismal return if it ever materializes.
Lawsuits
LoJack appears to be involved in a lot of lawsuits for a small company. With that said, we could not find a common theme or reason for the suits.
Employees stock options
Similar to many small companies, LoJack is diluting shares by giving low priced options to management and employees. Yet, the insiders with incentives still only hold less than 6% of the entire company. If the employees that are involved in the day-to-day management have small interest in buying and retaining shares at significantly lower prices, then why does management believe investors should take the risk that management has little interest in partaking? With that said, top management has had several open market purchases recently which is a positive indicator.
In Summary
We enjoy companies that can provide outstanding short term execution — turning weaknesses into real strengths, limited growth prospects into stronger multi positioned companies with possibly a superior business model driving their future success. We believe LoJack has value, execution and a balance sheet that fits our model, and we're optimistic that LoJack will outperform their higher valued peers. They have completed excellent quarters and have already attained growth of assets.
| | | | |
| --- | --- | --- | --- |
| Valuation Ratios | Company | Industry | S&P 500 |
| P/E Ratio | 6.24 | 16.51 | 21.07 |
Based on the 6.24 price to enterprise, LoJack is currently reviewing plus cash based on the average earnings estimate of $0.54. If LoJack received the industrial average of 16.51 times the $0.54 estimate, it would be $9.92 plus the cash of $1.66 giving it a value of $10.58 or over twice the current market value.
| | | | |
| --- | --- | --- | --- |
| Price to Sales | 0.44 | 1.30 | .93 |
Based on revenue models, knowing LoJack stock price is about 30% cash, the underlying enterprise value disparity between LoJack and their bench marked peers is materially significant. If you want to compare LoJack to its peers in sales values, assuming LoJack will achieve about $146 million in revenues (the current analysts' estimate), you get a per share value of $7.67 (their current run rate times the industry quoted peer, price to sales for the industry) — plus the $1.66 of cash, you get a combined value of $9.33.
Since past buyouts have been able to strip out the cash, as occurred creating a outstanding return for DivX merger since our recent review, LoJack could be a target since the enterprise value of Lojack is so low, with 20-30% current enterprise returns, prior to any synergies created with the acquiring firm. We believe it far more cost advantageous to purchases of an existing leading franchise, than to try and launch a similar platform.(i.e. the very large cost for the Italian market launch). Since LoJack has very small management team involvement in ownership, this helps us to believe that LoJack could possibly be a strong target for many firms.
Additional LoJack information such as Financial ratios, Charts and News are available here.
Conclusion
We believe that LoJack enterprise is trading at about a 75% discount to many of its peers, and well below most companies in the protection safety market. We find LoJack's valuation surprisingly low, especially now. This, coupled with the established solid business franchise, leads us to the conclusion that LoJack is simply very undervalued at this time.
Disclosure: Durig Capital owns LoJack for itself, clients and related client accounts