First, Some Notes
We recently noted that Tonix Pharmaceuticals' (NASDAQ:TNXP) BESTFIT data will be released in about two months.
We noted that on good BESTFIT data TNX-102 SL should project to $1 billion in peak fibromyalgia sales (click the above link).
We also noted the similarities between TNX-102 SL and Levadex, Map Pharmaceuticals' only viable product.
We noted that Wells Fargo projected $250-$500 million in peak sales for Levadex, and that after Map's first phase 3 trial the market took Map's market cap to about 1 X Levadex's projected peak sales.
Map went from under $2 a share to about $10 per share (we put the first arrow lower than $2 to point out that Tonix is being valued lower than Map was at this point):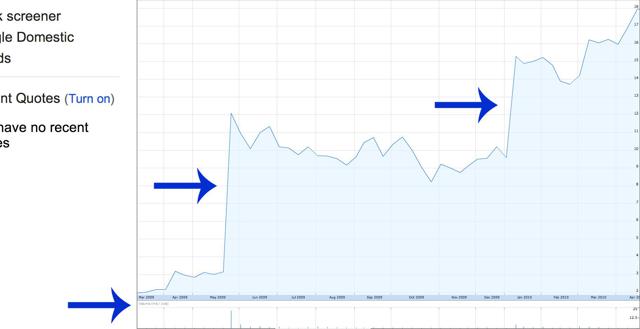 1 X sales after the first phase 3 trial is how we calculate TNX-102 SL in FM being valued at $77 per share.
Q & A About the Third Arrow
Q: So what's that third arrow?
A: That's Map Pharmaceuticals being valued at about 2 X sales.
Q: How did that happen?
A: After the FDA reviewed Map's first Phase 3 trial, they told Map that no second phase 3 trial would be required.
Q: Wow, that's nice. Could something like that happen with Tonix?
A: It's possible. TNX-102 SL in FM and Levadex have a lot in common.
Both were reformulations of drugs already approved in other indications, and that track record of safe use likely had a lot to do with the FDA's decision.
Both are pain drugs.
Both are CNS (central nervous system) drugs.
Both have a focus on women's health (migraines and fibromyalgia).
Dr. Don Kellerman oversaw the development of Levadex as a Senior VP at Map Pharmaceuticals, and he is now a Senior VP at Tonix Pharmaceuticals.
The final phase 3 trial that Tonix would have to run would be virtually identical to BESTFIT.
Cyclobenzaprine has a long history of safe use in other conditions.
Additionally, it seems like the FDA is aware of FM's history of disease denial and need of medicines - in April of last year they chose fibromyalgia as one of 20 conditions to focus on for special regulatory treatment.
If BESTFIT data is good, it seems to bode well that the FDA would consider allowing TNX-102 SL to forego its final phase 3 trial like it did with Levadex.
TNX-102 SL in FM
The market acted alone when it took Map to 1 and 2 X sales. Allergan would not come in to the picture until a 2011 licensing deal, and then a 2013 buyout at $25 per share.
Puma Biotechnology has also validated this 1 and 2 X sales pre-approval valuation with its own recent performance on pivotal data (see top link).
We saw that on good BESTFIT data the market may take Tonix to 1 X projected sales and $77 per share. There is also a realistic chance that no final phase 3 is required, and the market takes Tonix to 2 X sales, or $154 per share.
Those values are for TNX-102 SL in FM, and the BESTFIT data could also validate Tonix' TNX-102 SL in PTSD program (see top link again for details on PTSD, ETTH, and the rest of Tonix' pipeline).
Conclusion
Allergan had nothing to do with Map's valuation after its first phase 3 trial, without a partner or analyst coverage the market took Map to 1 and 2 X projected sales by itself.
Tonix has an excellent chance to follow suit, and TNX-102 SL in FM may be closer to market than we thought.
Disclosure: The author is long TNXP. The author wrote this article themselves, and it expresses their own opinions. The author is not receiving compensation for it. The author has no business relationship with any company whose stock is mentioned in this article.