Before the markets closed on the eve of the 4th of July, NQ Mobile (NQ) released some fireworks of its own in a company press release. NQ Mobile announced changes to its Board of Directors and also provided a status update to its 2013 Annual Audit or 20-F.
Ms. Ying Han, who was serving as the current Chair of the Audit Committee, informed the Board that she was stepping down due to personal reasons not related to her role at the Company. According to NQ Mobile, there were no disagreements between Ms. Han in her capacity as Chair of the Audit Committee as well as the Company.
As I outlined in a previous article, short sellers went overboard on the Ms. Han situation as they tried to spin the news into something bigger than what it really was. Frankly put, some shorts were convinced that the resignation from Ms. Han was due to fraud concerns she had with the Company. This of course was not the case and with that, another short argument goes down in flames.
New Board Members = New Direction
Serving in place of Ms. Han are two new independent Directors, Messrs. Justin Chen and Mr. Max Yao. Also, in an effort to enhance shareholder representation, NQ Mobile appointed Mr. Taek Kwon, Managing Partner of Toro Investment Partners, LP ("Toro"), a large public shareholder of the Company, as an adviser to the Board.
After the announcement was made, I was intrigued to see just who these people were (Chen, Yao) and what their qualifications and experiences will bring to the table. Sure enough, the two new independent Directors have years of experience running business startups, nurturing technology companies in the private arena as well as specializing in joint ventures, corporate financing and mergers and acquisitions among many other things.
As we can see, these members bring plenty of punch to NQ Mobile as they are experienced and knowledgeable in recognizing ways to enhance shareholder value. These additions have already enhanced shareholder value and will continue to help NQ Mobile navigate through the private process, if it decides to go that route.
Is NQ Mobile Going Private?
The transition of going from a private company to one that is public is an initial public offering ("IPO"). Through an IPO, a private company "goes public" by issuing shares, which then transfers a portion of ownership in the process to those who buy them.
At the same time, it's not uncommon either to see companies that have gone public, go back to being a private entity. Of course, the reasons behind taking a company private varies. However, for the most part, it usually occurs when a company becomes heavily undervalued in the public market.
With shares down more than 60% on the year thanks to preposterous claims made by short sellers, one can say that NQ Mobile certainly fits the undervalued mold. So how likely is NQ Mobile going to go the private route? While insiders only know the answer to this question, they did provide a little bit of light during a recent press release which is quoted below.
...the Company's independent auditors, PricewaterhouseCoopers Zhong Tian LLP ("PwC"), communicated to the Company that it would need to perform additional procedures and expand the scope of its 2013 audit work. The Company's Board and Audit Committee are considering PwC's request. The Company will provide a further update when available."
Based on the wording of the press release ("considering PwC's request"), I knew there was something in the works whether it was dismissing PwC or going the private route.

Less than two weeks later, NQ Mobile informed investors that they dismissed PwC as its independent auditor and appointed Marcum Bernstein Pinchuk LLP as its new auditor. This of course only enforced my belief that NQ Mobile was seriously considering going private.
Not only that, but the Company was already giving investors a glimpse of this when they announced the sale of some of their businesses to private equity firms (Bison Capital Holding, etc.) in the last couple of months. These deals are listed below.
FL Mobile Deal & Valuation
On May 30, 2014, NQ Mobile entered into a definitive agreement to sell up to 5.88% of its gaming unit (FL Mobile), or up to a total of $25M, consisting of $15M to Bison and $10M from other investors, at a pre-money valuation of $400M or post-money valuation of $425M.
NationSky Deal and Valuation
On June 10, 2014, NQ Mobile entered into a definitive agreement to sell 3.40% of NationSky for $18M, at a pre-money valuation of $500M or post-money valuation of $530M, to Beijing Guorun Qilian Venture Capital Center (LP). In addition, NQ Mobile intends to sell up to 2.30% of NationSky for $12M to other investors within the next two months.
I believe these moves by management over the last couple of months shows investors a couple of things:
1) It shows the Company is very open and willing to sell itself if need be.
2) The recent valuations give potential suitors a nice starting point in valuing the Company.
3) Just based on the valuations of these deals and on a sum of parts basis, this clearly shows just how undervalued NQ Mobile has become.
Bison's Non-Binding Cash Offer Of $9.80 A Share
On July 30, 2014, NQ Mobile announced that it had received a buyout offer from Bison for $490M, or $9.80 a share. According to the press release, NQ's Board is currently reviewing the proposed transaction and may retain independent advisors, including an independent financial advisor, to assist it in its work. No decisions have been made by the Board with respect to its response to Bison's proposal.
It is my belief that this low-ball offer will be declined as investors realize that NQ Mobile is certainly worth more than $10 a share. In fact, just last year and early on in 2014, shares were trading well over $20+ a share.
Certainly it looks like Bison is looking for an exceptional deal/steal and is taking advantage of the current situation that NQ Mobile is currently in. So how much is NQ Mobile really worth and what kind of offer should the Company take?
After putting together my own calculations and future estimates, below is my personal valuation as well as a comparison to outside investors valuations.
| | | |
| --- | --- | --- |
| | Outside Investors Valuations | My Personal Valuation |
| FL Mobile | $400M | $400M |
| NationSky | $500M | $500M |
| Advertising, Mobile Security, NQ Live, etc. | N/A | $550M |
| Cash | $283M | $283M |
| Total | $1.18B | $1.73B |
| Share Price | $19.56 | $28.73 |
Of course no matter what kind of business you run or are a part of, getting the best deal for the cheapest price is what everyone is looking to do and Bison is just doing the same thing. From their point of view, why not give a low-ball estimate - maybe NQ Mobile will get desperate and take them up on their offer. They can always raise their offer if they need to do, so why not start at the lowest amount.
As we can see these valuations are 2X-3X the amount that Bison has initially offered. So which valuation is out in left field? Well for starters, there is a reason why analysts have had price targets in the mid twenties and thirties over the last year or so as they expect growth to continue to accelerate. That is one of the many reasons why I believe that NQ Mobile will most certainly decline the current offer of $9.80 a share.
Examples Of Companies Being Acquired/Taken Private
Every day, hundreds of companies are either being acquired, or choose to go down the private path. In just the last six months, Google, just by itself, has acquired more than 20 companies. That's almost a company a week.
In just 2013, more than 27K deals were completed with more than 30K taking place in 2012. The image below showcases the completed deals by year, region, industry, etc.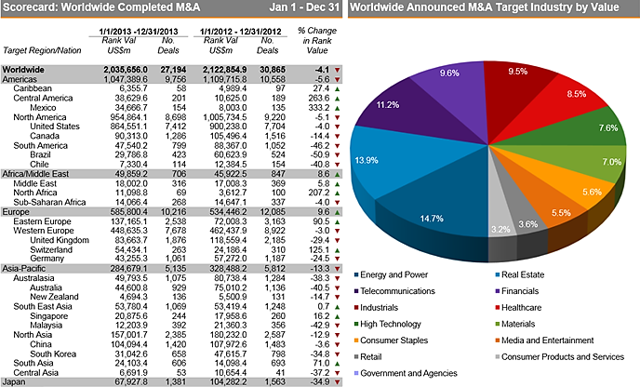 Some of the deals that I can remember just off of the top of my head is as follows:
| | | | |
| --- | --- | --- | --- |
| Company | Week Before Offer | Offer Price | Result |
| Heinz | $60.88 | $72.50 | +20.0% |
| Simcere Pharmaceutical Group | $7.96 | $9.66 | +22.0% |
| Dell | $10.77 | $13.88 | +28.0% |
| Shanda | $4.77 | $6.90 | Pending |
| Spreadtrum Communications | $21.93 | $31.00 | +42.0% |
| Montage Technology Group | $15.57 | $22.60 | +46.0% |
| Toys 'R' Us | $12.02 | $26.75 | +123% |
| NQ Mobile | $6.55 | $9.80 | Pending |
In just the second quarter along this year, mergers and acquisitions of tech companies hit $26.7B, up 87% year-over-year. During the quarter, 62 tech deals closed in Q2 with many more pending (Apple - Beats, Priceline - OpenTable).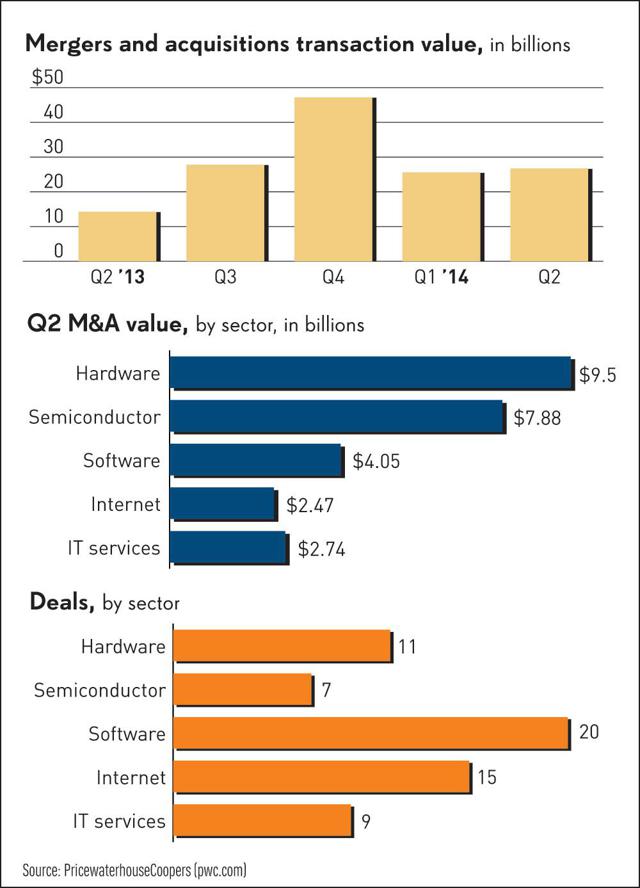 As you can see in the image above, the software sector remained at the top with the Internet sector coming in at the second spot. These sectors should continue to be hot as the world continues to migrate to the online world.
Is NQ Mobile The Next MONT or GAME?
This year, many Chinese companies have been acquired or are considering offers to go private. Some well-known Chinese companies that have taken part lately are Montage Group (NASDAQ:MONT) and Shanda Games (NASDAQ:GAME). Coincidently enough, both MONT and NQ Mobile even had the same auditors (PwC Zhong Tian LLP). I believe comparing these small cap companies to NQ Mobile gives investors another valuation to look at.
Some of the valuation measures that we will be looking at are: Price to Sales ("P/S"), Price to Earnings Growth ("PEG") and Forward Price to Earnings ("Forward P/E"). In the table below, you will see a low, mid and high end to show you the different valuations. Again these ranges (low, mid, high), are reflective of the valuation offers that MONT and GAME received in their offers.
| | | | |
| --- | --- | --- | --- |
| P/S Ratio ($325M Revs) | Low (2) | Mid (3.5) | High (5) |
| NQ Price Target | $10.77 | $18.86 | $26.94 |
| | | | |
| --- | --- | --- | --- |
| PEG Ratio (40% Growth) | Low (0.50 PEG) | Mid (0.65 PEG) | High (0.80 PEG) |
| NQ Price Target | $25.00 | $32.50 | $40.00 |
| | | | |
| --- | --- | --- | --- |
| Forward P/E ($1.25) | Low (10) | Mid (15) | High (20) |
| NQ Price Target | $12.50 | $18.75 | $25.00 |
* NQ Mobile calculations are based on 2014 analyst estimates
From these different valuations, we can see that the range is anywhere from $10-$40. Meet in the middle and you get $25.00, which is slightly less than my own valuation of $28.73.
Conclusion
As you can see, Bison's current offer of $9.80 a share is not even in the ballpark and will most likely be declined by management and most shareholders. If for some reason the offer does in fact go through, investors today would be rewarded with a premium of more than 45% from yesterday's closing price.
Investors in the options department are also counting on an upswing in price as I monitored what has been taking place over the last couple of weeks.
On July 28 (before the Bison buyout offer), one investor purchased 35,000 January 8 calls for $2.25. An equal number of December 5 calls were sold at the same time for $3.20, however, volume was below the open interest. This suggests that a long position was rolled forward and at a higher price.
According to optionMONSTER, the investor collected a premium of $0.95 and added a month to his or her bullish bet in long calls. It also lowered the delta of the position, cushioning against a near-term pullback while keeping them exposed to a rally. Total option volume that day was 4X the average amount, with calls outnumbering puts by a 15 to 1 ratio.
Last but not least, and probably the most important too, is that Bison now becomes the most recent party in a long line of others, to endorse NQ Mobile.
A couple of months ago, I spoke with Matt Mathison, vice president of NQ Mobile who spoke about validation;
"A number of major investors have validated NQ Mobile by taking significant positions in the company. As important as this validation from investors is, it is the validation of customers and partners that prove the value of NQ Mobile.
With another agreement in place (China Unicom), customers from all over the world (China Mobile, Tencent, Telkomsel, Sprint, Samsung, etc.) are continuing to validate the value of NQ Mobile.
Investors everywhere should know that NQ Mobile continues to be a volatile investment and not suitable for rookie investors or those with very low risk tolerance. For those with better risk tolerance, I believe the upside far outweighs the downside considering what has taken place and the information that is now available.
On that note and as always, I'm providing you with my track record and other particular stocks that I recommend. The link provided will show you all of my picks, how they have fared, and where I think they will be going in the near future. I think you will find my track record to be very impressive and useful.
Disclaimer: Link
Disclosure: The author is long NQ. The author wrote this article themselves, and it expresses their own opinions. The author is not receiving compensation for it (other than from Seeking Alpha). The author has no business relationship with any company whose stock is mentioned in this article.