Tractor Supply (NASDAQ:TSCO) posted its quarterly results on August 4, and the results were excellent. Whether it's worth buying is another question entirely.
Revenues continued a strong upward path, and costs of goods stayed in line with the overall trend. Not only is this a good quarter, but the historic trend is impressive as well.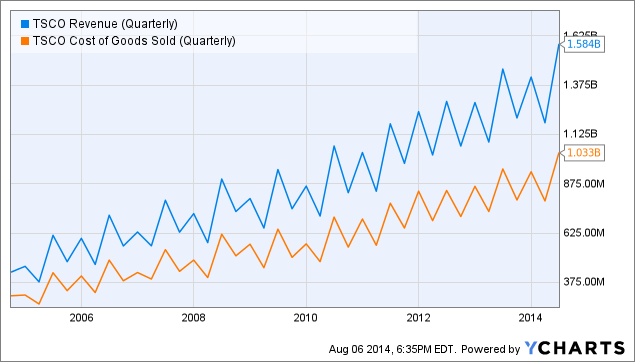 TSCO Revenue (Quarterly) data by YCharts
Moreover, operating margins were rock-solid consistent with previous quarters (and in fact, the last 10 years). Management has also made notable strides in improving operating margins since 2009.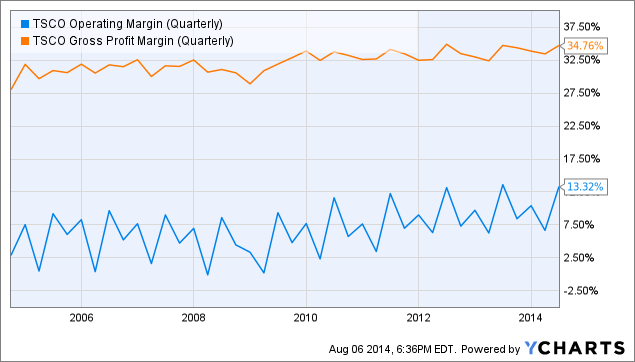 TSCO Operating Margin (Quarterly) data by YCharts
While not as impressive as the other sales results, Tractor Supply's cash conversion cycle is consistent and solid nonetheless.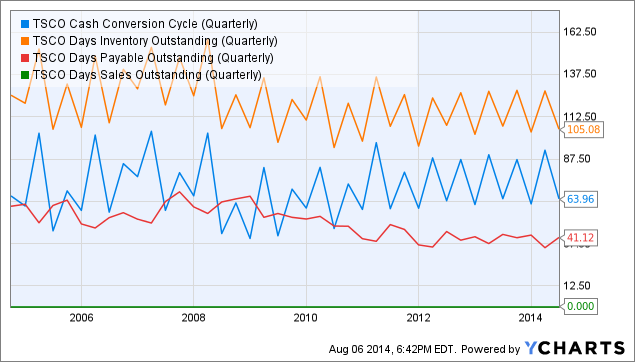 TSCO Cash Conversion Cycle (Quarterly) data by YCharts
Even better, store growth kept up with sales growth. Tractor Supply opened 23 new stores this quarter, bringing the total store count from 1223 in Q2 2013 to 1331 in Q2 2014. This represents an 8.8% increase in stores, which exactly matches sales growth overall.
Tractor Supply has a seasonal business cycle that peaks during the second and fourth quarters. However, if we smooth cash flow from operations by the trailing 12 months, we can see that management has delivered positive operating cash flow for over 10 years running.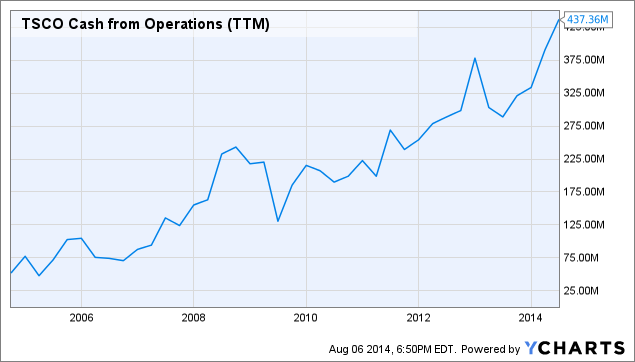 TSCO Cash from Operations (TTM) data by YCharts
Tractor Supply also maintains a strong balance sheet position, with solid assets, good working capital, and minimal debt.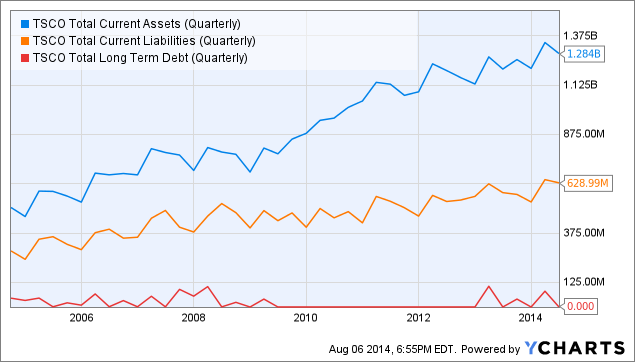 TSCO Total Current Assets (Quarterly) data by YCharts
Overall, Tractor Supply has impressive fundamentals in a stable consumer products industry. Especially when looking at smoothed growth instead of seasonal fluctuations, Tractor Supply has consistently delivered growing sales, positive cash flow, and tenacious cost management.
There is unfortunately only one small cloud of rain to this otherwise idyllic picture: Tractor Supply has also consistently traded above and sometimes well above 25x earnings.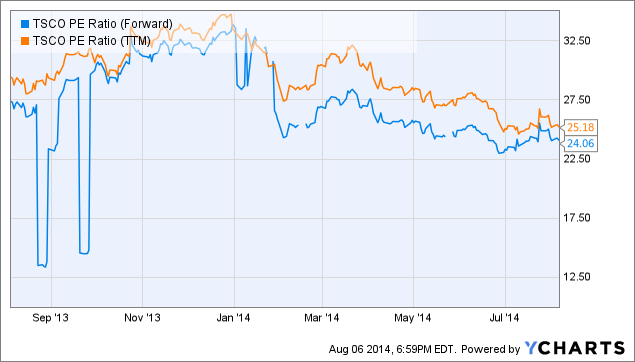 TSCO PE Ratio (Forward) data by YCharts
Ultimately, then, this becomes a question of philosophy and preference. If you're looking for a growing stock in an as yet unsaturated industry or if you're looking for strong fundamentals in a safe competitive environment, Tractor Supply might be for you.
However, if you're looking for a bargain, the proverbial diamond in the rough, you might want to steer clear of Tractor Supply. Strong operations come at a price.
Disclosure: The author has no positions in any stocks mentioned, and no plans to initiate any positions within the next 72 hours. The author wrote this article themselves, and it expresses their own opinions. The author is not receiving compensation for it (other than from Seeking Alpha). The author has no business relationship with any company whose stock is mentioned in this article.