Orbitz (NYSE:OWW) is a global player in the online travel market, headquartered in Chicago, Illinois, with ~1,300 employees worldwide. The company owns and operates leading travel-related websites that offer leisure and business travellers the ability to search for and book a broad range of travel products and services. It has a host of brands that serve markets across major geographies (including North America, Europe and Asia) and customers (B2C and B2C). The company had revenues of $847m and adj. EBITDA of $144m in FY2013.
Of late, investors have raised concerns over the stock's fundamentals for 2 reasons: i) higher share of income from low-yield and low-margin air travel bookings and ii) stress in its hotel booking segment. The outcome of these concerns has been the low valuation multiple assigned to it. The stock's EV/EBITDA compressed from the 6.5x-7.5x levels in 2010 to the 3x range in 2013. This article discusses how the company is on the mend and is an excellent turnaround story in the making.
1. The current business proposition of Orbitz is heavily skewed towards mature air OTA
OWW generated $11.3bn in gross bookings, with revenues of $847m and $144m in Adjusted EBITDA. OWW derives around 66% of its bookings from the Air segment, while it generates only 29% of the revenues. A big chunk of the sales comes from hotel bookings.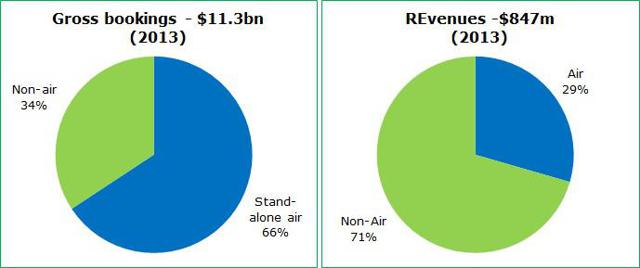 Source: Company Filings
2. The hotel business has more attractive commission (5x air booking rates) and margins
Hotel booking have higher commissions than Air bookings. Orbitz earns about 3% commissions on air bookings, compared to 15% for hotel bookings. The hotel OTA business is more attractive, as it earns around 5x hotel commissions and also enjoys higher margins.

Source: Company Filings
3. OWW peers have higher exposure to the hotel booking segment that offers excellent growth prospects with secular growth drivers
While the growth potential of the online travel market and the opportunities for OTAs are much talked about, the i) gap in penetration levels between air and hotel booking and ii) scope for services targeting mobile devices are the major catalysts from OWW's point of view.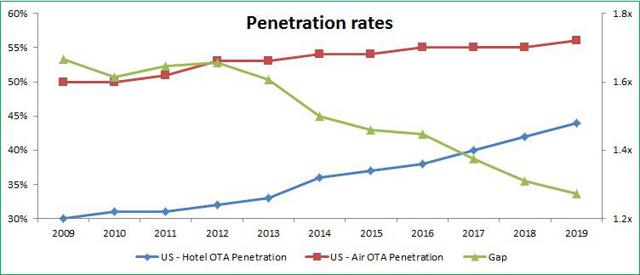 The US online hotel market is underpenetrated (mid-30% levels), compared to air travel that has penetration in the 50% levels. The products and solution targeting the air are more standardized, with less friction when it comes to buying online. The hotel booking segment would also converge with the Air OTA market, leaving room for growth. While looking at the business mix of OTAs, Priceline and Expedia have a higher exposure to the attractive hotel and vacation segment. Priceline and Expedia garner about 87% and 72% of their revenues respectively from the hotel and vacation segment (vs. 52% for Orbit).
4. Asia-Pacific market… The next major growth engine, given low penetration
With America and Western Europe expected to record the lowest growth over 2012-2017, Asia-Pacific online travel sales will fill the gap and are expected to double from $78bn to $155bn.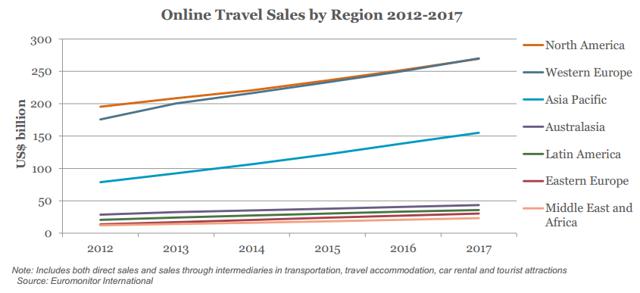 Source: Euromonitor
Globalization, increasing online penetration of travel bookings, favourable demographics and higher consumer discretionary spending makes this market a favourable hotspot.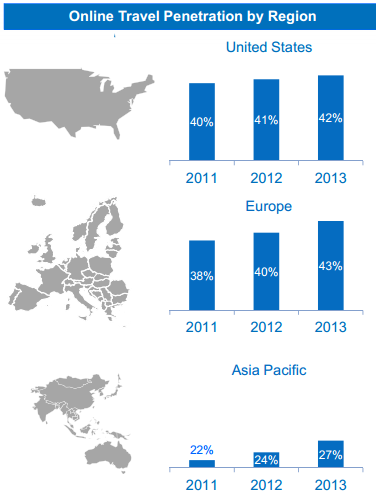 Source: Company Filings
5. Mobile devices - Another major catalyst
The rising adoption of broadband, consumer convenience in online shopping and delivery were the major growth drivers behind the online travel market. The rising penetration of tablets and smartphones would be the biggest tailwind for the online market, owing to their easy portability, ease and frequency of access to the internet. According to Comscore, total time spent in US on travel Web sites increased 57% over the past 4 years, and smartphones and tablets have accounted for the major chunk of the new growth. Going forward, we believe that mobile would be a major growth catalyst, and OTAs having a robust strategy and investments leveraging the trend would be the winners.
Till now, we have disused about the business model, issues dragging OWW's stock valuation and key success factors for winners. Now, we will get into the investment thesis and analyse how OWW is positioned for recovery and the valuation argument behind the stock's purchase.
6. Mobile investments showing initial signs of success
Going forward, there would need for investments to address and operate multiple points of sale, mainly targeting the smartphone/tablet segment with unique apps' capabilities.
Orbitz has been an early bird, and began investing from 2011 onwards with the platform transition. The company has spent significant amount of money in its new technology platform that has brought in changes both on the front and back-end. These changes meaningfully impacted the end-user experience, merchandising and marketing capabilities. It has helped improve conversion, and OWW is in a better position to allocate more budgets to online advertising. There has been a growth in room night volume from Q3 2012.
Timeline of Mobile investments and Migration

Q2 2011

Migration of RatesToGo

Q4 2011

Migration of HotelClub & CheapTickets

Q1 2012

Migration of Orbitz.com

Q2 2012

Launch of AmEx partnership

Q3 2012

Keyword optimization & bidding engine now operating at scale

Q1 2013

Sequential acceleration owing to platform improvements in consumer brands
The below chart depicts the effect of platform changes on hotel room night growth. It takes around 2 quarters for any changes to result in conversion. According to the chart, there is a need for frequent innovative platform changes to drive hotel room night growth.

The strategy has paid off well for OWW, given that i) 30% of new hotel bookings accrued from mobile in Q1'2014 and ii) 20% of Orbitz.com hotel bookings are same day (60% from mobile).
7. Loyalty Program, Travelocity network, International expansion and GDS agreements - Call option on future growth opportunities
While mobile has been the core of its future growth strategy, we believe the following steps offer long-term growth opportunities.
Orbitz's loyalty program: The company launched its Orbitz's loyalty program with an aim of increasing its increase hotel revenue mix. This would result in higher profitability, repeat purchase and long-term customer values. The program is designed to incentivize mobile bookings over other forms of interfaces, mainly desktop. This implies higher-margin direct bookings.
Acquisition of Travelocity network: Last quarter, OWW acquired certain assets and contracts of Travelocity Partner Network. The target works with bank loyalty programs and online commerce sites. Though it accounts for less than 2% of current sales, it represents a market that OWW lacks expertise in. The deal would help grow its private label business providing customized solutions, and enable access to a larger customer pool.
GDS agreements: During the last quarter of 2013, it signed multi-year agreements with GDS operators (Amadeus, Sabre and Travelport), and this is scheduled to commence in 2015. The agreement would help drive conversion and better monetize demand.
International expansion: OWW has renewed its focus on international markets, especially in the highly fragmented Asia-Pacific region. The international market accounted for about a fourth of total revenue and 6% growth on a y/y basis. Also, Asia represents close to 26% of the HotelClub room nights (+38% y/y growth).
Valuation Argument: We feel that Expedia (NASDAQ:EXPE) is Orbitz's closest peer with similar exposure to the US in terms of geography, while Priceline (NASDAQ:PCLN) gets a big chunk from Europe. OWW revenue base is about 1/4th of Expedia, but on an EBITDA basis, it is about 1/6th. The gap can be attributed to Expedia profitable hotel segment.
Investors have assigned a low multiple to OWW due to stress in its hotel business and a higher share of income from air travel bookings. The stock's EV/EBITDA has compressed from 6.5x to 7.5x levels in 2010 to 3x range in 2013. With the room nights growth at a double-digit pace, the stock has re-rated to the 6.0x-7x range. Also, EBITDA growth has recovered.
At current levels, OWW trades at an enterprise value of 6.5x FY1 EBITDA, while Expedia is valued at 10.2x. The discount can be attributed to Expedia's higher growth prospects and scale that makes it well-positioned to face competition. We believe that OWW deserves to trade in line with Expedia, as i) it has been ahead of the curve when it comes to investing in mobile apps, ii) focuses on the high-growth Asia-Pacific markets and iii) has room to grow in the hotel market and increase margins.
Key investment risks:
Competition and pricing pressure
Cutbacks in travel spending, which is highly correlated to economic growth, could lead to reduced demand for Orbitz
Reliance on third-party search engines and meta-search sites for traffic
Disclosure: The author has no positions in any stocks mentioned, and no plans to initiate any positions within the next 72 hours. The author wrote this article themselves, and it expresses their own opinions. The author is not receiving compensation for it (other than from Seeking Alpha). The author has no business relationship with any company whose stock is mentioned in this article.