Background
Dominion Energy (NYSE:D) is a regional energy and production, distribution, and transmission company primarily operating in the Mid-Atlantic region. D has a market capitalization of $38.3 billion and enterprise value of $62.0B. D shares currently near the midpoint of their 52-week range at $65.76.
Recent Share Activity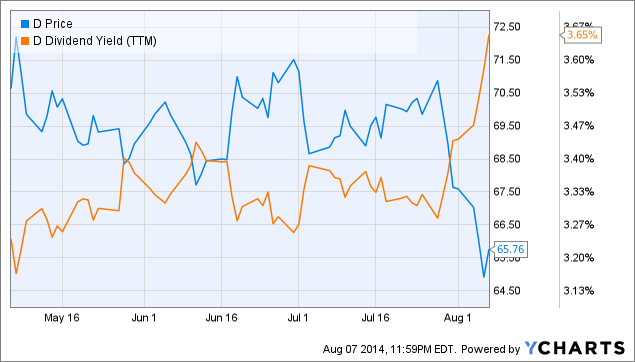 D shares have recently traded down from the low 70's pushing the dividend yield up to 3.65%. We find that pullbacks provide investors great opportunities to add strong dividend stocks with less sensitivity to economic ups and downs. To evaluate adding D to a dividend income portfolio we look at its relative valuation.
Valuation
Our valuation analysis looks at D from a relative perspective, comparing D's metrics to both the large cap S&P 500 index and Utilities Sector.
On a dividend yield basis D is substantially ahead of the overall market with a yield of 3.65% versus 1.98% for the S&P 500. D lags the utility sector where yields average 4.0%
On a trailing earnings basis D trades at a premium to both the S&P 500 and utilities sector. D's earnings metrics are more favorable on a forward basis with a more modest premium to the S&P 500 and utilities sector. At the same time D's earnings are expect to grow at a 6.% annual rate over the next five years. D's growth rate lags the S&P500 considerably but outperforms the utilities sector.
Overall we believe D shares a fairly to modestly overvalued particularly given D's premium earnings multiple to the S&P500 with substantially less growth. We recommend investors keep an eye on D should the shares continue to their recent downward trend. We would look to add D should the shares trade at a discount to the market earnings multiple or fall more in line with the utilities dividend yield.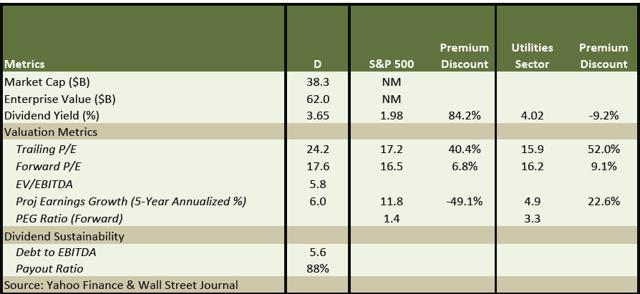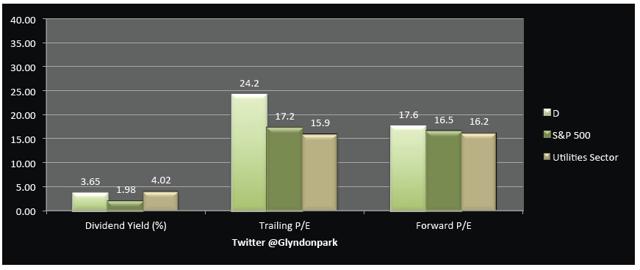 Dividend
Finally, D has a long history of dividend payments. Like many utilities D uses a substantial amount of debt evidence by their high enterprise to market cap ratio and debt to EBITDA ratio. Dividend investor should not be as alarmed about D's debt load per se given the utility industries inherent stability. However, D's payout ratio of 88% suggests dividend growth will be bounded by earnings growth.
Disclosure: The author has no positions in any stocks mentioned, and no plans to initiate any positions within the next 72 hours. The author wrote this article themselves, and it expresses their own opinions. The author is not receiving compensation for it (other than from Seeking Alpha). The author has no business relationship with any company whose stock is mentioned in this article.