Looking for socially responsible investments? But you also want to make money (with a clear conscience)? After making a huge list of dividend paying ethical stocks, I've played around and built my own socially responsible dividend portfolio. The goal here was to start from the stock list and use different filters in order to build a diversified and competitive dividend portfolio. I have decided to combine both US and CDN stocks as the CDN list was too short and not diversified enough.
Considerations that I used to build my ethical portfolio
Beside the social aspect of each stock, I tried to pick the strongest companies in term of dividend yields. So here are the factors I have considered to build a socially responsible dividend portfolio:
Dividend payout over 3% (I have made a few exceptions as I wanted to have a well diversified portfolio)
Dividend payout ratio under 70% (here again a few exceptions since I wanted to keep 2 more Canadian Banks and other companies that are offering extraordinary dividend payouts and are solid companies)
Dividend annualized growth over 5 years over 5% (this time, no exceptions!)
A good balance between several sectors (we have strong investments in financials, energy and consumer sectors)
Here's my socially responsible dividend portfolio: []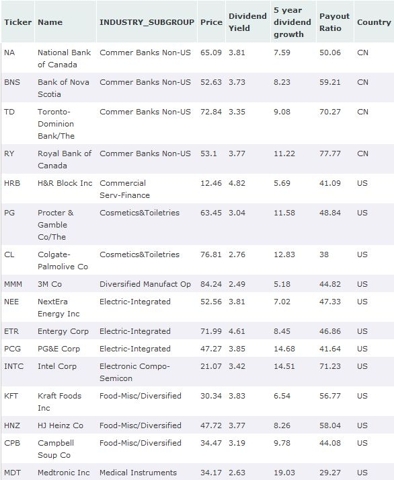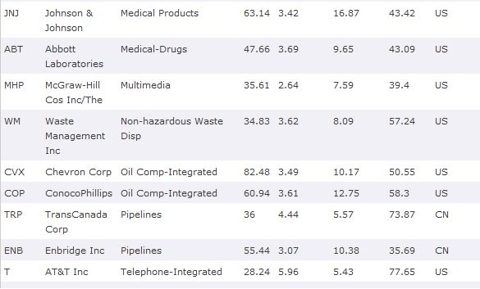 Dividend portfolio highlights:
3.63% dividend yield
52.2% payout ratio
9.84% annualized dividend growth over the past 5 years
The Portfolio contains 25 stocks at an average price of $50.58. Therefore, you can build this portfolio with roughly $38,000.
The transaction cost would be around $200 (at $8 per trade), so only 0.50% as a management fee.
The Portfolio would generate a yearly dividend of $1,390.
According to past performance, the dividend payout would increase by $136 per year.
The portfolio includes 4 aristocrat stocks from the list of 2009 (MMM, JNJ, ABT, MHP).
When I first started this series, I was just curious to find out more about social investing. Now, I am glad to see that it is possible to build a strong portfolio that pays dividends and still keep the socially responsible investing aspect in the picture. I wouldn't say that all these companies are cleaner than snow, but they clearly include socially responsible concerns in their business model.
Disclosure: Author currently holds position in National Bank