November, 2010 was a time of ups and downs and to make sense of it all the author did some calculations and took a look at some charts. Following are the charts with some commentary. I took the date of Wednesday November 3rd, 2010 as the baseline since that was the day the FOMC made their announcement of further treasury support.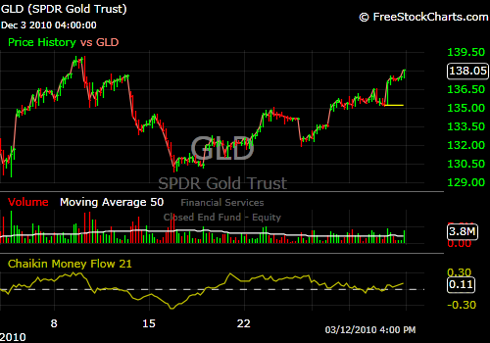 (Click to enlarge)
Since we are in a precious metal bull, I look at Gold first. Using the GLD ETF as a proxy, we see that Gold has gained 6% for the month. This gain was accomplished in one week and the rest of the month was spent in a fake dip downwards into a rounding bowl shape. This prompted many forecasters to call a peak in precious metals and for investors to brace for a heavy fall downwards. It was only in the last week, that Gold moved up to almost complete the bowl shaped recovery. It is not apparent here, but in other leading indicators such as a few Silver miners, they are showing new strength in new highs.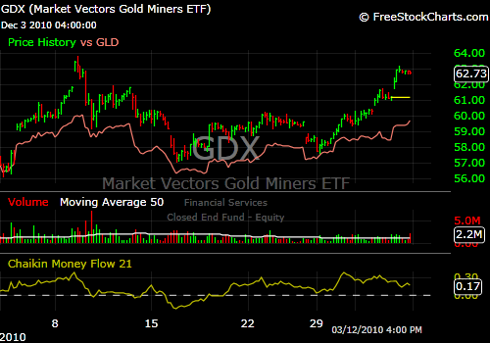 (Click to enlarge)
Next we look at the GDX ETF of about 30 major Gold miners. The GDX has gained 12% for the month, leveraging the precious metal by 100% or a factor of 2 times. The shape of the GDX curve generally follows the price of Gold, shown by the red trace on the chart.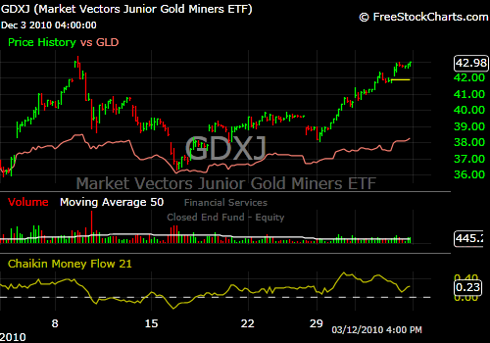 (Click to enlarge)
Looking at the Juniors version of the Gold ETF, the GDXJ we find a 18% gain over this period. The Junior miners ETF includes about 60 smaller companies that work in the Gold mining area (some companies such as Great Basin Gold (NYSEMKT:GBG) appear in both ETFs). The GDXJ gain is three times the gain of Gold's 6%.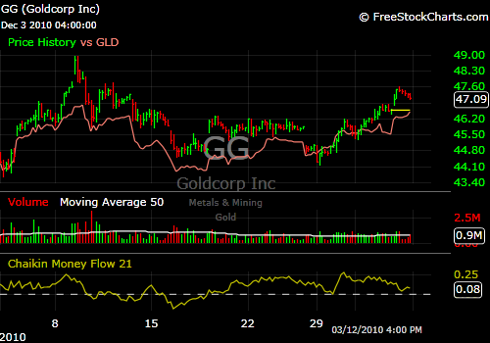 (Click to enlarge)
Goldcorp (NYSE:GG) was one of my favorite Gold miners being a solid low cost miner based in politically stable jurisdictions. They gained 7% versus the 6% of Gold itself. Of late, Goldcorp has been losing my respect due to their non-response to my telephone calls to their investor relations and non-reply to my emails to their board of directors. The author had penned an article critical about their purchase of Andean Resources, and I wanted to give Gold Corp a chance to rebut my criticism. The market shares my ennui and does not give Gold Corp any leverage to the price of Gold itself.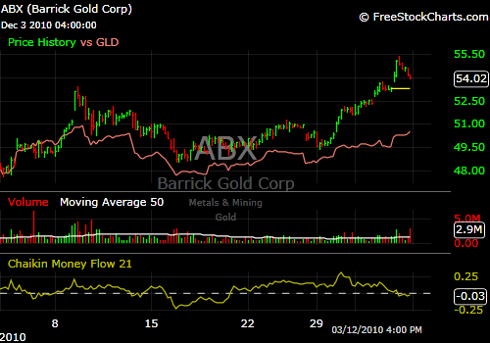 (Click to enlarge)
Next looking at Barrick Gold (NYSE:ABX) we see that they have gained 12% in the past month versus the 6% of the precious metal. Barrick is leveraging the gains of Gold by another 6%.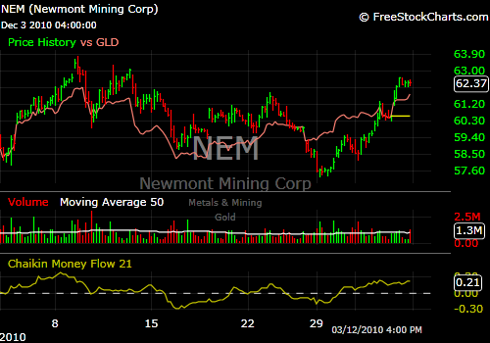 (Click to enlarge)
To round up the big three of the large Gold miners, we look at Newmont's (NYSE:NEM) 7% gain for the month. Again, Newmont is not sporting too much leverage over Gold's 6% gain.
One of the reasons, the large Gold miners are not providing much leverage may be the popularity of the gold ETFs that are proliferating as explored in this previous article. There may be other reasons such as the escalating costs of mining and difficulties at replacing mined out reserves.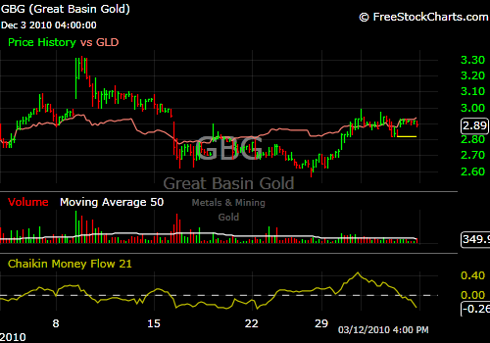 (Click to enlarge)
Next up is the author's favorite Gold Junior miner, Great Basin Gold (GBG). It has only moved 4%, underperforming the Gold price's move of 6%. Great Basin is suffering the market uncertainty to its announcement of being under watch by MHSA, the federal Mine Safety and Health Administration. However, interested investors should be aware, that Great Basin has found some bonanza grade areas in their Hollister mine as detailed in a previous article here.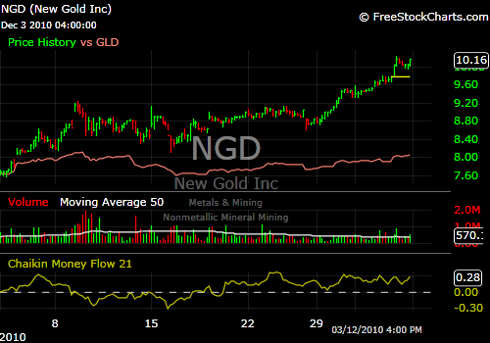 (Click to enlarge)
We also take a look at New Gold (NYSEMKT:NGD) which has been solidly outperforming at a 31% gain for the month. This was due to their excellent third quarter results announced November 4, 2010.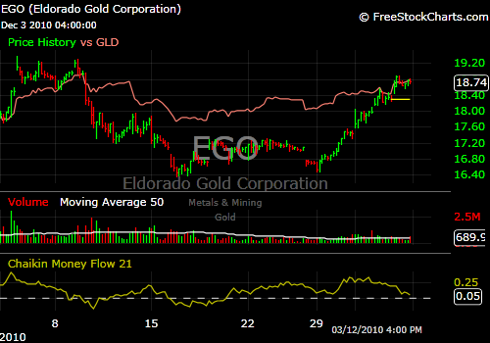 (Click to enlarge)
Finally for the Gold companies, we look at Eldorado Gold's (NYSE:EGO) chart and find a 5% gain. Eldorado is still digesting its merger with Sino Gold of last year (share dilution). Eldorado was a competitor of Gold Corp's in bidding for Andean Resources (OTC:ANDPF).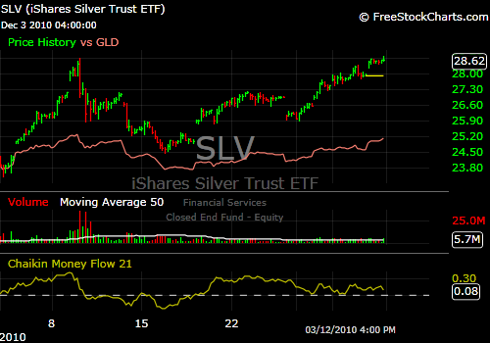 (Click to enlarge)
I look at Silver using the SLV ETF (NYSEARCA:SLV) as a proxy. Silver gained 20% for the past month, again hitting the $29+ peak hit earlier in the month on November 9th, 2010. This is compared to Gold's 6% gain. Looking back to a previous article comparing Silver and Gold we find the previous 50% leverage to Gold has now become 333% leverage in November. Note that the GLD trace is shown in red on the chart above. This rapid rise in Silver may be due to the increasing media attention to Silver as a precious metal moving higher.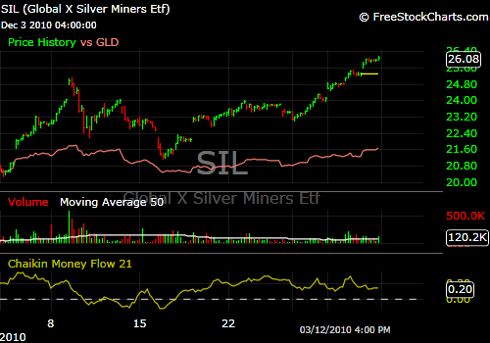 (Click to enlarge)
The SIL ETF (NYSEARCA:SIL) of Silver miners is showing a nice 26% gain for the month. That is 6% more than the gains for the Silver metal. Note that the Silver miners are reaching new highs, leading the way for the precious metals.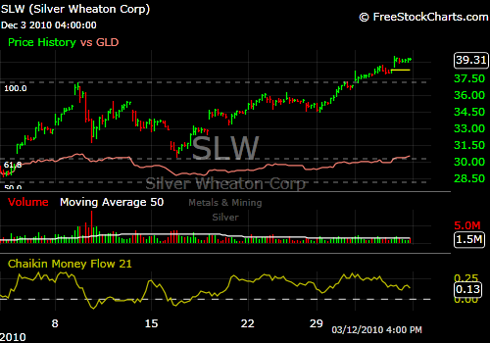 (Click to enlarge)
My "Crème de la Crème" of Silver companies, Silver Wheaton (SLW) is sporting a spectacular rise of 35% for November. Note that SLW is breaking away from the high reached earlier in the month.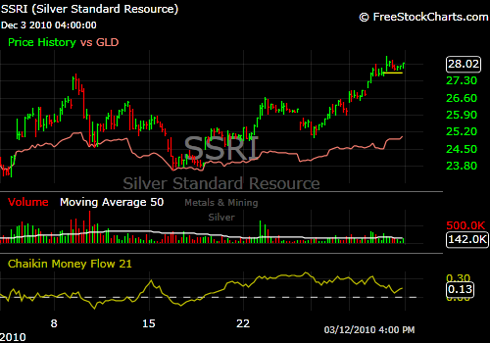 (Click to enlarge)
Silver Standard Resources (NASDAQ:SSRI) shows a gain of 18% for the month, underperforming the rise of Silver itself. This may be due to the divestiture of 50% their Snowfield and Brucejack properties to their former CEO's company "Pretium Resources."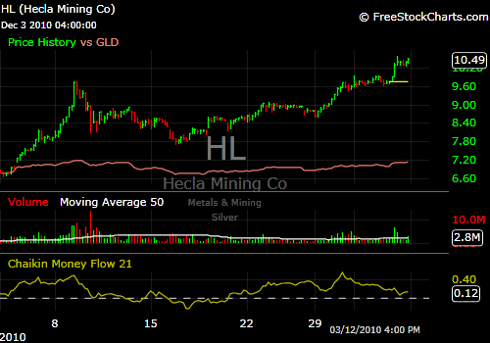 Hecla Mining (NYSE:HL) shows an outstanding move of 54% for the month. Hecla announced an outstanding quarter on October 26th, 2010.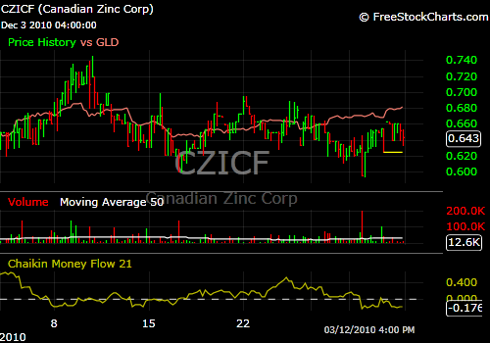 (Click to enlarge)
Next we look at one of my small Silver juniors, Canadian Zinc (OTCQB:CZICF). They actually turned in a loss of 2% for the month. This is due to their drilling being shuttered for the season, in the arctic weather.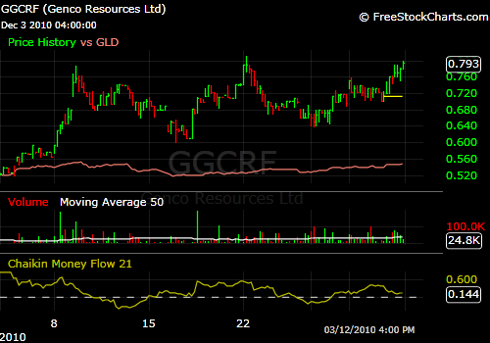 (Click to enlarge)
Next up is the new Silvermex (GGCRF.PK) formed from the merger of Genco Resources and the old Silvermex. GGCRF is showing a gain of 44% for the month, mainly on optimism post merger. Note that Silvermex has recently conducted a $15 million private placement and is awaiting approval from the TSX exchange.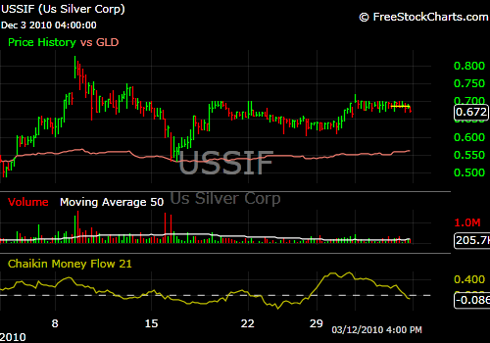 (Click to enlarge)
Last of our charts is US Silver Corp. (OTC:USSIF), which is sporting a 29% gain for the month. Towards the last half of November, the USSIF stock is showing some hesitation.
Summation of the Charts
Companies

Symbol

Nov 3 2010

Dec 3 2010

$ Diff.

% Diff.

Silver

iShares Silver Trust ETF

SLV

$ 23.85

$ 28.62

$ 4.77

20%

Global X Silver Miners

SIL

$ 20.70

$ 26.08

$ 5.38

26%

Silver Wheaton

SLW

$ 29.10

$ 39.31

$ 10.21

35%

Silver Standard Resources

SSRI

$ 23.75

$ 28.02

$ 4.27

18%

Hecla Mining

HL

$ 6.80

$ 10.49

$ 3.69

54%

Canadian Zinc

CZICF

$ 0.65

$ 0.64

-$ 0.01

-2%

Silvermex

GGCRF

$ 0.54

$ 0.78

$ 0.24

44%

US Silver

USSIF

$ 0.52

$ 0.67

$ 0.15

29%

Gold

SPDR Gold Trust

GLD

$ 130.75

$ 138.05

$ 7.30

6%

Market Vectors Gold Miners

GDX

$ 56.80

$ 63.73

$ 6.93

12%

Market Vectors Junior Gold Miners

GDXJ

$ 36.40

$ 42.98

$ 6.58

18%

Goldcorp

GG

$ 44.10

$ 47.09

$ 2.99

7%

Barrick Gold Corp

ABX

$ 48.20

$ 54.02

$ 5.82

12%

Newmont Mining

NEM

$ 58.40

$ 62.37

$ 3.97

7%

Great Basin Gold

GBG

$ 2.80

$ 2.90

$ 0.10

4%

New Gold

NGD

$ 7.75

$ 10.16

$ 2.41

31%

Eldorado Gold Corp

EGO

$ 17.80

$ 18.74

$ 0.94

5%
After this exercise of understanding the movements this month for the various stocks, the author is reassured. Silver is definitely rising rapidly, and outpacing the rise of the Gold price. Junior Gold miners are leveraging the gains in the Gold price. Large Gold miners are barely able to keep up with the price of Gold. For large Silver miners, they are moving quickly with their individual stories and some of their moves upwards have been spectacular. The junior Silver miners are continuing their leverage of the Silver price, all dependent upon their individual stories. Silver miners appear to be giving the best gains to astute investors.

Disclosure: The author is long junior precious metals miners.
Disclaimer: The information and opinions contained within this document reflect the personal views of the author and should be viewed as food for thought and amusement only. The author may from time to time have a position in any of the securities mentioned. There are no guarantees of the accuracy, reliability or completeness of the information contained herein. Independent due diligence and discussions with one's own investment and business advisor is strongly recommended. These writings are not to be construed as an offer or solicitation with respect to the purchase or sale of any security or as an endorsement of any product or service. We do not request or receive compensation in any form in order to feature companies in this publication. It is prohibited to copy or redistribute this document to any type of third party without the express permission of the author. This document may be quoted, in context, provided proper credit is given.