I have been writing about the unusual large amount of cash piling up in corporate America's balance sheets. At the end of Q3, data show that S&P 500 Index companies had an unprecedented $1.2 trillion in cash and equivalents. This represents 130 index points (11%) of the current value of S&P 500 Index companies (12.8% ex-financials). While high cash levels are nothing new, this is really high. Moreover, when interest rates were higher, cash had some contribution to net income. At current low interest rates, this cash pile has essentially zero impact on earnings and, as a result, tends to artificially inflate earnings multiples.
Click to enlarge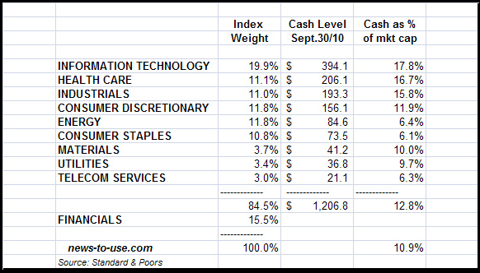 This large cash pile hides value in market indices. Taking a macro approach, the S&P 500 Index currently (1225) trades at 15.5 times trailing EPS but, stripped out of its cash, it trades at close to 13.5x. In the chart below, the red horizontal line is set at 13.5. As can be seen, the S&P 500 PE (blue) very rarely dips below 13.5x unless inflation (NYSEARCA:CPI) rises above 3.8%. In fact, excluding the 1950-1957 period when the U.S. economy swung from deflation to high inflation back to deflation, and the 1983-85 post hyper-inflation years, U.S. PEs never get below 13.5 (and rarely below 15 for that matter) unless inflation is above 3.8%. Since 1950, when inflation has been below 3.5%, PEs have averaged 18x. (For more on PEs and inflation, see The Rule of 20.)
Click to enlarge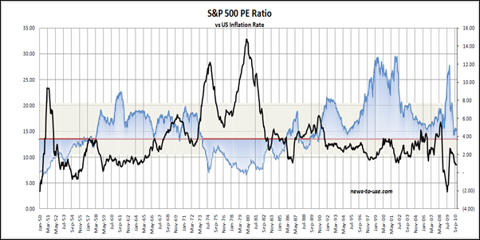 Let's use a micro approach. Five technology companies - Cisco (NASDAQ:
CSCO
), Microsoft (NASDAQ:
MSFT
), Apple (NASDAQ:
AAPL
), Oracle (NYSE:
ORCL
) and HP (NYSE:
HPQ
) account for $170 billion of the S&P 500's $1.2 trillion in cash. This cash pile represents 20% of these five companies' current market cap of $890 billion. At current interest rates, this cash has near zero impact on earnings. These five stocks are trading at 16x trailing eps but only at 13x if we strip out the cash.
Merged together, these five companies' revenues grew 16.5% during the last 12 months, their net earnings jumping 29% and their cash reserves increasing a whopping 25%. Excluding faster growing Apple from that group, the other four companies had compound revenues and earnings growth of 7.0% and 8.0% respectively during the last economically challenging three years. Their net profit margin rose from 15.8% to 16.2% and their cash reserves ballooned from $64B to $118B. These stocks trade at 14.3x trailing eps, but a meager 11.5x after stripping out the cash.
Cisco's valuation is even more intriguing: it is true that CSCO's revenues and earnings have grown only 4.7% and 1.9% annually since 2007 but the stock of this world leading technology company only sells for 9.3x trailing eps after excluding its $39B in cash ($6.60/ share or 35% of current market). In 3 years, CSCO's cash has jumped from $22B ($3.50/sh) to $39B ($6.60).
Want faster growth? Apple is selling at 17.4x trailing eps (13x current year estimates of $20/sh) taking into account its $51B in cash ($55/sh). AAPL's revenues and earnings have grown 74% and and 129% during the last 2 years, doubling its cash pile meanwhile.
Dividends, No Buybacks, Please!
Historically, corporations have set buybacks roughly in line with dividend payments. Buybacks were often used to offset the impact of option grants on EPS. A buyback frenzy began in 2005, accelerating all the way up during one of the most overvalued equity markets in history. As a result, S&P 500 companies have sunk nearly $1.7 trillion of shareholder cash buying back overvalued shares. The impact on shareholder values has been catastrophic.
Click to enlarge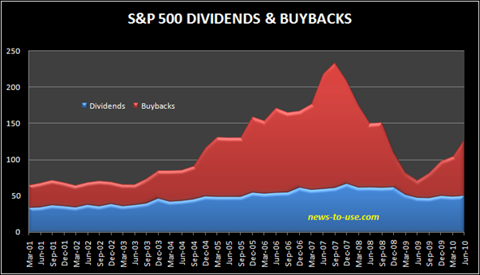 Large buybacks only make sense for shareholders when valuations are absolutely (meaning in absolute terms) compelling. In such a case, the board should clearly state its views and buy back a significant number of shares in a controlled auction process. Using cash to buyback fairly or overvalued shares with a regular rubber-stamped board program is a huge waste of funds and destroys shareholder wealth. Company directors should remember that this cash belongs to shareholders and unless they have financially sensible use of the cash, they should return it to shareholders in the form of higher or special dividends or major buybacks. As well, being mindful of shareholder returns, management and directors should recognize the adverse impact that piling up cash has on corporate returns, growth rates and share values.
In any event, large cash accumulation will eventually attract corporate raiders. Already, some big proposed mergers, such as BHP Billiton Ltd.'s (NYSE:
BHP
) $40 billion offer for Potash Corp. of Saskatchewan Inc. (POT) and Sanofi-Aventis S.A.'s (NYSE:
SNY
) $18.5 billion quest for Genzyme Corp. (GENZ), are all-cash deals, as was Intel Corp.'s (NASDAQ:
INTC
) $7.7 billion takeover of McAfee Inc. and Hewlett-Packard Co.'s $2.35 billion acquisition of 3PAR Inc. Even with the cash already spent and potential future liabilities from the Macondo oil spill, energy giant BP PLC (NYSE:
BP
) has announced a $7 billion cash deal to acquire properties in Brazil, Azerbaijan and the Gulf of Mexico from Devon Energy Corp. (NYSE:
DVN
) before the end of 2010.
Soon enough, I, myself, might be able to buy Cisco with its own cash.