My Philosophy
"Investment is most intelligent when it is most businesslike." - Benjamin Graham
In my Investing Plan I have several different topics listed such as Purpose, Philosophy, Goals, Rules, etc. The Philosophy section states that "I buy quality businesses and hold them to reap long-term income benefits -- I use the stock market as the means to do that. I am an investor not a trader. I believe this requires a different mindset than trading." This article is intended to further explain that philosophy.
I make no secret I consider myself a dividend growth investor, and as such, it might be easy to assume my focus is primarily on the dividend and the more common metrics associated with it such as yield, growth rate, payout ratio, and so forth. While I do utilize those and other metrics when investing, I use them more as indicators to help me get a better understanding of the business entity. What my philosophy statement conveys is that my primary concentration is owning businesses, not stocks.
I believe if one starts with the business itself, and gets that right, then the other things fall in place behind it just like baby ducks following their mother. If one buys a good business at a good price, one that has an economic moat and good economic fundamentals, then over time earnings will increase, income will increase, the intrinsic business value will go up, and eventually the market will recognize this and the return on the investment will increase as a result. But it may not happen overnight, which goes back to my philosophy of thinking like an investor, not a trader.
In his 1981 annual letter Warren Buffett wrote:
"While market values track business values quite well over long periods, in any given year the relationship can gyrate capriciously. Market recognition of retained earnings also will be unevenly realized among companies. It will be disappointingly low or negative in cases where earnings are employed non-productively, and far greater than dollar-for-dollar of retained earnings in cases of companies that achieve high returns with their augmented capital. Overall, if a group of non-controlled companies is selected with reasonable skill, the group result should be quite satisfactory."
That capricious gyration between market values and business values is what drives many people to lose money in the stock market. But if one takes the approach of buying ownership in quality companies, then, "the group result should be quite satisfactory." If I think as an owner of a company, then I have a different mindset than one who is simply buying a stock so it can be sold at a higher price. The greater fool theory of investing describes where one person buys a stock at a high price with the intent to sell it to "a greater fool" at an even higher price, which may or may not happen, depending on price action of the stock. What gets often overlooked in the theory though is that it is referring to two fools, not just a greater one.
Think Like A Business Owner
For my primary or core positions (I reserve a small portion for non-core investments), my initial focus is on the business entity. When considering an investment, I ask first if it is a business I wish to own. Going back to my philosophy statement, business ownership, albeit small, becomes possible through the stock market, but first I have to decide about the business itself. Do I actually want to be an owner of the company for a long time? By long-term, I mean owning it as long as it remains a good company, which hopefully means my kids will own it after I'm gone. That long-term mindset is what separates the investor from the trader.
If I consider myself a business owner then I need to think like a business owner. Imagine if, for instance, I owned a small business that provided my livelihood. Let's also say it provided a product I was confident would continue to be in demand, I had a good manager running the company for me, and I planned to own it and grow it over the long term. Even during potentially tough times, which all businesses experience at one point or another, I would make sure the company kept producing the product, and would monitor the company's business fundamentals to make sure it continued to do what I expected of it. If I had a poor period of performance and someone came in and made me an offer below what I knew the value was, I wouldn't sell just because they told me the market price had gone down. We should think the same way when we own shares of a quality business in the stock market.
Let's take the Coca Cola Company (NYSE:KO) for example. If I could have owned KO since birth I would have (yes, that's easy to say now). But has it always remained a good company, one that I would have refused to sell through good times and bad? It became a publicly traded company in 1919 just in time for the Depression. And like many companies there were times it strayed from its moorings. For example, in the 1970s, it owned shrimp farms along with industrial water treatment, coffee, and wine businesses. Its price had stagnated as well, as can be seen in the below graph of its split adjusted price from 1971 to 2014.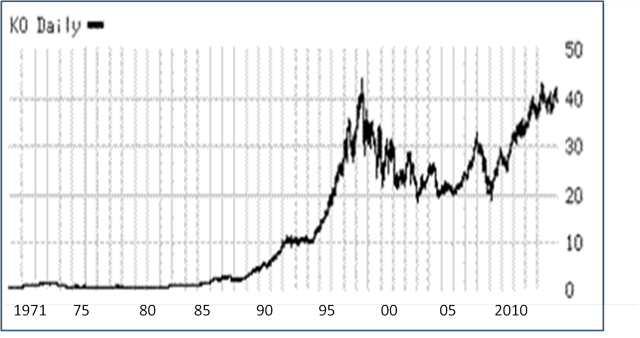 In 1981 the Coca Cola board made Roberto Goizueta the CEO. Goizueta re-focused the company toward its beverage business, venturing outside of it only one time when in 1982 Coke purchased Columbia Pictures, which it sold in 1989. Before Goizueta Coke never borrowed money, but he borrowed billions in order to buy independent bottlers to upgrade the distribution system (today Coke has a fair amount of debt with much of it borrowed at low interest rates over the past few years).
Goizueta was not afraid to take chances, bringing out Diet Coke in 1982, which was a huge success, and announcing in 1985 they were changing the traditional Coke to "New Coke." This announcement actually led to protests in the street. It was either one of the dumbest moves ever made or a brilliant marketing tactic since it not only brought protests but put Coke front and center in everyone's discussion, even leading to hoarding of the old Cokes. I even bought some extra myself. Coke quickly relented, though, and brought the shelved drink back as Coke Classic.
Minding my business means that I monitor the financial metrics that not only are important to the company, but also to me. But financial metrics don't always tell the entire story. Coke is one of those companies where analysts love to worry over its earnings and earnings growth. Yet its earnings, represented by the orange line on this 21-year Fast Graphs chart, somehow just keep chugging along.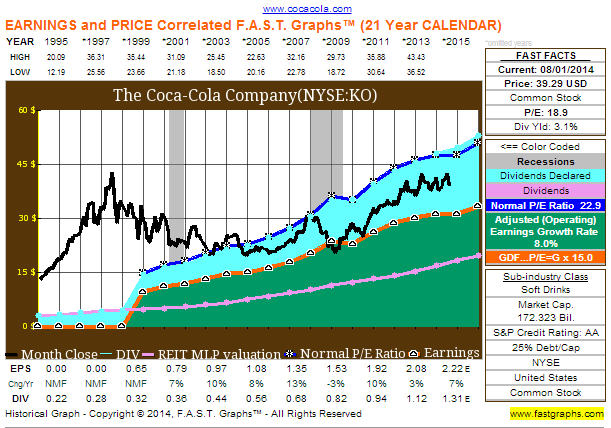 If I look solely at the numbers for the past 10 years plus trailing twelve months, I see that Coke has CAGR's that look like this:
Revenue - 7.72%;
Net Income - 5.62%;
EPS - 6.46%;
Dividends - 8.87%;
Book Value - 8.97%;
Operating Cash Flow - 6.36%;
Free Cash Flow - 5.07%;
Coke's ROE has averaged 30% and its payout ratio 54% over that same timeframe and retained earnings have grown at a 10.38% rate over the past 5 years. Their last reported debt to equity was 0.55.
The typical disclaimer says those numbers are in the past and are no guarantee of future results and that is correct. But past results, if considered from the right perspective, can be helpful in looking at the future. In looking 10 years down the road, one should ask if the company has a moat and the products/ability to maintain or expand that moat, and grow earnings in the future. In essence, look at the business behind the numbers to see if the business can drive the numbers onward and upward.
Can one find another company that will provide more earnings growth and a higher rate of return? Of course they can. But finding other companies that are more dependable year in and year out, that will provide clockwork-like dividend increases, is a more difficult challenge. Personally, I'd rather swing at the fat pitch of dependability and get lots of singles than go for a homerun by swinging at the curve ball of unreliable high returns and striking out a lot. I won't get rich quick but I'll sleep well at night, generate dependable income, and possibly get wealthy slowly with consistent returns.
Coke has increased their dividend annually for 52 years straight. Think about that. The income investor holding Coke over the past 52 years has received a pay raise 52 years in a row. And will likely continue to do so in the foreseeable future. Look at the first price chart again. Even when the price was essentially flat lining during the 1970s, the Coca-Cola investor received that pay raise each year.
One of the common criticisms of dividend paying companies is that the companies would be better off to take the dividend money and reinvest it in the company in order to grow, improve earnings and thereby improve the return. And if I could be certain a company was going to grow at say a 25% rate for the next 10 years, I'd jump on board. But I can't be certain and no one else can either. There is no guarantee that a company will reinvest money wisely or grow their earnings. Bad acquisitions happen pretty regularly. CEOs are all too human and some may be more interested in growing an empire or growing their personal net wealth over shareholder value. However, some companies can do both, reinvest cash and pay dividends, and even more.
Coke at its most recent quarterly earnings call reiterated its policy for using the cash it generates. In the first half of 2014 Coke generated $4.5 billion of cash from operating activities. Its policy in how it uses that cash is to do 4 things. They are:
1 - Reinvest in the business; includes capital expenditures -expects $2.5 billion in 2014;
2 - Reward shareholders by paying a dividend; (Did I mention 52 years in a row?)
3 - Look for growth opportunities through acquisitions, partnerships, and joint ventures;
4 - Repurchase shares - expects $2.5 billion-$3 billion for 2014.
Would reinvesting the entire $4.5 billion of cash generated in the first 6 months of 2014 back into the business make Coke a better company with higher earnings growth? I doubt it. In fact, it could very well lead to owning shrimp farms or movie studios once again. Cash has a tendency to find a way to be spent whether it resides in the hands of individuals or corporations. With 17 brands worth over $1 billion each, and with products in over 200 countries, it would appear Coke is managing their cash flow adequately.
Minding your business also means that you monitor developments that may affect the business you own, whether good or bad. Coke, for instance, recently entered into an arrangement with Green Mountain Coffee Roasters (NASDAQ:GMCR), not only buying stock but with a partnership intended to lead to using Green Mountain's Keurig cups for cold beverages. How this will play out is yet to be seen but it could open the door to possibly an additional market.
On the negative side Coke has been highly criticized by Wintergreen Advisers, a large shareholder, with its recently announced equity compensation plan. In my mind there is no doubt Coke has some improvements that can be made, which means one continues to monitor their business. No matter what the business, no matter what your thoughts are about the dependability of the business and even as dependable as I believe Coke to be, you still mind the business.
Watch For Correlation
Going back to the small business owner analogy, the owner would want to stay abreast of factors outside his business that may have an impact in the future so that he or she can prepare for them. As an additional example, I own Norfolk Southern Corporation (NYSE:NSC), so in addition to watching the fundamental financial metrics, I need to watch other things that will impact railroads.
For instance, I also own Southern Company (NYSE:SO). With Southern Company and Norfolk Southern both in the same geographical area, I have to be aware of factors common to both. Regardless of my personal opinion on the climate debate, Utilities in general are reducing the use of coal burning plants and over time this will impact the rail transport of coal and future earnings. Will the transport of crude oil being generated from shale formations offset the reduction in coal? Supposedly the amount of crude oil being transported by rail has increased 3,500% in the last 5 years, going from 325 million gallons in 2009 to 12 billion gallons in 2013. So the natural question to the business owner of NSC should be how much of that will Norfolk Southern potentially handle? If little, then what will replace the potential decline in coal transports? And Southern Company is adding nuclear units, which can be cash incinerators during construction if not managed properly, so one monitors that as well.
Summary
In my philosophy statement I said I hold the businesses I buy to reap long-term income benefits. Reaping long-term benefits requires patience, something that I do not naturally have, so I have to work at it. But I have found that over time my most profitable positions, both in income and total return, have come from being patient. It simply takes time.
My belief is that being successful in the stock market doesn't require expertise in any given area. It requires using a disciplined, thoughtful process within your circle of competence to recognize good businesses, buying them at a good price, and then minding that business. It doesn't focus on market volatility but rather on the underlying businesses that make up the investment portfolio. Just because the stock price has gone down doesn't mean that the value of the businesses has gone down. In short, mind your business by monitoring the intrinsic value of the business and not just the market price.
Warren Buffett said it better than I can:
"In my opinion, investment success will not be produced by arcane formulae, computer programs or signals flashed by the price behavior of stocks and markets. Rather an investor will succeed by coupling good business judgment with an ability to insulate his thoughts and behavior from the super-contagious emotions that swirl about the marketplace."
Disclosure: The author is long KO, NSC, SO. The author wrote this article themselves, and it expresses their own opinions. The author is not receiving compensation for it (other than from Seeking Alpha). The author has no business relationship with any company whose stock is mentioned in this article.
Additional disclosure: I am not a professional investment advisor, just an individual handling his own account with his own money. You should do your own due diligence before investing your own funds.