For those keeping track, Lyondellbasell (NYSE:LYB) caught its fourth positive analyst revision (that we are aware of) over the last seven days, with Jefferies on Dec. 6 increasing its price target to $36 from $33. Previously on Seeking Alpha ("Getting in Before Sell Side Institutions Follow"), we mentioned that on Nov. 18 LYB was named a long "Research Tactical Idea" at Morgan Stanley. On Nov. 29 two institutions initiated coverage on LYB with buy ratings, and Moody's upgraded the debt. LYB first appeared in our model portfolios, including a long model based on real trade data, following the Oct. 31, 2010, close and is up 15.7% since then.
It is easy to see why LYB is attracting so much positive attention. Trailing 12-month cash flow could double over the next year, and ROIC could rise more than 50% to 16.0%-plus, well above its cost of capital, and yet still trades at a significant discount to other high-quality chemical companies such as El DuPont de Nemours and Co. (DD) (which we also like). Take a look:
Click charts to enlarge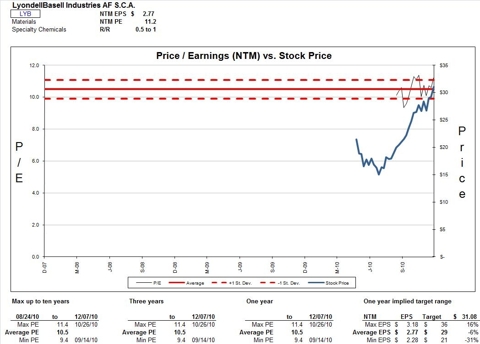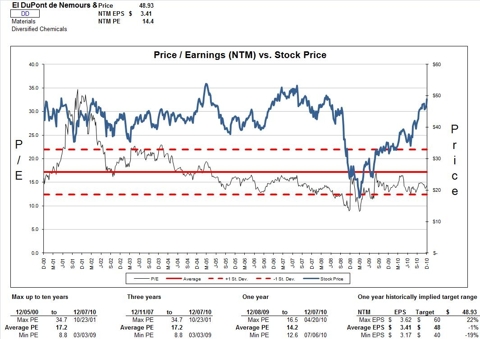 Separately, there was an automatic triggering of a provision that converts all class B shares into class A shares on a one-for-one basis at the close Dec. 6 that will have an immaterial impact on share count. This is because both the class A shares and class B shares were already included in the common share count.
For those interested in a little more detail, all class A ordinary shares and class B ordinary shares had the same voting rights, except in special circumstances related to material strategic transactions, and were senior in liquidation to class A shares - all irrelevant now. In accordance with the company's Plan of Reorganization, holders of senior secured claims received a combination of class A ordinary shares, rights to purchase class B ordinary shares, stock warrants and cash. Approximately 263.9 million of class B shares were issued, raising $2.8 million in gross proceeds ($2.714 million net) for the company. According to its Dec. 6 press release, LYB now has 566 million common shares outstanding.
Disclosure: I am Long LYB.

Additional disclosure: Through the independent equity research and management firm that I founded, Ascendere Associates LLC, I offer a premium equity research newsletter for which I receive compensation. Recent issues of this newsletter have mentioned LYB and DD.