Although the trend started several years ago, online retail sales are still booming. Many companies are looking to shift sales from their traditional sales channels towards e-commerce. Royal Ahold (AHOND, AHODD), a Dutch-based retailer in food and non-food stores, is no exception. The company operates supermarkets, convenience stores, compact hyper markets, pick-up points, gasoline stations and specialty stores, which provide heath and beauty products, wine and liquor. In addition to its traditional activities, Ahold operates several successful online retail stores as well.
Several years ago, Ahold introduced the online grocery service 'albert.nl' in the Netherlands. Further, the company bought online retailer 'bol.com' and introduced an online order and pick-up service for groceries in the United States. In 2013, online sales amounted over €1 billion ($1.34 billion), an increase of 16.9% compared to 2012. During the first quarter of 2014, online sales amounted €362 million, up 20% compared to the same quarter last year (source: Ahold.com). This indicates that Ahold's online sales growth is accelerating.
To place Ahold's online sales in perspective, online retail powerhouse Amazon (NASDAQ:AMZN) earned almost $61 billion in product sales revenue in 2013, more than 45 times the amount of Ahold's online sales business (source: Amazon.com). However, despite its relatively small online sales business compared to Amazon, I will argue that Ahold is a solid online retail play for long-term investors. The company provides both stable dividend income growth and online sales growth. I find that Ahold's distribution channel provides a great competitive advantage and that the company's traditional business generates plenty of cash to support online sales growth and return cash to the shareholders.
Distribution advantage
First, I will discuss Ahold's traditional business. Ahold operates supermarkets and other stores. By the end of 2013, Ahold operated over 3,000 retail stores in the Netherlands, Belgium, Czech Republic and the United States (source: Yahoo! Finance). As a traditional retailer, Ahold constantly optimizes its supply chain in order to supply to the retail stores as efficiently as possible. More efficient supply to the retail stores will improve the company's operating margin. Now, how does Ahold's traditional business support its online sales growth ambitions?
Next to its 3,000 retail stores, Ahold has several distribution centers in the Netherlands, Czech Republic and the United States. As a result, Ahold has a quality infrastructure in place and the company uses this infrastructure to distribute products sold online. Amazon on the other hand needs to invest a great amount of shareholders' capital in new distribution centers and optimizing its supply chain. I believe this provides Ahold with an important advantage over companies like Amazon, because Ahold has optimized its supply chain management over the past 127 years.
Pick up and delivery is another key advantage of Ahold's online business. Ahold uses their 3,000 retail stores as an extra service. For example, in the Netherlands, customers can pick up their 'bol.com' orders at any of Ahold's supermarkets. First of all, this reduces delivery times, which makes consumers happy. Second, Ahold saves external delivery costs, improving its online sales operating margin. Finally, customers who pick up their order in a Ahold supermarket are likely to shop for groceries in that supermarket as well. This will support Ahold's traditional retail business.
Capital return and dividends
Next up is capital return and dividend. As a long-term investor, I look for stable growth and return on my investment. Currently, most online retailers are not providing any return on shareholders' investments. For example, Amazon reported a net loss of $126 million in the second quarter of 2014 (see this report). Let me be clear that Amazon's revenue growth is great. However, the company has not earned any money for its shareholders yet. According to the company's guidance for 2014, any improvements in profitability is not likely. This makes me question Amazon's $145 billion market capitalization and online retailers' valuation in general.
Ahold on the other hand is returning a lot of money to its shareholders. Over the past 17 months, Ahold repurchased own shares worth of €1.6 billion ($2.1 billion), or 13% of its total market capitalization, as part of a €2 billion ($2.7 billion) buyback program announced on February 28, 2013 (see this press release). Further, Ahold returned an additional €1 billion ($1.34 billion) through a reverse stock split in January of this year (see this press release). On top of that, the company paid a dividend of €0.44 ($0.59) per share. This equals a yield of 3.5% based on Thursday's close.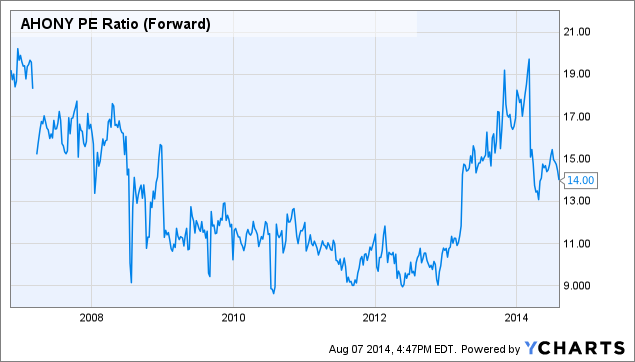 As I mentioned, I find it important that my long-term investments provide a stable dividend income next to growth of the company's business. I believe that Ahold will be able to develop and support online sales growth and return a healthy amount of cash to its shareholders. In 2013, free cash flow was over €1 billion ($1.34 billion). Based on the number of shares outstanding, Ahold's 2014 dividend payment will be between 40% and 45% of its free cash flow. Ahold is likely to grow the dividend payments in the future, given its payout ratio in terms of free cash flow. In addition, the stock seems not expensive with a forward P/E ratio of 14. This is in line with other traditional retailers like Wal-Mart (NYSE:WMT).
Conclusion
Overall, I believe that Ahold provides investors with an unique combination of dividend income growth (the stock currently yields 3.5% and payout ratio is below 50% of free cash flow) and online growth potential. Ahold's strong distribution channels and infrastructure provide a solid basis to develop and support online sales growth and maintain healthy profit margins. Pick up points at Ahold's supermarkets provide another advantage to improve client satisfaction (shorter delivery times), improve its operating margin (no external delivery necessary) and cross-selling with the company's traditional retail business.
Disclosure: The author has no positions in any stocks mentioned, and no plans to initiate any positions within the next 72 hours. The author wrote this article themselves, and it expresses their own opinions. The author is not receiving compensation for it (other than from Seeking Alpha). The author has no business relationship with any company whose stock is mentioned in this article.
Editor's Note: This article discusses one or more securities that do not trade on a major U.S. exchange. Please be aware of the risks associated with these stocks.