After analyzing and watching the US market over the last few weeks, I have noticed a change in the market sentiment. I believe the US market is facing some pressure, distribution days are increasing and the VIX continues to rise. Having said that, I do not believe we have topped yet, but this is merely a correction which I think will continue to take place over the next few months. The number of bullish stocks in the US market continue to decrease.
Let's look first at one of the biggest casinos in the US, Wynn Resorts Ltd. (NASDAQ:WYNN). WYNN, together with its subsidiaries, develops owns and operates destination casino resorts.
There are a number of warning signs that are coming up. The first is the earnings estimates. Numbers are decreasing, both in the next quarter and year.

(Adapted from finance.yahoo.com)
Let's look at Caesars Entertainment Corporation (NASDAQ:CZR), same industry as WYNN. More bleeding.

And finally, Boyd Gaming Corporation (NYSE:BYD). More of the same.

I believe these big casinos will suffer in the next few years whilst online gaming casinos will thrive as more people opt to play at home rather than go to these big fancy casinos.
Thus, I have recently shifted my attention to the online gaming industry and stocks within the Canadian market, as I believe there lies an opportunity. These 2 stocks have come up on my watchlist and I like the potential of the 2 going forward.
Company profile: Amaya Gaming Group (AMYGF) (AYA.TO)
AYA.TO is a Canadian gaming and online gambling company. The company is engaged in the design, development, manufacturing, distribution, sales and service of technology game-based solutions for the regulated gaming industry worldwide. This includes governments, licensed land-based or online casinos, arcades, gaming halls, card rooms, hotels and cruise ships.
Amaya's gaming solutions are focused on increasing gaming operator profitability, together with providing players with popular and cutting-edge entertainment. It also ensures security and integrity in its gaming environments.
What I like mostly about Amaya is their ability to continue to grow in the online gaming industry. Their products include an interactive gaming platform, including online and mobile casino gaming content, electronic games and game systems for land-based casino operations; and interactive ticket vending machines for lotteries. Amaya offers a true ecosystem of physical, online and mobile gaming solutions to capitalize on the trend of operators looking to enter new verticals and participate in both physical and interactive gaming.
Recently, the stock took off and is up over 100% in the last 10 weeks or so. The chart below shows the impressive jump.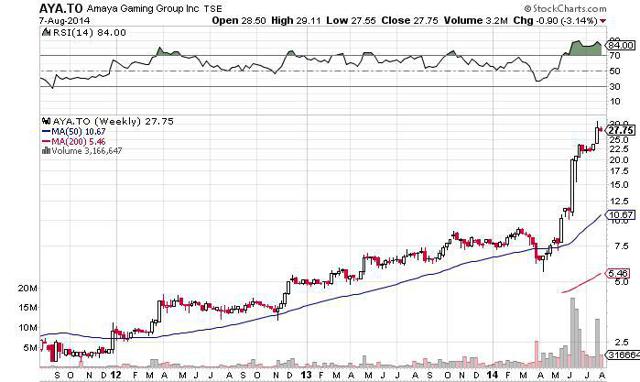 (Adapted from stockcharts.com)
This massive jump occurred as a result of Amaya buying PokerStars in a $4.9 billion deal. I believe this is a game changer for the company. David Baazov, CEO of Amaya, had this to say on the acquisition:
"Through PokerStars, Full tilt and its multiple live poker tours and events, Rational's Brands comprise the world's largest poker business, generating diversified and recurring revenues across the globe from its extremely loyal customer base."
I agree with him and I believe the numbers show how big this company can get.
Estimates have risen since the acquisition. It will be interesting to see what the first earnings report will show.

(Adapted from finance.yahoo.com)
Fundamental analysis
There are a number of factors I consider when I buy a company. AYA.TO is currently valued at around $2.61 billion. The company expects revenues of around $220 million in 2015. It has around $110 million in cash and around $200 million in debt. There are 74 million shares in the float.
AYA.TO has been added on to my watchlist. I do not own it currently, but am looking to open a position once a bull flag occurs over the next few weeks.
The second company that I actually have bought a position in is The Intertain Group (IT.TO). I believe the potential of a similar move that we have seen in Amaya is around the corner. The company has been added to the TSX recently and has gone from $4 to around $6.75 over the last few weeks, after recently touching $8.
Company profile: The Intertain Group
IT.TO also makes part of the online gaming industry. It offers approximately 150 casino games, which include blackjack, craps and slot games. It is well known under the InterCasino name and also includes a number of different poker games. The company is headquartered in Toronto, Canada.
Similar to what Amaya did, IT.TO continues to expand. On June 3rd 2014, The Intertain Group purchased Mandalay Media Limited for an initial payment of £45.0 million in cash, subject to working capital adjustments, with up to a further £15.0 million in cash contingent on future profit performance. Mandalay owns some of the United Kingdom's leading online bingo websites, including Costa Bingo, Sing Bingo, City Bingo, Fancy Bingo and Rio Bingo, as well as leading affiliate sites, including Casino Choice and Ignite.
Future earnings
After studying the financials of this company, I believe this stock is trading very cheap at these levels. Let's see why.

(Adapted from finance.yahoo.com)
As one can observe, analyst estimates have risen considerably over the last 3 months. These are very bullish signs, and I believe that the recent acquisition can add significantly to the bottom line. Earnings are out on Tuesday, August 12th, and I expect record numbers.
The other thing that caught my eye is that revenues are to jump by over 100% next year.
(Adapted from finance.yahoo.com)
Fundamental analysis
If we delve into the financials, there are a number of things that stand out. The first thing is the low float. There are only around 19 million shares outstanding. I expect volatility but if the numbers are good, the demand for shares will come, and a massive rise can occur. We saw this earlier this year when the stock jumped from $4 to $8 in a matter of days.
The other thing is that the company is only valued at around $130 million. With revenues coming in at $55 million into 2015, I believe the price is very cheap at these levels. The company has $7 million in cash and $14 million in debt.
Technical picture
As always, when the technical picture meets fundamental analysis, I take a position. There are a number of strong features in the chart, which shows new highs are around the corner. Volume is increasing signifying institutions are loading. A nice break of the descending trendline also occurred recently.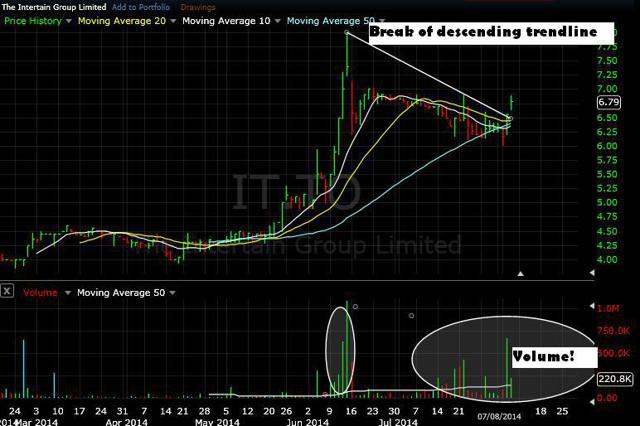 (Adapted from freestockcharts.com)
Risks investing in these stocks
Due diligence is required when buying low float stocks. As always, I only risk a small percentage in every stock I buy. Although both companies look great going forward, one must hope the acquisitions that they bought will be fruitful. I believe the potential is there, so now it is up to management to reward their shareholders.
Disclosure: The author is long IT.TO. The author wrote this article themselves, and it expresses their own opinions. The author is not receiving compensation for it (other than from Seeking Alpha). The author has no business relationship with any company whose stock is mentioned in this article.
Editor's Note: This article discusses one or more securities that do not trade on a major U.S. exchange. Please be aware of the risks associated with these stocks.