Bounce-time baby. We are happy with yesterday's thoughts, as today the scramble to deleverage the stress trades grabbed hold with the world looking just like an old fashioned "risk-on"/"bash the dollar"-fest. Usually at this time of year, Team Macro Man is cursing Voldemort and his Death Eater chums for coming in with a massive euro "buy" program. The past few weeks they have been somewhat absent from the market, but Team Macro Man knows that Voldemort loves to screw speculators, so to come in right now when the market is trying to be bearish euros would be "very FX."
Commodities are all screaming higher too, and though oil took a bashing in the back-end yesterday and the soothsayer signals suggest a sell, there appears to be a rampant background chat of $100 around the corner, which no doubt will suck in another round of spivs short-term traders. So rather than "Red Adair" it we' d rather let it burn itself out.
But there really hasn't been much macro change - it feels more like the positional micro (though we are sure that the world will be allocating retrospective macro news headlines to explain it all). Now, with everything going just so swimmingly with our bounce view and us being the stupid bored adrenaline junkies that we are, we thought it fun to do the equivalent of going for a swim at Sharm el Sheik and raise the matter of our nemesis. Duck, incoming Spam tins!
So, Team Macro Man has dusted off its trusty gold-real rate charts and found to our surprise that since the QE2 set sail sank, gold has diverged significantly from real rates. Indeed, while during the May eurozone turbulence both gold and real rates moved in unison, excepting a brief QE2-fade trade, gold has pushed to new highs, while real rates have crept back up to where they sat in late-September.
To date, Team Macro Man's view has been that gold is only a bubble if US Treasuries are because the moves in gold have been fully consistent with those in the Treasury market. But this is something different, with the gold versus real rates relationship suggesting a 14.5% valuation gap, the largest we have noticed since 2008 (see chart below - white line: gold, orange line: 10-year world real rates) and increased chatter about gold being "the true" reserve currency.
While we generally try to stay clear of these quasi-religious debates, it's looking increasingly like gold is getting a bit "frothy" again. Of course, this divergence could just be year-end balance sheet-related, as dealers (and leveraged money in general) have been caught long USTs at the wrong levels.
Team Macro Man is just as wary of putting on large RV trades just before year-end, but it might make sense to begin scaling into long Treasuries versus short gold, betting that this relationship snaps back. The one worry we have, however, is that now that Europe has had its fiscal crisis, the next fiscal domino to fall (Uncle Sam) could play havoc with this trade. But that is probably next year's story.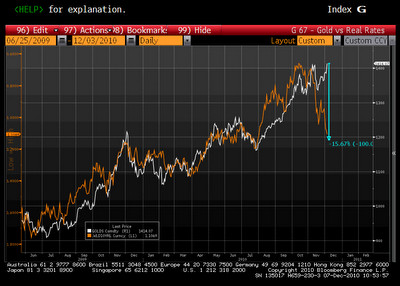 (Click to enlarge)
The Sharm el-Shiekh toe-dipping trade is the GOLD/UST one, but the full immersion, Steve O, Jackass trade is Short XAU/EUR (see chart below). We are going for the latter. Yeee haaaaw!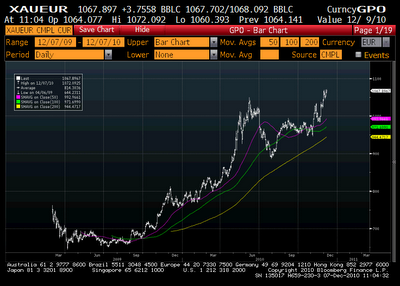 (Click to enlarge)
Disclosure: No positions