Overview
American Express (NYSE:AXP) closed Thursday at $86.02. Over the past month, the stock has dropped by 9.83% and is now at an attractive price that long-term investors should take notice of.
Financials
| | |
| --- | --- |
| Revenue (trailing twelve months) | $33.70B |
| Earnings Per Share (trailing twelve months) | $5.23 |
| Return on Assets (trailing twelve months) | 3.71% |
| Return on Equity (trailing twelve months) | 28.77% |
| Free Cash Flow (quarterly) | $1.60B |
| Cash and Short Term Investments (quarterly) | $18.43B |
| Book Value (quarterly) | 20.21B |
| Profit Margin (quarterly) | 17.66% |
American Express currently pays a $0.26 quarterly dividend that yields 1.21%. The yield isn't anything special, but it is higher than the dividends of both Visa (NYSE:V) (0.77%) and MasterCard (NYSE:MA) (0.59%). The company's dividend has increased by 147.40% over the past ten years.
Growth
In looking at revenue, American Express has seen fairly slow growth over the past five years, lagging significantly behind both Visa and MasterCard. AXP's revenue growth last year was 3.33%.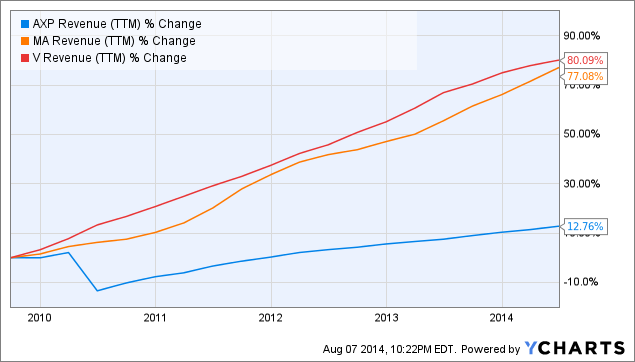 AXP Revenue (TTM) data by YCharts
In terms of earnings, however, American Express has seen significantly higher growth over the past five years compared to both Visa and MasterCard. AXP's earnings growth last year was 25.45% and is forecasted at 12.21% this year and 10.40% next year.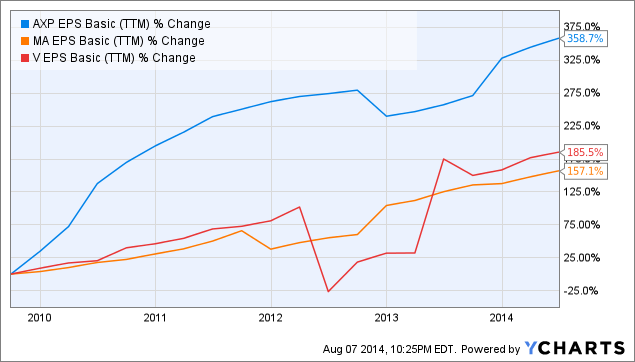 AXP EPS Basic (TTM) data by YCharts
Valuation
American Express currently trades at a trailing PE ratio of 16.44x. As you can see from the chart below, this is in line with historical values and significantly lower than the PE ratios of Visa and MasterCard.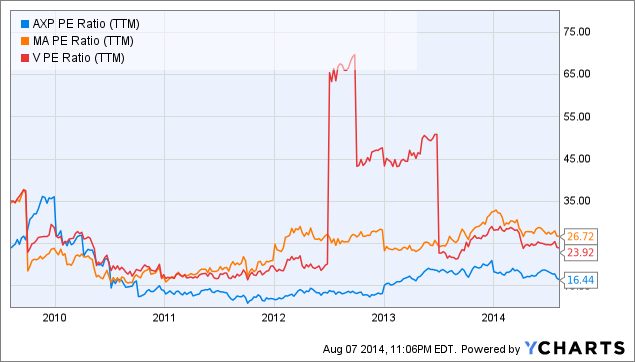 AXP PE Ratio (TTM) data by YCharts
When looking at forward PE ratios, American Express remains priced significantly lower than its competitors.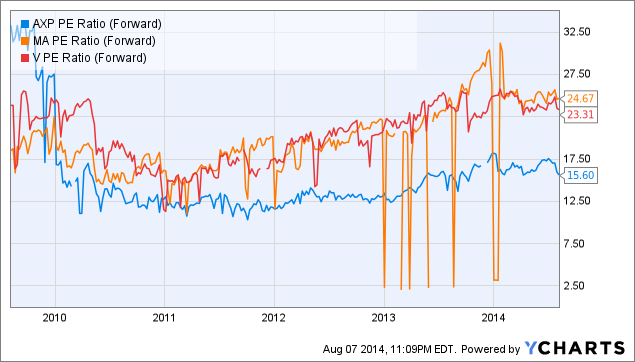 AXP PE Ratio (Forward) data by YCharts
Looking at the price to book value of each company, American Express remains the most attractively priced, even though it is nearly at the same level as Visa.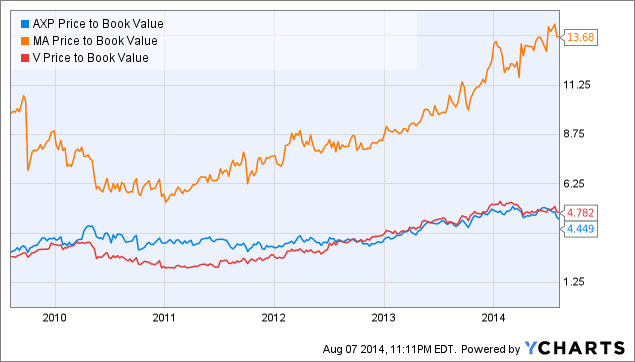 AXP Price to Book Value data by YCharts
Future Estimates
According to CNN Money, American Express has a twelve month upside potential of 31.40% ($113.00) and a downside potential of -8.20% ($79.00), with a median forecast of 16.30% ($100.00).
With double digit predicted earnings growth this year and next, I believe that the stock has a strong chance of outperforming the market in general over the next twelve to twenty four months.
Conclusion
Last week, American Express reported good Q2 financial results. The company's pre-tax income rose 16%, while the company's net income rose 9%. The company has repurchased nearly $4 billion worth of shares over the past four quarters and increased its quarterly dividend from $0.23 to $0.26 earlier this year.
The company continues to make progress on its strategic decisions toward increasing value for merchants and consumers. The company added four additional merchants to its OptBlue program and has entered into a recent partnership with Uber.
As American Express continues its initiatives toward keeping costs low while increasing the diversity of its funding sources, I believe the company will continue to reward long-term shareholders with both share price appreciation as well as dividend growth. As always, I suggest individual investors perform their own research before making any investment decisions.
Disclosure: The author has no positions in any stocks mentioned, and no plans to initiate any positions within the next 72 hours. The author wrote this article themselves, and it expresses their own opinions. The author is not receiving compensation for it (other than from Seeking Alpha). The author has no business relationship with any company whose stock is mentioned in this article.