Vanguard's newest ETF funds, the Emerging Markets Government Bond Index ETF (NASDAQ:VWOB) and the Total International Bond ETF (NASDAQ:BNDX) add to Vanguard's lineup of international ETFs. They were created a little over a year ago on 5/31/13. VWOB was set up to track the Barclays USD Emerging Markets Government RIC Capped Index and BNDX was set up to track the Barclays Global Aggregate ex-USD Float Adjusted RIC Capped Index. No other ETFs out there try to track these two indices. Below are some of their profile statistics taken from their Vanguard ETF summary pages. The pages are hyperlinked in the chart.
| | | | | |
| --- | --- | --- | --- | --- |
| | | Benchmark | | Benchmark |
| Holdings | 659 | 704 | 2720 | 7761 |
| % of Investment Grade Bonds | 80% | 80% | 100% | 100% |
| Ratio of Gov/Corp Holdings | 63%/37% | 63%/37% | 85%/15% | 85%/15% |
| Effective Maturity | 10.50% | 10.20% | 10.4 | NA |
| Average coupon | 5.90% | 5.90% | 3% | 3.2% |
The Yahoo graph below shows their first year returns. VWOB increased 1.3% and its dividend was 4.23%. BNDX increased 1.7% and its dividend was 1.3%. In the first year of their existence VWOB and BNDX increased 5.53% and 3%, respectively.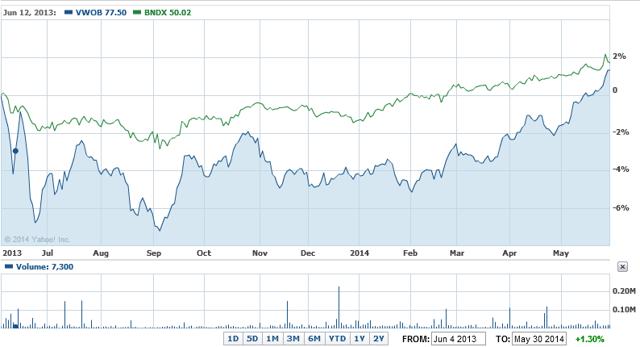 These returns don't mean much until we know how well they performed against their benchmarks. Both of the indices can be seen here. The best information I could get was the indices' past 12 month returns. The Barclays USD Emerging Markets Government RIC Capped Index returned 9.63% and the Barclays Global Aggregate ex-USD Float Adjusted RIC Capped Index returned 5.45%. The ETFs returned 5.53% and 3%. This isn't a perfect comparison since the indices' 12 month returns lagged the ETFs first year returns by two months. We need to compare them on the same time frame. Below is the Yahoo Finance graph of VWOB and BNDX over the past 12 months.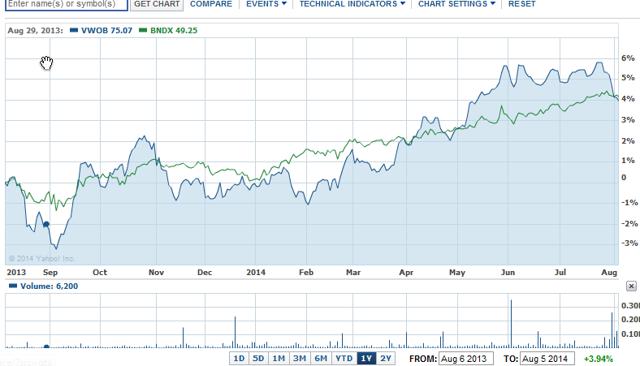 Over the past 12 months VWOB increased by 8.91% and BNDX increased by 5.8% after taking account dividends. BNDX beat its index by .35%. VWOB came up a little short and trailed its index by .72%. I think it would be safe to say the ETFs probably tracked the indices pretty well in the first two months too. I think being less than a percent away from each of their benchmark is enough to say that at the start of things these two ETFs have done what they were created to do.
Looking at my disclosure one would notice that I am only invested in VWOB. What first caught my eye about VWOB was the dividend. It has over a 4% yield. Yield is my main focus. I really ignore anything under 2%. Another reason why BNDX didn't appeal to me is because it has the word total in its title. Anything that has the word total probably means it has thousands of holdings. The fund would be so large that it would probably move along with the overall market. I am looking for something more than that, something that has a higher beta. The other reason why I prefer VWOB comes from looking at the graphs above. It looks like the ETF prices move together. To prove this I did a correlation on the historic prices between the two. The correlation came to 90%. This is pretty high. Since these two ETFs are going to move together then you really only need to buy one of them. Why wouldn't you want to buy the one that has a higher yield? In the first year BNDX's price actually beat VWOB by 0.4% but after dividends it was 2.53% worse off. I made my choice, what about you?
Disclosure: The author is long VWOB. The author wrote this article themselves, and it expresses their own opinions. The author is not receiving compensation for it (other than from Seeking Alpha). The author has no business relationship with any company whose stock is mentioned in this article.