By Sheena Lee
The stars are aligning for another strong year for Apple (NASDAQ:AAPL), whose products continue to deliver robust sales momentum in the holiday season. Sales should get a further boost from the expected arrival early next year of the Verizon (NYSE:VZ) iPhone, making Apple less dependent onAT&T's (NYSE:T) worst-in-class network. Add in a second generation iPad and such innovations as the "iWallet" payment system for the iPhone and it's easy to see why analysts continue to boost their price targets for the company.
The median target price of analysts tracked by Alacra Pulse is $375, unchanged from October, while the mean has risen to $376.53 from $374.76. All 38 tracked analysts have a positive rating on the company.
Current 12-month price targets of selected sell-side and independent analysts.
Click to enlarge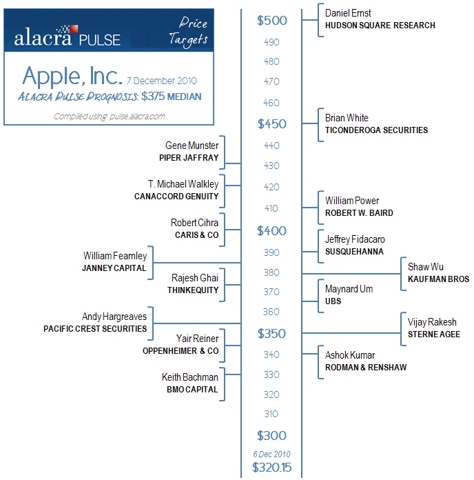 Caris & Company analyst Robert Chira raised his price target to $400 from $375, and said last week that the growth seen at Apple is "stunning." Chira expects the iPad to contribute to nearly 50% of the company's growth next year. "A product that didn't even exist a year ago ... now leads an entire charge to thin-client access/computing architecture," said Chira, who expects 32 million iPad units sold in fiscal 2011. He added that iPhone sales remain strong, accounting for more than 40% of the company's 2011 growth, potentially selling 64 million units.
Canaccord Genuity analyst Michael Walkley, who kept his $421 price target and Buy rating on Apple, boosted his projection for year-end quarter iPad units by 26% to 6.3 million. He believes that Apple will maintain both market and profit share leadership.
Pacific Crest analyst Andy Hargreaves boosted Apple's price target to $355 from $330 and increased his earnings per shares estimates in a research note to clients and investors. Apple will sell close to 60 million iPhone units in 2011, said Hargreaves.
Piper Jaffray analyst Gene Munster, who has a Buy rating on Apple, increased his price target to $431 from $429. Muster projects that iPhone units sold will jump from 36 million units in 2010 to 185 million units in 2015, said he added that Apple could more than double its sales by 2015 to $200 billion.
Robert W. Baird & Co. analyst William Power initiated coverage of Apple last month with a Strong Buy rating and price target of $410. In an 82-page report to clients, Power shows at a glance how important Europe has become as a market for the iPhone and how quickly Asia - mostly China - is catching up.
ThinkEquity analyst Rajesh Ghai adjusted his Apple price target higher to $375 from $350 and reiterated his Buy rating on shares of the electronics and PC maker.
In another boost to Apple, JPMorgan (NYSE:JPM) announced that it will start giving out iPads to its investment bankers to help with work productivity and personal enjoyment. "There are a variety of ways to leverage the iPad. Some work off-the-shelf whilst others rely on JPMorgan software/security tools," said managing directors at JPMorgan. "Depending on its success we will evaluate if we should repeat this one time initiative and/or expand it to others."
"Many corporations, including Wall Street, are looking at iPad for business use," said Kaufman Brothers analyst Shaw Wu, who has a Buy rating and $380 price target on Apple. "There are two things attracting IT managers to the iPad: it's easy to use and the price is pretty attractive relative to traditional notebooks." Analysts said the move by JPMorgan brings an obvious threat to Apple's competitor, BlackBerry maker Research In Motion (RIMM).
Smartphones based on Google's (NASDAQ:GOOG) Android operating system pose perhaps the greatest challenge to Apple's growth, but so far they are taking market share from BlackBerry devices rather than iPhones. But according to Piper Jaffray's Munster, the fact that only AT&T carries the iPhone - and Verizon still doesn't - is the only reason Android phones are outselling iPhones in the U.S. A situation that should be remedied very soon.
(Sources: Alacra Pulse, ComputerWorld, ZDNet, American Banking News, Business Insider, StreetInsider, Venture Beat, Bloomberg Businessweek, Fortune, eConsultancy.)