By Sheena Lee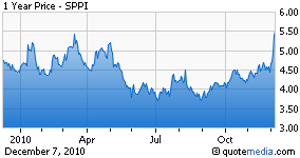 Spectrum Pharmaceuticals (NASDAQ:SPPI)
Irvine-California based Spectrum is getting a lot of attention lately as promising pipeline drugs and talks of a possible acquisition by a larger drug firm surfaces.
The biotech firm has two oncology drugs that have been approved by the US Food and Drug Administration (FDA) and are on the market, while two other drugs are in late-stage clinical trials. Institutional investors include BlackRock (NYSE:BLK) Institutional Trust, which holds a 5.7 percent of the stock, and Goldman Sachs (NYSE:GS), which has which has acquired 2.2 percent.
Reni Benjamin, biotech analyst at Rodman & Renshaw, predicts that Zevalin, Spectrum's oncology approved drug, could see 2010 sales that exceed the upper limit of management's guidance. Zevalin revenues jumped 12% to $7.7 million in the second quarter from the same period a year ago and climbed in the third quarter to $8.3 million.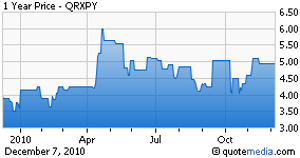 QRxPharma Limited (OTCPK:QRXPY)
QRxPharma, a clinical-stage specialty pharmaceutical company focused on the development and commercialization of new treatments for pain management and central nervous system (CNS) disorders, said it has completed patient enrollment for a pivotal Phase III trial for MoxDuo IR.
The comparative study was designed to evaluate analgesic efficacy and safety of MoxDuo IR, a patented 3:2 ratio fixed dose combination of morphine plus oxycodone, for managing moderate to severe pain in patients who have undergone total knee replacement surgery.
The company expects to release top-line data for MoxDuo IR in February 2011, prior to the filing of its New Drug Application (NDA) with the FDA.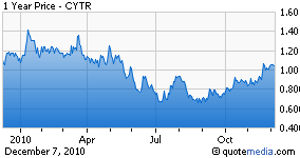 CytRx (NASDAQ:CYTR)
A biopharmaceutical company specializing in oncology, Los Angeles-based CytRx said it is initiating a multicenter Phase II b clinical trial with its oncology drug candidate Tamibarotene in combination with chemotherapeutical agents for the treatment of patients with advanced non-small-cell lung cancer.
President and CEO, Steven A. Kriegsman, said:
Tamibarotene has shown highly encouraging results in patients with advanced acute promyelocytic leukemia, with several reports of total elimination of the disease in patients who failed multiple other treatments… tamibarotene could be a substantial improvement for treating multiple cancers. In the event that tamibarotene shows a substantial extension of life for sufferers of non-small-cell lung cancer, it would present a multi-billion dollar market opportunity for CytRx.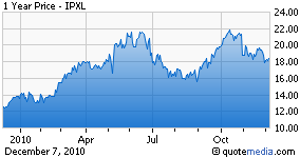 Impax Laboratories (IPXL)
Johnson & Johnson (NYSE:JNJ) has filed a lawsuit against Impax Laboratories for its generic product Concerta, a $900 million controlled release formulation of methylphenidate for ADHD. Needham & Company analysts, who maintain a Hold rating on Impax, said:
This would appear to confirm what the market has long suspected−IPXL's original ANDA was a 'one peak' product and unlikely to be approved by FDA based on a recent FDA advisory committee meeting which recommended more stringent criteria for certain complex generics.
Piper Jaffray analysts, who reiterated an Overweight rating on Impax and has a $25 price target on the stock, said:
We believe IPXL is one of the most attractive names in the generics space.
Disclosure: No positions