Tech stocks are all the rage and rightly so. In an era when America is being bashed for so many things, technology is clearly what we do well (even though Research in Motion (RIMM) is Canadian). These five high quality technology companies should continue to attract growth investors. We screened for stocks with a bullish Chaikin Power Gauge rating, a five year ROE in the top 15% of their industry, consistently beating analyst earnings estimates and with strong short and intermediate term price patterns.
In short - high and going higher.
The Power Gauge rating is based on a 20-factor model incorporating financial metrics, earnings performance, price/volume activity and expert opinions to determine a stock's potential over the next 3-6 months.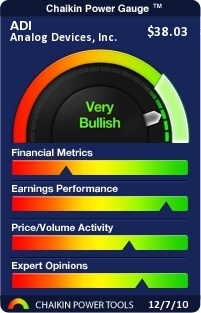 Analog Devices Inc (NASDAQ:ADI): $37.63
A healthy cash flow, consistently high profit margins and a very bullish ROE make Analog Devices a very attractive tech investment.
Strong earnings growth contributes to a very bullish Earnings Performance metric. Analysts are very bullish on ADI and have raised their earnings estimates for the company, thus contributing to very positive Expert Opinions.
Favorable price strength vs. the broader market and vs. its industry, very bullish money flow activity and a bullish price trend contribute to bullish Price/Volume activity.
The company is making new highs and we believe this trend will continue in the first half of 2011.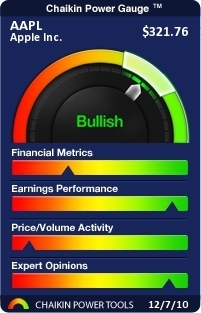 Apple Inc (NASDAQ:AAPL): $317.44
Apple has been Wall Street's darling for the last couple of years. The company has been posting stellar earnings every quarter with even more upside projected leading to very bullish Analyst Opinions and increased investor confidence.
Money Flow activity is very positive and favorable price strength vs. the broader market and its industry reflect investor confidence as well.
A very strong balance sheet with lots of cash on hand and no debt continues to allow Apple to invest in building innovative products and generate new revenue streams with high profit margins, thus posting very high ROE.
Apple's new partnership with Verizon (NYSE:VZ) to start selling iPads will only strengthen its market share and create other opportunities for the company helping it to generate incremental revenue growth. We think that Apple's growth story will continue in 2011 given its strong customer base ranging from teenagers to senior citizens.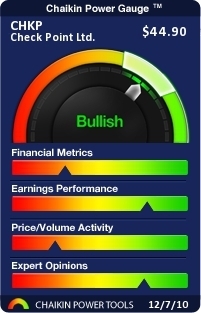 Check Point Software Technologies Ltd (NASDAQ:CHKP): $45.18
An excellent balance sheet boasting lots of cash and zero debt, high profit margins and a very high ROE contribute to a bullish Financial Metrics rating for CHKP.
The company has been generating consistent earnings growth and positive earnings surprises which has led to upward revisions by analysts.
Strong price strength vs. stocks in its industry and vs. the broader market provide additional factors adding up to a very bullish Chaikin Power Gauge rating.
While CHKP has been making new highs we believe there is still upside potential in the company's stock particularly if the market continues its December rally.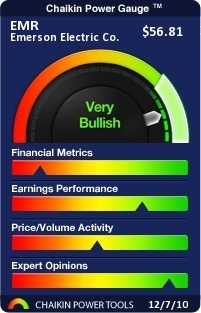 Emerson Electric Company (NYSE:EMR): $56.84
With high profit margins, very high ROE, strong cash flows and earnings consistency, EMR continues to generate investor interest and move to new highs.
Strong Chaikin Money Flow activity and favorable price strength vs. the market contribute to a bullish Price/Volume rating. The company boasts very bullish Expert Opinions driven by recent insider buying, bullish analyst expectations and upward earnings revisions.
Low valuations lead to a very attractive P/E ratio on projected 2011 earnings. Emerson's global presence, particularly in the emerging markets, positions it for further upside as it continues to benefit from an increase in global infrastructure spending.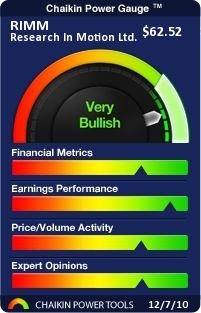 Research In Motion Limited (RIMM): $62.65
Although it has rallied almost 40% since September, RIMM is still about 20% off its 52-week high.
The maker of Blackberry smart phones boasts a very healthy balance sheet with generous free cash flow and zero debt, which will allow it (like Apple) to continue to invest in innovative product development. The company has very high profit margins thus contributing to a very high ROE.
Consistent earnings growth has led to bullish Analyst Opinions and upward earnings revisions. Positive price strength vs. its industry, a favorable Chaikin price trend and an attractive P/E ratio on projected 2011 earnings together add up to a very bullish Chaikin Power Gauge rating.
Despite facing stiff competition from Apple and an uphill battle making inroads into India, we believe that RIMM's smart phones have their own loyal customer base, prompting us to recommend adding RIMM as a companion to AAPL considering that every hot stock can pause, allowing other equally high quality stocks to catch up.
Disclosure: I have no positions in any stocks mentioned, and no plans to initiate any positions within the next 72 hours.