Anyone doubting that the powers that be are getting desperate to maintain stock prices should consider that announcements of Bailout Ben Bernkanke's appearance on 60 Minutes and his proposed claim that he may increase QE 2 was enough to kick off a 3+% ramp job in stocks last week.
Regardless of this mindlessness, Bernanke's appearance did offer us a glimpse into his thinking or lack thereof. Many commentators have been stunned by his assertion that he is "100% certain" he can control inflation. I wasn't. After all, Bernanke's been nothing if not 100% certain of himself while being 100% wrong for the last five years.
Why break the streak?
For anyone who still takes this man seriously, I strongly suggest watching the video chronicling his forecasts from 2005 onward. If it weren't for the fact that his predecessor at the Fed, Alan Greenspan, was also wrong about everything, the video would make you want to run face first into a wall.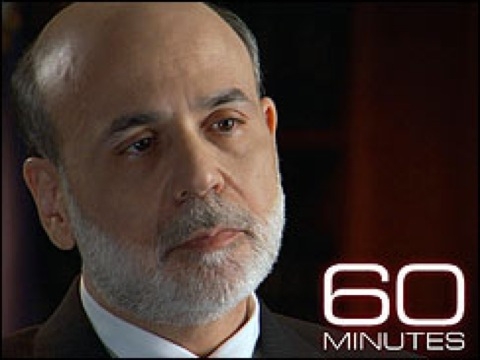 The most important item I want to focus on is the fact that Bernanke didn't see the 2008 Crisis coming, because it gives us an excellent understanding of how out of touch Bernanke is (or pretends to be) when it comes to systemic risk in the markets.
In this context, his assertion that he is "100% certain" he can control inflation should be a clear warning to investors that inflation is coming in a BIG way in the future. Bernanke has been flat out 100% WRONG on everything, particularly his own abilities, over the last five years. So be prepared to see inflation explode soon.
In fact, it already has.
Both Oil and Gold have roughly doubled in price per Dollars since Fed first started buying Treasuries in March 2009: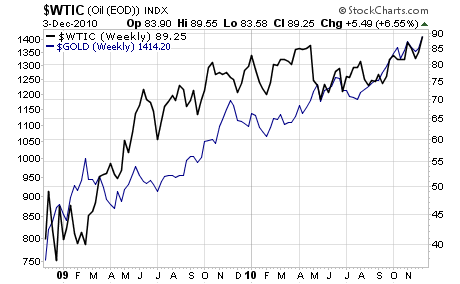 Similarly, agricultural commodities are up some 53% since the Fed announced QE 1.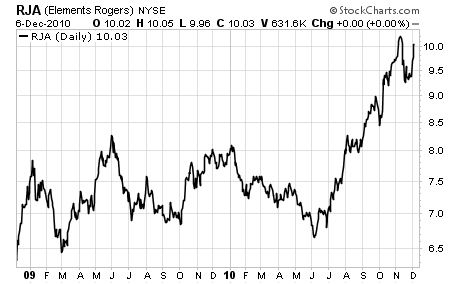 Forget Bernanke's claim he can control inflation, the inflationary genie is already out of the bottle. Seriously, the charts don't lie: the guy's talking about his ability to control inflation and it's already here.
So let's add an "inflationary storm" to the list of things Ben Bernanke has been 100% wrong about over the last five years. This makes the official list:
1) A housing bubble in the US
2) A recession happening in the US
3) The subprime crisis being contained
4) The 2008 Crisis happening
5) US housing bottoming
6) A recovery occurring in the US economy
7) Inflation hitting the US
Seriously, HOW does this guy still have a job, let alone any credibility?