National Healthcare Corporation (NYSEMKT:NHC), the oldest U.S. publicly traded senior health care company, reported solid second quarter 2014 results (SEC filing, press release). Net operating revenues were $216.55M, up 12.8%. Net income was $10.34M, or $0.75 per share, compared to $12.17M, or $0.88 per share, a year ago. The results were negatively affected by lower non-operating income and start-up expenses incurred from the eleven newly leased or constructed skilled nursing centers. These are healthy expenses that will drive future sales and income increase. Excluding the decrease in non-operating income and the start-up losses from the eleven skilled nursing centers, net income would have been $12.41M, up 2% Y/Y. The company declared a quarterly dividend of $0.34 on common stock, up 6.25% sequentially and Y/Y. The common dividend will yield ~2.5%. The preferred dividend remains at $0.20 and cannot increase in the future but provides a higher current yield.

Source: SEC filings
Looking at a bit longer, trailing six-month period in the chart above, and analyzing the total comprehensive income, which is the total figure that really influences the equity (book value), we see that while net income still fell Y/Y even over the 6-month period of 2014, comprehensive income rose significantly Y/Y for Q2 as well as for the six months of 2014, based on strong gains on investments in marketable securities (mostly stocks, corporate debt and commercial mortgage-backed securities with maturities mostly short-term and mid-term) and other comprehensive income. While these items' gains may not be sustainable, they still add to the total income and equity now and should be net positive over the long run.
In terms of other important figures that are specific to the healthcare hospitality industry and are shown in the chart below, Medicare and managed care per diem rates at NHC's owned and leased skilled nursing facilities increased 2.6% and 0.4% respectively Y/Yin Q2. Medicaid and private pay per diem rates at owned and leased skilled nursing facilities increased 3.2% and 5.6% respectively Y/Y. Net patient revenues increased $27.23M, or 15.3% Y/Y, with most of the increase being driven by the expansion of the number of new facilities, but comparable revenues also rose slightly Y/Y.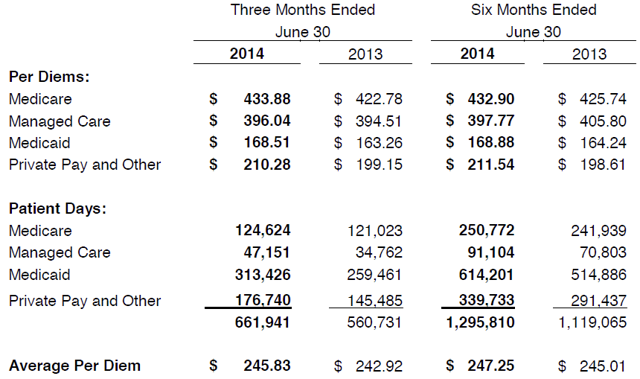 Source: SEC filings
My thesis has worked well so far, based on continued expansion of the number of beds, primarily through new facilities. I expect this positive trend to continue for many years. The stock itself is up roughly 16% in less than a year since my thesis and dividends yielded another ~2.4%. I reiterate my long thesis and I am raising my target price to $70 within two years, offering a ~25% upside plus dividends yielding ~2.5%. I consider NHC a good buy-and-hold dividend growth investment.
Disclosure: The author has no positions in any stocks mentioned, and no plans to initiate any positions within the next 72 hours. The author wrote this article themselves, and it expresses their own opinions. The author is not receiving compensation for it (other than from Seeking Alpha). The author has no business relationship with any company whose stock is mentioned in this article.