As we exit the Q2 peak week for earnings and guidance revisions, the benchmark index inched up .31% with year to date total return at 11.98%. However, in spite of results generally in line with expectations, and a 10 Year benchmark which is down -3.6%, there was considerable selling into the upward moves, and it seems like we have reached a peak with regards to yield compression. Despite a bounceback day Monday, the remainder of the week was down and flat.
The EIA reported that Marcellus production exceeded 15 billion cubic feet per day (Bcf/d) through July, the first time ever recorded.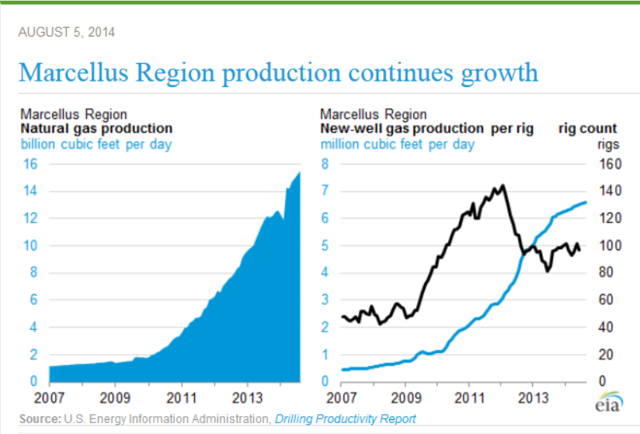 Sand was a Wall Street Journal story this week as the demand for Northern White silica is exceeding supply, as Bakken wells use upwards of 20mm lbs of sand per well, according to feedback from Hi-Crush Partners.
The MLP universe might be receiving it's first Solar asset play, with First Solar (NASDAQ:FSLR) disclosing "...we are nearing the end of our decision-making process and subject to market conditions we expect to make a final decision (regarding a Master Limited Partnership) near term by the next earnings call at the latest."
Q2 Transcript Comments
This week, 64 units reported their earnings which often includes insightful comments. Here are a few noteworthy points from the transcripts:
Are we nearing the peak of Capex Backlog? Greg Armstrong, CEO of Plains All American (NYSE:PAA), responds "There is no question that the resource plays and shale plays or whatever you want to characterize on this are robust and they are continuing to have innovations in technology and efficiencies that looks like it's extending that run...it would be hard to make an argument right now that it shouldn't be at least as robust as we've been saying. "
Is the Administration more export Friendly? Armstrong opines "I wouldn't get too carried away with it. But I would tell you that - we've been very encouraged like on the export issue, we are not at the crisis mode, yet on the light sweet product. We are getting close, but, they have been able to address this kind of early and embraced it."
What is driving sand usage? Hi Crush CEO Jim Whipkey opines "The big story in 2012 was drilling efficiency, the big story last year was pad drilling and batch completions. Of course, all those are still in play. Now the big story this year is more ramped up down-hole intensity, more sand and because these are all affecting Northern White sand, this is all driving us to keep our focus on Northern White certainly for the time being."
Unit Movers
"Sold Out" was the message from the High Crush (NYSE:HCLP) and Emerge (NYSE:EMES) conference calls, sending units higher. The GP of Lehigh Gas Partners (LGP) was purchased by CST Brands, which offers the buyer an attractive IDR split if future distributions can be increased. Delek Logistics Partners (NYSE:DKL) reported an exceptional quarter and raised it's long term cash distribution guidance to 15%. Crestwood Equity Partners (NYSE:CEQP) had a poor quarter due to NGL and storage issues and lowered 2014 DCF guidance. Rentech Nitrogen Partners (NYSE:RNF) also had a poor quarter due to their Pasadena plant and has turned to GE for financing.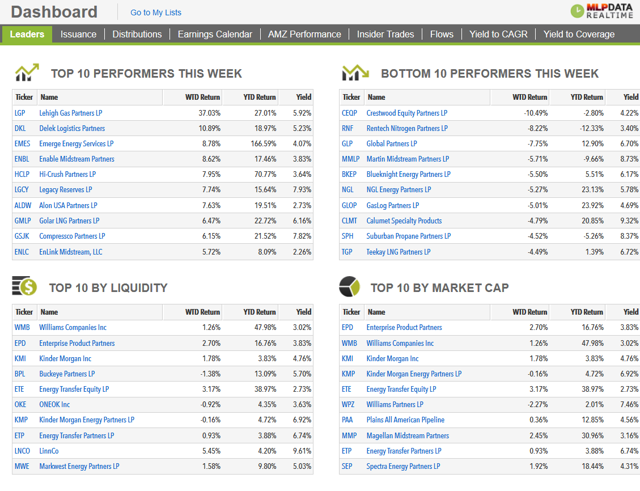 Distribution Leaders
Western Refining Logistics (NYSE:WNRL) led the week with a 3.36% quarter over quarter increase, consistent with their 16% long term distribution growth rate.

New Issuance
Hoegh LNG Partners (NYSE:HMLP), priced at $20 with a target yield of 6.75%, moved higher after trading began with an effective yield of 5.63%
Yield To CAGR
The yield to CAGR chart plots the unit current yield against the 3 year distribution growth rate. The chart has been updated with units that have reported Q2 results.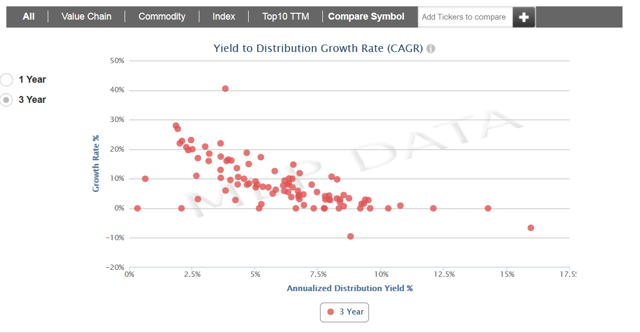 To get this round-up each week, please make sure you are following MLPData here on Seeking Alpha. If you have a set of metrics you wish to see in future reports, please comment below.
All charts and tables provided by MLPData.com unless noted otherwise.
Disclosure: The author is long TEP, EMES, HCLP. The author wrote this article themselves, and it expresses their own opinions. The author is not receiving compensation for it. The author has no business relationship with any company whose stock is mentioned in this article.