CSX Corporation (NYSE:CSX) has been a strong performer since late 2012, with shares going from about $19 to $29, while earnings have remained about flat. Even with these relatively poor business results and the large run-up in the share price, I believe that shares offer substantial value around $29 and should more than double by the end of 2018. While most investors value railroads mainly on a P/E basis, I think that it is immensely important to look at the level of profitability of a railroad's assets and in what direction that profitability is going.
Here is an example: in early 2006, Union Pacific (NYSE:UNP) had net income of about $1 billion, and the company was worth around $22 billion. Today, the company is worth about $89 billion with $4.7 billion in net income. This was obviously amazing performance, with net income increasing by 19.6% per year. When I see performance like this and am thinking about making an investment, I like to use the Charlie Munger approach of asking "what is going to cause this amazing performance to stop?" In the case of Union Pacific, I think the answer is easy: in 2006, Union Pacific had abysmal returns on capital, and over time the company has repriced its product in order to earn acceptable returns. Although the company can still perform well in the future, the huge, 20% growth will stop once the company's ROIC levels off.
Here's a chart to support that conclusion. It shows net income without interest expense as a percentage of the PP&E on each company's balance sheet. Basically, when you invest $1 into your infrastructure, what return are you getting before taking debt into account. I have graphed the numbers alongside Canadian National (NYSE:CNI), Norfolk Southern (NYSE:NSC), and CSX for comparison.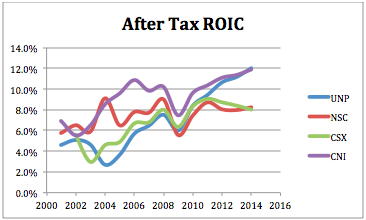 As you can see, Union Pacific went from earning returns of under 6% in 2006 to earning around 12% in 2014 (to get the 2014 number, I estimated earnings for the next two quarters). It is important to note that the company did not achieve that result by compounding volume per dollar of PP&E by 20% per year, but it did it through a mix of increasing volumes, prices, and productivity.
The key to value for any railroad is its ROIC. For example, if you would have been able to figure out that Union Pacific's ROIC would climb past 10% back in 2006, you could have made a killing on the shares. Over time, I think that ROIC for the major railroads should average around the 12% or so that Union Pacific is currently making- that provides a balance between reinvestability and competition. If returns are lower than 10%, then railroads don't have much incentive to further invest in their networks, but if returns are in the 15% range, other railroads can underbid you and still make a good profit. 12% is obviously an estimate, but I think that it is a good base case both on a theoretical business level (i.e. reinvestability vs. competition) and after looking at results - Canadian National has had great results for years but has not been able to get past 12%.
With a 12% base number in mind, it is clear to me that while Union Pacific and Canadian National can grow at decent rates into the future, CSX and Norfolk Southern could provide great opportunities, as they are currently under-earning on their assets. Do not get me wrong, they both face a large challenge in the coal market, but I will reiterate that the key for railroads is return on capital. Over time, CSX and Norfolk Southern should be able to either reprice their coal book for better returns or replace that volume with other goods.
If all railroads earn similar returns on their PP&E, then they should trade at similar valuations compared to PP&E. Right now, I like CSX the most out of any railroad because it is the cheapest compared to the PP&E on its balance sheet. It trades at a 7% premium, while Norfolk Southern trades at an 18% premium and both Union Pacific and Canadian National trade for about 100% premiums. Now, part of those premiums for Union Pacific and Canadian National are deserved since they currently have much higher returns on capital. However, what I am arguing is that all railroads should have similar returns on capital over time, since the competitive dynamics are similar across all regions - usually two railroads competing both with each other and against different modes of transportation.
If it takes CSX until the end of 2018 to get to a 12% return on capital, and the company trades at 2x the PP&E on its balance sheet (similar to what Union Pacific and Canadian National trade at, and in my mind a fair valuation of around 19x earnings), then shares could return around 24% compounded, after taking into account about an 8% yearly increase in PP&E per share (about historical norms including reinvested dividends). The opportunity is huge if you believe in the strength of the underlying business.
On an earnings and dividends front, 12% returns on capital would mean around $4.15 in EPS and dividends of about $1.45 per share with a 35% payout ratio. Both would bring around 20% annual increases. For a dividend growth investor, those numbers are hard to beat, especially with a company as solid as CSX.
Lastly, I think it is very interesting that CSX is trading at a very similar valuation to the price that Berkshire Hathaway (NYSE:BRK.B) (NYSE:BRK.A) paid for Burlington Northern: Berkshire paid a premium of 5% over PP&E, while CSX trades for a premium of 7%. The buyout also came at around 10x pretax earnings, which is also where CSX trades. This does not mean than buying CSX here will absolutely work out as well as Berkshire's buyout of Burlington Northern, but it does suggest that CSX is trading at a cheap price if it can increase profitability over time.
Conclusion
While CSX may not be a screaming buy on a trailing P/E basis, the company has very valuable assets that could earn much more in the near future. If the company can increase returns to the level of some of its competitors, then shares of this company will prove to be a huge bargain.
Disclosure: The author is long CSX, NSC, UNP, BRK.B. The author wrote this article themselves, and it expresses their own opinions. The author is not receiving compensation for it (other than from Seeking Alpha). The author has no business relationship with any company whose stock is mentioned in this article.
Additional disclosure: Many of my clients are also long CSX, NSC, UNP, and BRK.B. I am a registered investment adviser. However, this commentary does not constitute individualized investment advice. The opinions offered herein are not personalized recommendations to buy, sell or hold securities.