Looks like obese people in America, and around the world for that matter, are finally about to receive some help via three companies that were little heard about prior to Tuesday's coming out party. VIVUS (NASDAQ:VVUS), Orexigen (NASDAQ:OREX) and Arena (NASDAQ:ARNA) all saw their shares explode near the close and into the after-hours trading sessions.
VIVUS gained 10.64%, plus a total of 10.90% in the after-hours to finish the session at $8.65, and has a 52-week high of $13.68.
Orex was halted pending FDA panel review and recommendations, and lifted up for a massive 155.03% gain in the afterhours to a new 52-week high of $12.42.
Arena jumped up 12.06% in the after-hours to $1.58, a far cry from its 52-week high of $8.00.
Now, the question remains, which one of the three musketeers should you choose for your portfolio? Perhaps when thinking about the answer to this question, it would be wise to note that during Tuesday's meeting, Mr. Ragowski, FDA panelist, stated he would use VIVUS's Qnexa, which had "almost twice the efficacy' over Orexigen's Contrave. Sometimes the answer is indeed right under your nose.
Many experts agree that VIVUS, by far, has the best chance of achieving marketing clearance by the FDA when it's decision time, with Orexigen coming in a close second. Arena's drug was the least effective of the bunch, plus the company's balance sheet is not too healthy, so I won't get into that much here. In fact, Robert Langtreth wrote a brief article on Arna and Orex, highlighting the lack of performance. He stated,
Doesn't this mean that the FDA should be rushing to approve more obesity drugs, like those from Arena or Orexigen? Not necessarily. Their drugs generally have modest weight loss over placebo and often won't get you in the type of weight loss range that could even achieve the modest 31% death reduction, even assuming there are no side effect issues. This great difficulty in producing highly effective fat pills that don't have big side effects is why so few obesity drugs are on the market.
With VIVUS, not many know that by December 15, 2010, they are expected to resubmit and meet the FDA's requests for information provided by their CRL. Folks, the stock was trading around $13.50 the last time this happened, and it was also prior to them receiving the excellent news regarding their Erectile Dysfunction drug which had 80% efficacy in phase III trial versus 70% of Viagra and Cialis, allowing it a clear advantage in the multi-billion dollar industry.
Essentially, what you have is a company that is awaiting 2 NDA submissions in the first half of 2011 for combined potential target markets of well over $200 billion annually. Now, if that's not a nice Christmas present from Santa, then you might as well go spend it with the Grinch.
For those looking for an in-depth analysis of all three companies, along with target markets, clinical trials, financials, technicals, please read our report here: Uncovering the Billion Dollar Potential in VIVUS.
Technical Analysis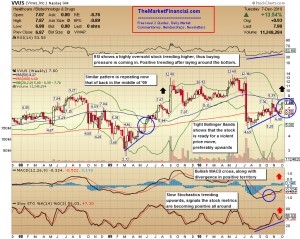 From a short-medium term point of view, it is clear to see why VIVUS has all the signs of a massive uptrend in the making. The signs couldn't be more clear when looking at the past performance, as highlighted by the blue circles and lines. As we saw in early 2009, the same pattern is now coming to fruition in 2010, and if it follows course, we could see new 52-week highs rather quickly as the 13.2 million shares short out of 80.5 million float begin to cover and buy at market orders. Patience is a virtue, and could pay off handsomely as the stock marches to new highs based on the current new trend.
Just as an example, back in September '09, when the phase III results for Qnexa came out, the stock was trading around $6.25, then it flew to over $7.50 in the after-hours. The next day it hit around $12.50 with about $75 million traded, and in addition to that, only about 1/4th of the shares were short compared to now. I don't know about you, but I smell a nice short roasting BBQ on today's agenda.
The RSI (Relative Strength Index) has also engaged in a nice uptrend and looks to continue as it moves away from the oversold territory.
Bollinger Bands are tight, anticipating a violent price move, preferably upwards based on the valuation of other metrics.
A bullish MACD cross, along with movement in a positive divergence, and Slow Stochastics trending upwards all leave this stock ready to explode once the short covering rally commences.
Disclosure: Long VVUS