The single-tenant triple-net lease REIT business model has proven to be both a dependable source of dividends for investors, as well as a scalable platform for growth. On Aug. 5, 2014 both $4.4 billion National Retail Properties (NYSE: NNN) and $6.6 billion W.P. Carey (NYSE: WPC) reported excellent results for the quarter ended June 30, 2014.
Both of these REITs are part of a peer group which includes $9.65 billion Realty Income (NYSE: O), $11.8 billion American Realty Capital Properties (NASDAQ: ARCP), and $4.55 billion Spirit Realty Capital (NYSE: SRC). Here is a quick sector overview, year to date: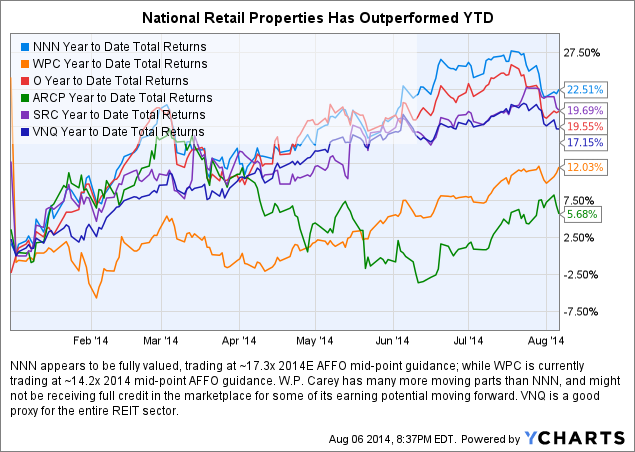 Quick compare and contrast
NNN and W.P. Carey are executing business models that are at opposite ends of the triple-net lease spectrum. National Retail Properties is leasing to the gym, car wash, or quick service restaurant down the street; while W.P. Carey could be underwriting a sophisticated build-to-suit manufacturing facility, large corporate headquarters, or a retail store located in Western Europe.
The National Retail portfolio
The average lease term for properties acquired by NNN during Q2 was 19 years, with lease terms for total acquisitions year-to-date averaging ~17 years. National Retail tends to enter into relationship-based long-term leases and hold onto the properties -- rarely choosing to sell them. National Retail as of June 30, 2014 owned over 1,900 properties located in 47 states, containing ~20.8 million square feet. Occupancy of the NNN portfolio stood at 98.5% as of June 30th.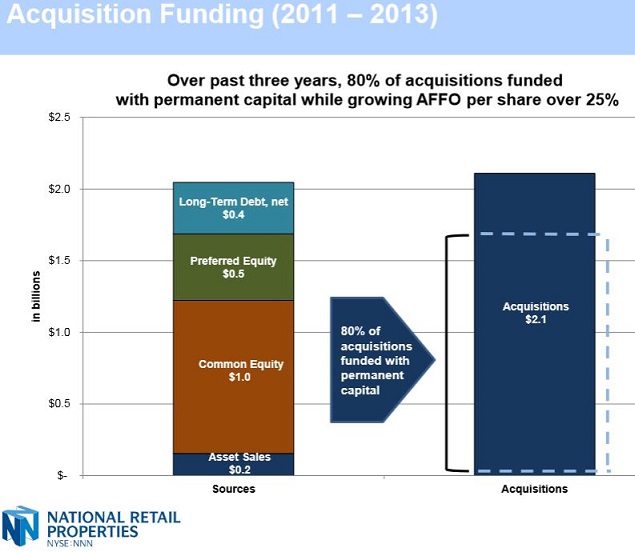 NNN does an excellent job of managing the spread between its cost of capital and the average cap rates for its acquisitions. During the first half of 2014 the company invested $186 million in 81 properties, containing 552,000 SF of gross leasable area.
The relatively small average of $2.3 million invested per location is a cornerstone of NNN's U.S. retail investing strategy.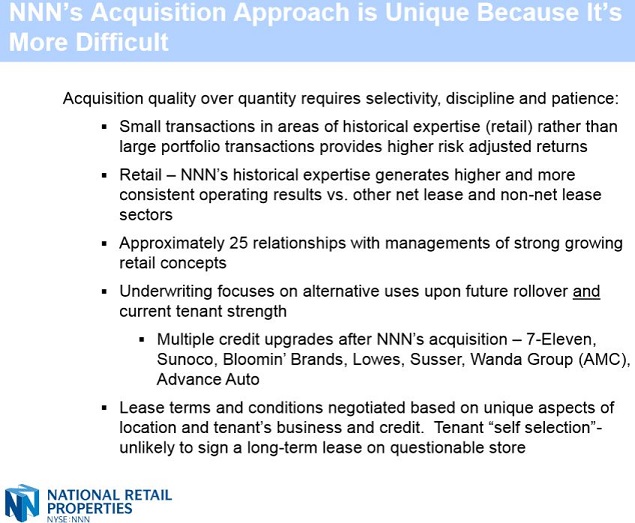 During the recent Q2 earnings call National Retail CEO Craig MacNab raised full-year 2014 acquisition guidance to $500 million to $550 million, with the majority anticipated to close near year-end.
The W.P. Carey portfolio
W.P. Carey also sources many of its deals through relationships in the marketplace and its portfolio occupancy was 98.5% as well. However, it takes a bit of a deeper dive to understand how WPC is able to deliver solid risk-adjusted returns to its investors.
As of June 30, 2014, W.P. Carey owned 686 net-leased properties, containing ~82 million square feet, leased to 216 tenants. Approximately two-thirds of WPC annual base rent, or ABR, was generated by U.S. properties, while one-third of ABR was international -- primarily generated from Western and Northern European countries.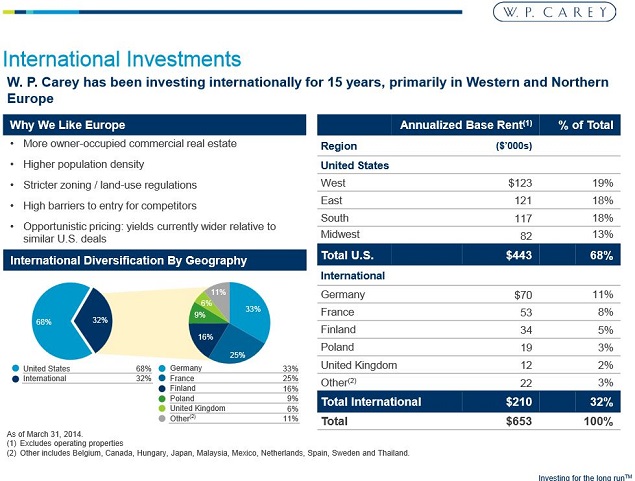 Company presentation - June 2014
CEO Trevor Bond pointed out on the recent Q2 W.P. Carey earnings call that the weighted average lease term of the entire portfolio was just 8.6 years. This means that WPC must spend more time working closely with tenants on lease extensions and on the sale of properties to recycle capital.
Looking forward to 2015, WPC currently has 17 leases expiring, ~3.3% of annual base rent. Mr. Bond mentioned that this was down from 8.5% of ABR set to expire during 2015 at the end of Q1 -- an impressive reduction that was accomplished in just three months.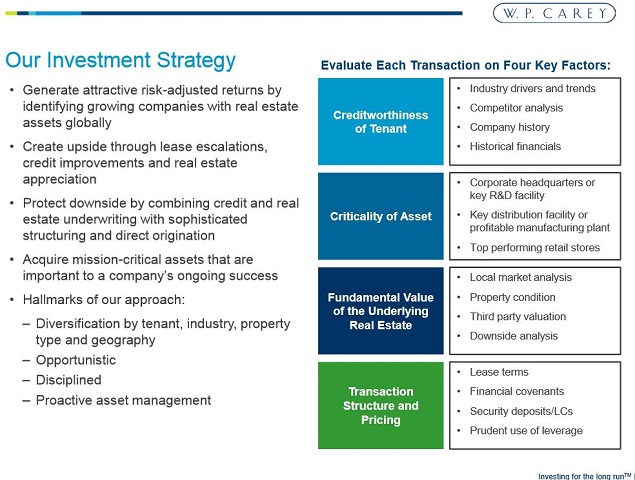 Company presentation - June 2014
WPC latest acquisition fits the strategic mold perfectly
On Aug. 7, 2014, W.P. Carey announced the acquisition of the headquarters of Total Norway, a wholly owned operating subsidiary of oil and gas giant Total SA for $114 million USD.
Total SA is rated AA-/Stable by S&P.
Total Norway has occupied this corporate headquarters facility since its construction in 1975.
The facility is located adjacent to the Dusavik supply port -- a major hub for North Sea oil exploration -- near 56% of Norway's substantial oil and gas reserves.
Total Norway recently expanded its headquarters and signed a 17-year lease extension in June 2014.
The longer term of this lease is an example of WPC's ongoing efforts to lengthen the average lease term of its portfolio.
Impressive NNN performance metrics during Q2
National Retail Properties Q2 highlights included:
FFO per share increased 11% Y/Y.
AFFO increased 8.5% compared to prior year.
Acquired 34 properties with an aggregate 213,000 SF of gross leasable area for $94 million -- at an initial cash yield of 7.5%.
Raised $54.2 million in net proceeds from the issuance of 1,532,102 common shares.
Issued $350 million of 3.90% senior unsecured notes due 2024.
Paid off $150 million of principal on 6.25% senior unsecured notes due 2014.
National Retail also raised full year 2014 FFO guidance from $1.95 to $2.00 per share to a range of $2.00 to $2.04 per share. Full year 2014 AFFO guidance was estimated to be $2.05 to $2.09 per share.
W.P. Carey Q2 earnings report
Earlier this year, W.P. Carey completed its announced merger with CPA: 16, and the combined operating results were reported for the first time in the quarter ended June 30, 2014. Including results from the CPA: 16 merger distorts most Y/Y or Q/Q comparisons.
However, Q2 highlights included:
During the quarter W.P. Carey completed one acquisition for $47.2 million and disposed of 15 properties resulting in gross proceeds of $170.6 million. (The active WPC portfolio capital recycling program is intended to: increase the average lease term, improve credit quality, and increase focus on customer mission critical assets).
The company pre-paid $85 million of non-recourse mortgage loans, in addition to ~$45 million of scheduled principal repayments.
WPC structured 10 new investments totaling ~$152 million on behalf of its Managed CPA REITs, in addition to five new hotel investments totaling over $407 million on behalf of Carey Watermark Investors, or CWI.
W.P. Carey raised full year 2014 AFFO guidance to $4.62 to $4.82 per diluted share, up from a previous range of $4.40 to $4.65 per diluted share.
This increase in AFFO guidance is based upon an assumed full year 2014 acquisition guidance of approximately $1.9 billion to $2.6 billion, including approximately $1.4 billion to $2.0 billion on behalf of WPC Managed REITs.
WPC Managed REIT overview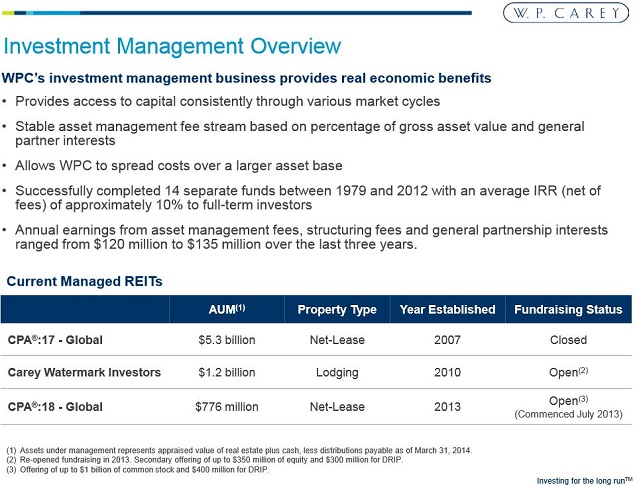 Company presentation - June 2014
As of June 30, 2014 the WPC Managed REITs in aggregate had approximately $8.2 million of AUM. Besides being a non-dilutive source of fee revenue, these non-traded REITs also serve as a potential growth funnel for the W.P. Carey balance sheet, as evidenced by the recent WPC merger with CPA: 16.
What about the balance sheets?
W.P. Carey has a bit of work to do to transition its capital structure -- from a relatively high percentage of properties encumbered by mortgage debt -- to become primarily an unsecured borrower.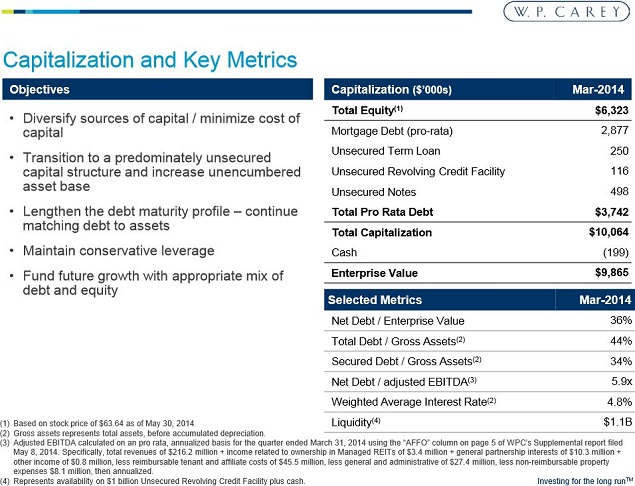 Company presentation - June 2014
However, WPC operates with conservative leverage overall, has a relatively low weighted average interest rate of 4.8%, while maintaining plenty of "dry powder" for growth and debt service.
National Retail Properties - a fortress balance sheet
National Retail has managed its balance sheet during the past year -- by both issuing additional equity and taking advantage of lower interest rates to reduce its debt service -- leaving the company well prepared to take advantage of opportunities for accretive growth.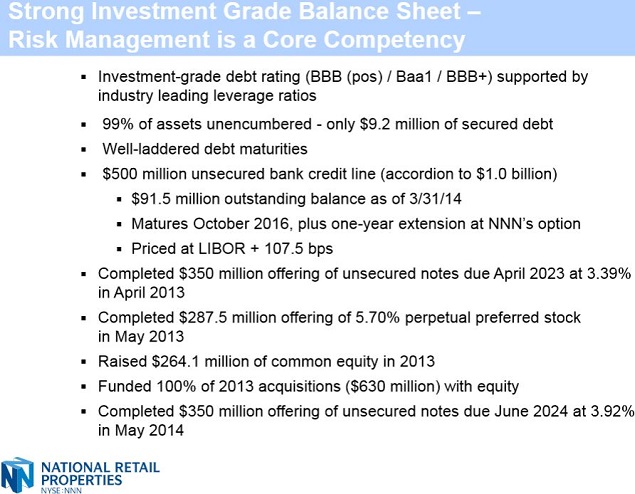 Company presentation - June 2014
During the Aug. 5, 2014 earnings call, NNN management shared that they are sitting with $85 million in cash on the balance sheet, with $5 million being a comfortable reserve. In addition, the $500 million revolving credit line remained untapped. NNN is prepared to simply write a check for the next $80 million of acquisitions -- a very nice place to be.
Show me the money
When it comes to paying dividends to shareholders, REIT investors would be hard-pressed to find much to complain about when it comes to the dividend history of these two companies.
National Retail Properties is on the verge of joining a select few S&P 500 companies that have raised dividends for a minimum of 25 consecutive years. NNN's recently announced quarterly dividend increase to $0.42 per share, currently yielding ~4.5%.
W.P. Carey has recently announced its 53rd consecutive quarterly dividend increase to $0.90 paid quarterly, currently yielding ~5.45%.
Final thoughts
Both WPC and NNN are sticklers for signing leases that have either contractual rent increases, or rent bumps which are indexed for inflation. This bodes well for organic earnings growth for both of these companies moving forward.
Both of these single-tenant triple-net REITs have a highly focused, granular approach, to accretive growth. However, both companies have also demonstrated the willingness to pull the trigger on much larger mergers and acquisitions when management feels it is warranted.
National Retail has more of a "set it and forget it" business model. They manage a large portfolio of long-term triple-net leases for well-located U.S. retail properties. The NNN team is often able to acquire off-market properties as a result of relationships forged from a large retail customer base. National Retail Properties is well positioned to benefit from increased U.S. consumer spending and economic growth.
W.P. Carey has a much more diverse portfolio of larger mission critical assets. This increased diversity across industries, property types, and geography, requires a higher level of sophistication for WPC to underwrite and manage its portfolio of assets. However, it also serves as a barrier to entry for potential competitors -- which should result in higher cap rates and better IRR for WPC over the term of its leases.
The WPC Managed REIT business is also complex and requires additional time and effort by both analysts and investors to understand how W.P. Carey operates. However, it does appear to have some advantages: the ability to raise private capital when public markets are in a panic, a source of non-dilutive fee income, as well as a source of future growth for the WPC balance sheet.
It remains to be seen if Mr. Market will fully value the WPC investment management business, as fund raising and property acquisitions can be fairly lumpy quarter over quarter.
National Retail Properties currently appears to be fully valued, trading around 17.3x estimated AFFO for 2014; while W.P. Carey is currently trading at a lower valuation, around 14.2x 2014 mid-range AFFO guidance.
These both appear to be REITs worth considering for investors looking for dividend income as well as long-term growth potential.
Disclosure: The author has no positions in any stocks mentioned, but may initiate a long position in WPC over the next 72 hours. The author wrote this article themselves, and it expresses their own opinions. The author is not receiving compensation for it (other than from Seeking Alpha). The author has no business relationship with any company whose stock is mentioned in this article.