Even despite the recent market run-up, select stocks are primed for multiple expansion at the slightest hint of sustained revenue growth. The best illustration of this is may be seen in the compilation of data in the table just below.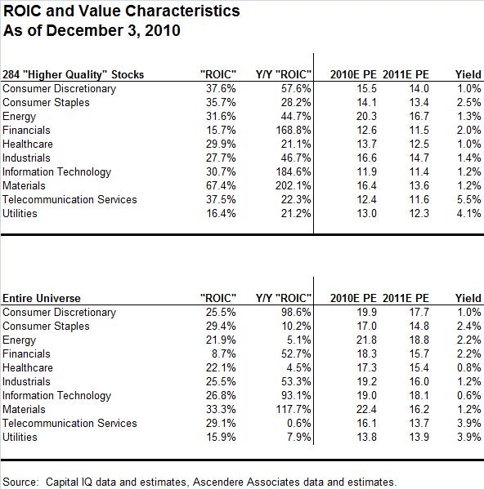 Markets and Economy. The S&P 500 opened with a gap up yesterday but ended the day up only 5 basis points given news of an estimated $900b "stealth stimulus package" set forth by President Obama, which would extend current tax rates for another two years, provide another 13 months of unemployment benefits for the long-term unemployed, and create a payroll tax holiday of about $120b for a year and some other components.
According to a USA Today report, reactions by economists were mixed, with one raising forecasts for 2011 GDP and lowering forecasts for the unemployment rate and another opining that the package does nothing to change the status quo of high unemployment and low consumer spending. The market reaction seems to have reflected these disparate views.
In our opinion, there is no quick remedy or stimulus package that will jumpstart this economy, but we are already on the right track. It gets a little tedious stating this day in and day out, but Corporate America has taken very big steps to improve operating efficiency and we are already seeing the results with rising cash flow growth, expanding ROIC and stronger balance sheets, especially from a cash and working capital perspective.
In response ("response" is the proper word -- we are purposely not alluding to any collective foresight by sell side firms), analysts are continuing to ratchet up earnings estimates for companies. If there is any hint of sustained sales growth, many companies will be primed for higher PE multiples than experienced prior to the market crash with fundamental support coming from higher cash flow growth and ROIC levels through better operating leverage. To sustain these results, companies at some point probably have no choice but to hire additional workers.
Every week we rank companies across scores of financial data points that may be summarized in four key categories:
Relative Value;
Operating Momentum;
Analyst Revision Momentum; and
Fundamental Quality.
Over the last few months, and accelerating with the latest financial reports, the number of "low quality" companies ranked poorly across the board for these four factors has shrunk significantly while the number of "high-quality" companies ranked favorably across the board has risen by a large amount.
In taking a closer look at the relatively poorest of the poor results, we are not finding abysmal fundamentals on an absolute basis, only mediocre results. In fact, many of these "low-quality" companies are already starting to anticipate or are quickly reflecting better future fundamentals, especially in the Energy sector. It is why we do not advocating shorting any specific companies right now; in fact, we think we could at some point see an across-the-board surge in low-quality price momentum. See CGG Veritas (CCG) for example. We do not expect the economy to turn around on a dime, and we do expect continued market volatility as macro themes generate headlines. But we are confident in the overall direction of the economy and market.
Separately, J.P. Morgan raised its price target on Fossil Inc. (FOSL) to $77 from $68 while maintaining a Neutral rating. This is the fourth major sell side action our model portfolios have presaged for December to date. By total and complete coincidence, our short-term volatility based target for FOSL at the moment is $77.08. FOSL seems to be universally hated and misunderstood by a lot of constituents. One professional analyst privately calls its stuff schlocky; some female friends think the company only sells lower-end stylish watches; and several bloggers have noted with exasperation the huge rise in the stock without participating (it has moved from $33.95 this past May to a recent close of $72.55).
Meanwhile, for the current moment anyway, we love the stock. Relative value does not seem all that significant, but it is decent enough given strong underlying momentum in its business. Expectations are very high for FOSL, but so far they have met and exceeded these expectations and given the inventory build this past quarter we think FOSL may be preparing for another better-than-expected quarter.
We do not think FOSL will achieve cult growth status like Netflix (NFLX) or Chipotle (CMG) since its products will never appeal to every demographic and fashion and styles are fickle. But by our measures FOSL still shows reasonable value relative to stated growth expectations. One day this will not be the case and we will rebalance out of the stock, but for now we are happy to hold this in our long-only model based on actual trade data.
In our opinion, FOSL is the kind of stock that can stay Neutral-rated all the while sustaining multiple price target increases. The sell-side consensus high price target for FOSL is $85, with the low at $53 and the average at $74.
Separately, United Airlines (UAL) took a big hit yesterday, down -4.66% to $25.78, for a MTD decline of -6.86% -- by far our worst performer for December so far, though so far being more than offset by our position in RPC Inc. (RES) which is up 10.65% MTD. Apparently the rising price of oil is hurting the airlines; this reason does not make much sense since rising oil prices can accompany rising economic activity, and in any case I would assume most airlines have hedged a good portion of their jet fuel requirements.
Or maybe airlines in general and UAL in particular has been hurt by news it will take delivery of Boeing (BA) 787s a year late, thereby delaying efficient operations on newly planned routes. According to this excellent article in The Herald, UAL is scheduled to take delivery of 50 787s, and eight were previously expected to be delivered between August 2011 and September 2012. The Oil and Boeing issues do not bother me too much; these are ongoing dramas that should be nothing new and ultimately will be resolved.
What instead matters is if UAL will lose enough momentum relative to other companies in the Industrials sector. Maybe we will be wrong on UAL, but we have been right often enough to stick with our disciplined approach of typically owning only the highest-quality companies and rotating out any stock that slips on any key measure.
Please see our disclosures and disclaimers.
Disclosure: I am long RES, UAL, FOSL.
Additional disclosure: Through the independent equity research and management firm, Ascendere Associates LLC, I offer a premium equity research newsletter for which I receive compensation. Recent issues of this newsletter have mentioned stocks in this article. I also receive compensation through various equity research consulting and advisory services, as well as for licensing brokerage trade data to Covestor, Ltd. for use in its investment advisory service.