The US Dollar has been generally weaker after a meeting of European finance ministers failed to produced any new measures to deal with the EU's deepening credit crisis. The long term USD outlook has also gotten weaker after the White House finalized a deal with Congressional Republicans to extend Bush-era tax cuts in return for the extension of unemployment benefits. In Asia meanwhile, the Reserve Bank of Australia (RBA), decided to maintain its key-lending rate unchanged at 4.75% as expected.

The RBA has added "over the next few quarters, inflation is expected to be little changed, though it is likely to increase somewhat over the medium term if the economy grows as expected." Analysts at Deutsche Bank believe that an obvious risk for the RBA will be if this inflation backdrop turns out to be materially stronger than "little changed". Absent any such unexpected acceleration in inflation pressures, however, the tone of the accompanying statement supports our view that Q2-2011 is shaping up as more likely than Q1-2011 for the next move by the RBA.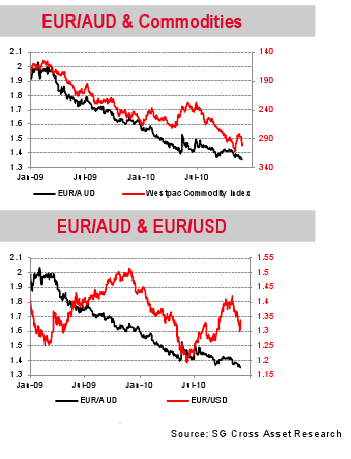 A Scenario for Short EUR/AUD: Although AUD enjoys the highest real interest rates in the G10 and commodity exposure, softer data has resulted in the market dramatically reducing expectations of future rate hikes, which leaves the way open to a positive currency reaction to any good news in the coming weeks. Analysts at Societe Generale Asset Research believe that this pair can be traded in spot with positive carry, but overlaying this with a two-month 1.34/1.29 put spread at a cost of 0.815% also enjoys positive carry with decent average.

Disclosure: I have no positions in any stocks mentioned, and no plans to initiate any positions within the next 72 hours.