The hunt for quality small-cap stocks can lead investors to some unusual places. Often, to stay on track I'll consider one of Warren Buffett's guiding philosophies. Buffett likes to put his money into the companies that make the items that he's familiar with; hence, his acquisition of railroads, Dairy Queen and stakes in Coca-Cola Corp. (NYSE:KO) and Republic Services (NYSE:RSG).
I recently came across a product that always sits on a shelf in my basement, packaged in dynamic blue and bright yellow colors. I found the can while I was focusing on a home repair, not looking for a potential investment. No, this wasn't some old stock certificate that had been left there for decades, but it was an old name that is found in many homes across America. In fact, it was a company that I had forgotten was publicly traded. One that makes an easily identifiable product -- as well as some others that you might not associate with it.
I'm talking about WD-40 Company (NASDAQ:WDFC), the namesake company of that little blue and yellow can that's in everyone's garage. You might not realize, but WD-40 was initially produced as a lubricant for the aerospace industry back in the 1950s.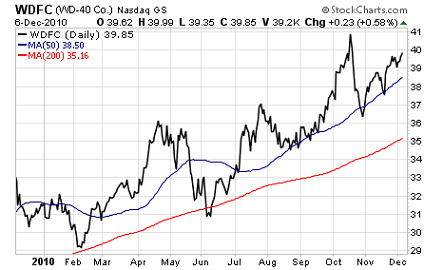 As the legend goes, WD-40 is the result of 40 attempts to come up with an effective lubricant for use in aerospace equipment, both on earth, during launch and in orbit. For the company that created the lubricant it has worked beyond the founders' wildest dreams. And with a market cap in excess of $660 million and a multi-product lineup, San Diego-based WD-40 isn't the one-trick pony you might assume from the name.
WD-40 actually has an impressive lineup of many common products found both around the home and in the workplace including Lava hand cleaner, X-14 bathroom products, 3-in-One oil and 2000 Flushes toilet bowl cleaner. Its Australian counterpart to Lava is called Solvol, while in the U.K. its 1001 brand has a complete lineup of home carpet cleaning products. Earlier this year, WD-40 introduced Blue Works, industrial-grade products that might reposition its namesake lubricant closed to the consumer market while the new line is headed for heavy-duty users.
For fiscal 2010 (ended August 31), the company reported a 10 percent increase in sales to $321.5 million, a 37 percent increase in net income to $36.1 million and a 36 percent increase in earnings per share, to $2.15 per diluted share.
Analyst guidance for the current year calls for slightly slower growth. The consensus is for sales to grow around 8 percent, to $345 million, and for net income to rise 9 percent, to $2.35 per share. But this still represents compelling growth for value investors, and with a solid operating history and a clean balance sheet I believe WD-40's steady growth is likely to continue into 2011 and beyond.
WD-40 just celebrated 20 years as a publicly traded company, and its stock has held up well over the past two decades. The stock currently has a forward PE of 15.6 and a PEG ratio of 1.4. Both of these metrics indicate that the stock is reasonably valued at current levels, but I'd recommend investors keep an eye on the stock and accumulate shares when it pulls back.
One final consideration for value investors - WD-40 does pay a dividend, currently yielding 2.73%.
Disclosure: No position