Why people are long silver. Unless you have been living under a figurative rock, you know that Bernanke's QE2 has been swinging markets around since it was announced in August - at first positively, on a Pavlovian response mirroring what happened after QE1, and then negatively, after the announced numbers failed to impress. If you are a little better informed, you will know that gold has been a major play of everyone in the markets, from Joe Sixpack to John Paulson, on a thesis of a depreciating USD. You may also have seen this SilverGoldSilver video, which lays out the pretty compelling case that silver is about to go the same way as gold has gone, with added fuel from a massive short-covering that JP Morgan (NYSE:JPM) will have to make if this ZeroHedge post is accurate.
SLV or silver miner stock? Having decided to go long on silver, one is then faced with the perennial question of whether silver mining companies or the Silver ETF (NYSEARCA:SLV) will be a better way to play this. There are any number of fundamentally "sound" reasons why silver mining companies should outperform just the physical metal (profit margins, pricing power, the value of the mines, leverage), but also some contrarian reasons why not (management inefficiency, relative illiquidity, idiosyncratic risk). And it is a guarantee that one side or the other will be wrong at some point in time. This is a question that can only be resolved with an empirical look at the data. (All numbers shown here are drawn from Yahoo Finance using weekly data.) Unfortunately, when we do so, we have to adopt the language and tools of statistical arbitrageurs and pairs traders, because that really is the only way to answer this question.
(Click to enlarge)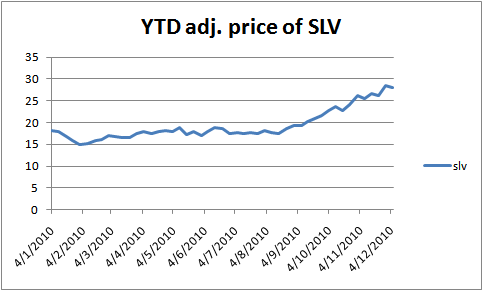 Figure 1 - SLV
First off, just to get a sense of the YTD performance, Figure 1 shows SLV's performance so far. We see that it has traded pretty much between $15-$20 for most of the year before suddenly taking off in September after the QE2 announcement. Next, we look at the silver mining companies, which you can screen out with your service of choice (I like finviz). There are nine contenders: Silvercorp Metals (NYSE:SVM), Silver Standard Resources (NASDAQ:SSRI), Silver Wheaton Corp. (SLW), Pan American Silver Corp. (NASDAQ:PAAS), Mag Silver Corp. (MVG), Mines Management Inc. (NYSEMKT:MGN), Hecla Mining Co. (NYSE:HL), Endeavour Silver Corp. (NYSE:EXK) and Coeur d'Alene Mines Corp. (NYSE:CDE). Here is their performance vs. SLV.
Click to enlarge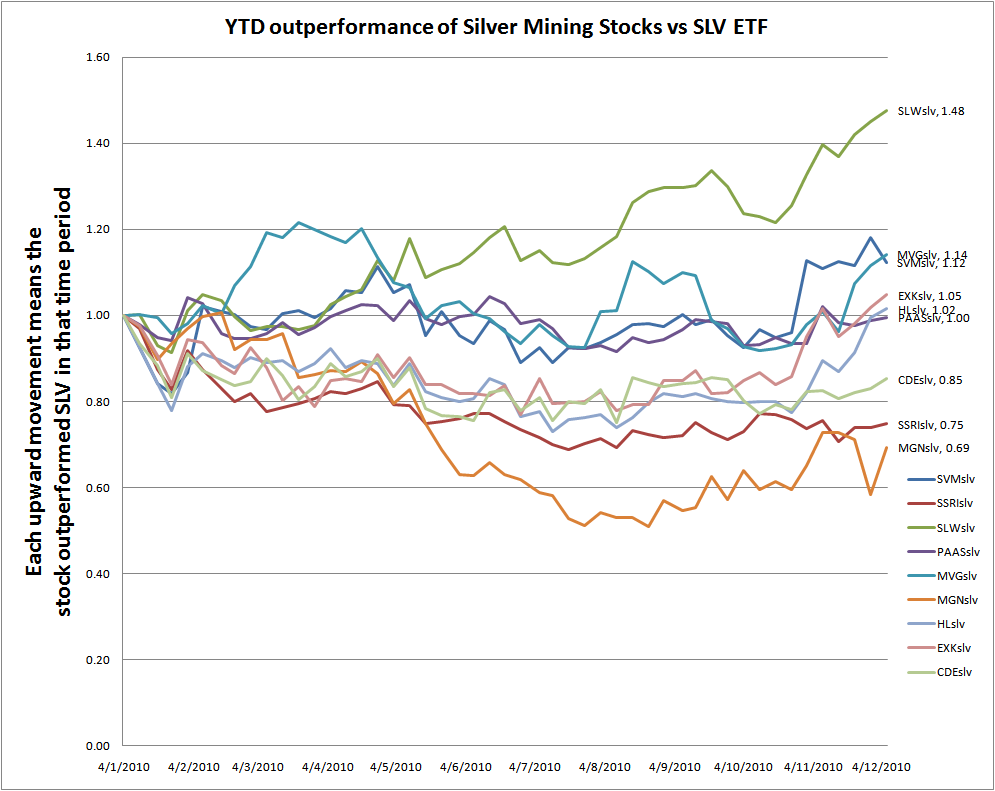 Figure 2 - Silver Mining stocks divided by SLV normalized at start of 2010.
Breaking apart the silver miners. As we can see, the silver stocks have not traded together at all. As we saw in Figure 1, SLV is up 69.78% YTD. The biggest laggard, MGN (in orange), is up only 19.57% this year, while the biggest leader is clearly SLW (in green) with 161.52%. This chart is useful for many reasons. For one, we can see that SLW's outperformance began about April this year, consistently outperforming ever since. And because we have noted essentially no movement in SLV until August we can conclude that SLW's outperformance must be due to some factor other than a high beta to SLV. Similarly, MGN drastically underperformed SLV for most of the year until September when it started to make up for lost ground by outperforming. While it may be profitable to bet on either of these stocks "reverting" to their start-of-year relative valuation to the SLV (or not), that is a different proposition from going long silver in itself, which means that we would be straying from the main thesis of profiting from a rally in silver. The safest plays would be companies that consistently oscillate around the normalized 1:1 ratio established at the start of the year, meaning their performance more or less mirrors SLV. The better news is that these companies oscillate predictably in observable waves. The effect is better shown by isolating them on the chart and smoothing them out with four-week moving averages:
Click to enlarge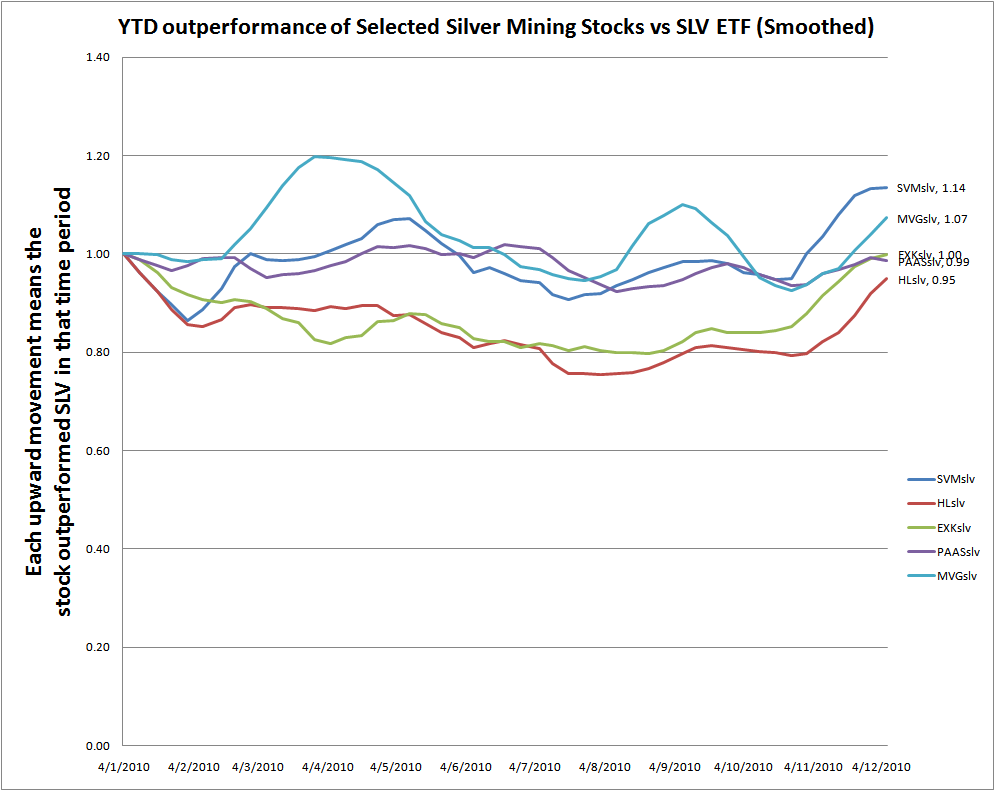 Figure 3
Short-wave. We see that SVM, MVG and PAAS are the "regular oscillators", crossing "par value" with SLV on a number of occasions with an observable trend. We also see that the SVM and MVG overvaluations relative to SLV are at or near YTD highs, so the odds of them continuing to outperform SLV are lower if you buy the "mean reversion" thesis. PAAS also seems to be an unexciting laggard, with its performance matching up to SLV for most of the year but generally erring on the side of underperforming.
Long-wave. Of far more interest is the final two companies I have left in the chart, HL and EXK. These companies both lagged SLV for a majority of this year, and only started really outperforming after October. As of the time of writing (with the last datapoint on Dec. 6) they have only just returned to the parity they had with SLV at the start of this year, and it looks as though they are on the way up.
Recommendation: Long EXK, HL, MVG. If you are long on Silver, then on a statistical relative value basis it looks as though EXK and HL are the best bets to squeeze a little additional alpha out of a long Silver play. If you are feeling adventurous, you might even go long MVG as it has yet to breach its two previous highs relative to SLV when SLV was trading flat for most of the year. Good luck.
Disclosure: I have no positions in any stocks mentioned, and no plans to initiate any positions within the next 72 hours.