The first essay in this series on Amazon (NASDAQ:AMZN) set out a valuation thesis. I claimed that Amazon is 60% overvalued based on what I called its "sacred 7" numbers: net sales growth rate, EBITDA margin, depreciation, taxes, operating cash flow, capital expenditure and cost of capital.
In the second essay, I discussed the first of these seven numbers. I explained why I believe Amazon's net sales will grow at progressively slower rates, falling from a rate in the low twenties to the low teens by 2020.
In this third piece, I analyze Amazon's EBITDA margin - the profit margin after deducting cost of sales and all operating expenses other than interest, depreciation and amortization. I show that although Amazon is gradually growing some higher margin segments like third-party sales, cloud computing and advertising, it is and will remain at its core, a low-margin general retailer for some years to come.
The chart below shows how Amazon's gross profit, EBITDA and net profit margin have behaved over the last 12 years.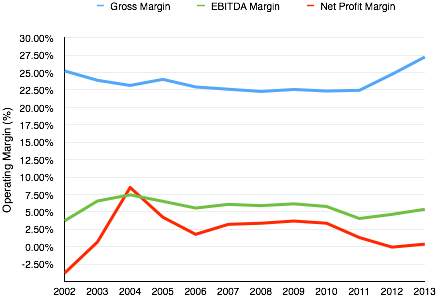 Ignore the blip in the red line in 2004. Amazon explained in its 2004 annual report that this was caused by a one-off revaluation of deferred tax assets, and does not convey any meaningful trend information.
Three inferences can be drawn from the chart above:
Gross margins have been relatively stable, and improved sharply since 2011.
The recent gross margin improvement is only weakly reflected in EBITDA margins, which have been slowly declining over time albeit with a slight improvement since hitting a low in 2011; and
Net profit margins have been on a declining trend since 2010.
Amazon's management put forward a convincing explanation in the 2013 annual report for the recent improvement in gross margins. They pointed to the increasing proportion of services in the sales mix, which doubled from 9% of the sales mix in 2009 to 18% by 2013.
These services are third-party sales from its retailing operations, advertising and cloud computing. Given the low proportions (2-5%) of the latter two categories in the sales mix in the last five years, we can infer that the marked improvement in overall gross margins comes overwhelmingly from third-party retail sales.
Third-party sales have high gross margins because Amazon does not carry any cost of inventory. It simply takes a cut (of between 10-15%) on the gross merchandise value of the items sold by third parties from its website, and books this commission as income with a near 100% gross margin.
However, one reason the improvement in gross margin does not percolate down to the EBITDA margin is that third-party sales still have other operating costs associated with them. Amazon has to spend proportionately more on marketing and website development, fulfillment costs (including packing and shipping) and customer services. This last area is not trivial: by selling more and more through third parties, Amazon exposes itself to greater delivery and credit risks. This is why - to its credit - Amazon itself does not regard the improvement in gross margins as a meaningful reflection of the overall profitability of the business.
All this explains why Amazon's gross margins have widened nearly five percentage points from a low of 22.3% in 2008 to 27.3% by 2013, but EBITDA margins have actually contracted somewhat over the same period from 5.9% to 5.4%. It is worth emphasizing what this means: in spite of a doubling of third-party retail sales in the past five years, Amazon's operating profitability has not improved (in fact, it has worsened).
But this is not the whole story. Note that the chart also shows a marked improvement in EBITDA margin from a near-historical low of 4% in 2011 to 5.4% in 2013. If third-party sales had no effect on operating profitability, how do we explain this?
One hypothesis is that the more recent EBITDA improvement is entirely a result of the increasing proportion of advertising and cloud computing in the sales mix. But it's easy to show that this is not a credible hypothesis - these non-retail services have increased from 3.3% of the sales mix to 5.3%. If the entire 1.4% improvement in EBITDA margin was due to their higher contribution, then (crudely) these services would need to produce average EBITDA margins of around 70%!
In my view, a more plausible hypothesis is that third-party retail sales, advertising and cloud computing are all higher margin activities that do improve Amazon's operating profitability, but their contributions are dampened by the worsening profitability of Amazon's core first-party retailing (i.e. media, electronics and general merchandise) business.
It is possible to make some guesstimates regarding the relative operating profitability of each of these activities by comparing similar businesses. For instance, although Amazon does not tell us what EBITDA margin its cloud computing business generates, we do know the EBITDA margin for one of its main competitors - a pure cloud computing play called Rackspace - has declined from 31% to 29% over the last three years. Similarly, although we don't know precisely what the margins in Amazon's advertising segment are, we do know that EBITDA margins for an online advertising competitor like Google fell from 36% to 30% over the same period.
Let's assume Amazon's cloud computing and advertising businesses turned in a similar performance to Rackspace and Google between 2011 and 2013. Let's also assume (roughly, for simplicity) that cloud computing was three-fourths of the non-retail services segment through this period. This means non-retail services would have contributed 1.1%, 1.3% and 1.6% to the overall EBITDA margin in each of 2011, 2012 and 2013. So Amazon's retailing business would have generated 3%, 3.4% and 3.8% of EBITDA margin in these three years.
Since we know the proportions of media sales, first-party EGM and third-party EGM in overall retail sales in each of these three years, we can solve for the implied EBITDA margins in each of these segments if we assume that these margins have been stable in the past three years. This gives us an EBITDA margin of around 3% for media sales, -1% for first-party EGM and 27% for third-party retail.
So to summarize, my guesstimates for the profitability of each of Amazon's key sales segments are as follows:
| | | |
| --- | --- | --- |
| Sales segment | % of 2013 Net Sales | 2013 EBITDA margin |
| Media | 29% | 3 % |
| First-party EGM | 52% | - 1 % |
| Third-party EGM | 14% | 27 % |
| Advertising | 1% | 30 % |
| Cloud computing | 4% | 29 % |
In other words, while higher margin segments like third-party retail, advertising and cloud computing are putting upward pressure on the overall EBITDA margin, low margin (and possibly loss-making) segments like media and first party EGM are dragging it back down.
If this thesis is true, it has significant implications for the pace at which Amazon can expect to improve operating profitability. First, the poor profitability of Amazon's core retail operations will continue to be a drag on margins for years to come. Second, as it tries to expand retail margins through increased third-party sales, Amazon exposes itself both to greater third-party performance risk and to increasing competition from other online marketplaces such as eBay. This will put some commercial limits on how far third-party sales can expand as as a proportion of the retail business. And third, Amazon is already facing increased competition in the cloud computing business from rivals such as Google, Rackspace and IBM, and the risk of key customers (such as Dropbox) building their own infrastructure. Amazon is already spending very heavily on developing its server farms and other cloud infrastructure, and in the past year, it has had to make some big price cuts to remain competitive. This means that rapid growth in this segment for Amazon can only come at the cost of accepting steadily lower margins.
To forecast Amazon's EBITDA margin, I start from the segmental EBITDA margin estimates for 2013 (in the table above). I then assume that Amazon will succeed in preventing margins in the core retailing business (media and first-party EGM) from worsening any further, though I suspect Amazon's Prime program is losing money, as are some of its international operations. I also assume third-party sales will gradually increase as a proportion of retail sales to about 25% by 2020 and then stabilize at that level. However, I assume that margins in this segment will fall about 1% per year through to 2023 as Amazon is exposed to greater delivery and credit risks and increasing competition from other online marketplaces. Finally, I assume that margins in the cloud computing business will continue to fall by about 2-3% per annum (in line with the past) through to 2020 as more competition enters the field, and as Amazon spends and cuts prices aggressively to expand market share. I assume margins in cloud computing will settle at around 11% by 2020. When combined with the net sales growth rate assumptions set out in my previous article, this produces the following forecast for EBITDA margins: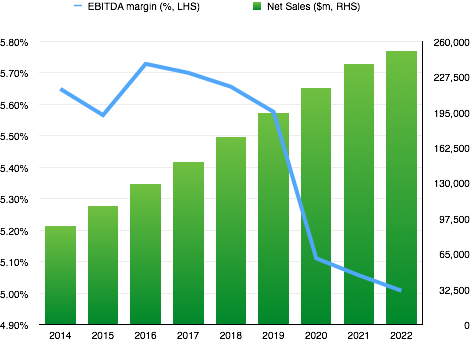 This is why I believe that although EBITDA margins are likely to improve in the next few years as Amazon's sales mix changes, they will plateau at around 5.7% in the next couple of years and then decline gradually thereafter. I believe assumptions regarding sales and margin growth need to be consistent with each other - in the sorts of price-sensitive businesses that Amazon is active in, high sales growth goes with declining margins, or vice versa. Some analysts assume rapid sales growth and margin expansion are both possible at the same time. I consider this optimistic.
For 2014, my forecast is for net sales to grow by 22%, with margins rising to 5.7%. In the first two quarters of 2014, Amazon has performed broadly in line with this. Its net sales have grown by around 23% over the six months last year, while EBITDA margins have risen to 5.7% from about 5.4% in the first half of 2013.
In my next article, I will turn to Amazon's depreciation expenses and taxes, and what they means for its net profit margin and earnings per share over time. I will also explain my view of Amazon's free cash flow, and how it will be shaped by Amazon's evolving working capital position and capital expenditure program.
Disclosure: The author is short AMZN. The author wrote this article themselves, and it expresses their own opinions. The author is not receiving compensation for it (other than from Seeking Alpha). The author has no business relationship with any company whose stock is mentioned in this article.